The knot-free option: DidySling
Ready for a whole range of activities: smartly combining a sling and two sling rings, the DidySling allows you to quickly take your child out of it at any time and put her back in again. There are numerous ways to fasten the DidySling around your body and none of them requires any knots. Find your favorite way of fastening it.
The DidySling also makes it easy and convenient for you to breastfeed your baby when you're out and about.
How old should my child be for me to use the DidySling to...?
carry her across my chest or on my hip? You can do so from birth.
carry her on my back? We recommend that you wait until your child can sit up.
The illustrated PDF tying guide for the DidySling is available here.
The hip carry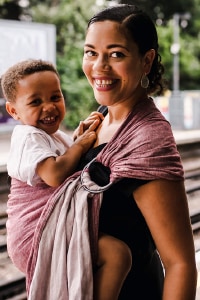 Babies especially enjoy this place on your hip, because they can see a lot and still feel safe and protected. Click here to tie the ring sling.
The back carry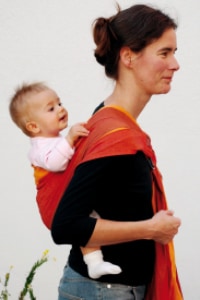 Your baby is getting bigger and you can't carry him on your hip for too long? Then just try the backpack carrier. On a trip or a hike, it also has the perfect view on all sides. Click here to tie the ring sling.
Tipps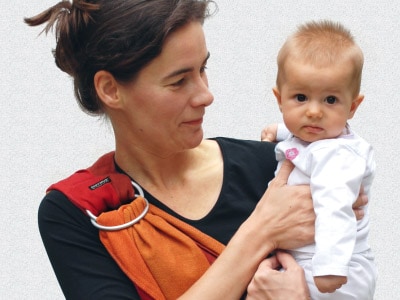 When you put on the sling make sure the rings are high up on your shoulder. When you tighten the sling, the rings will slide into the correct position.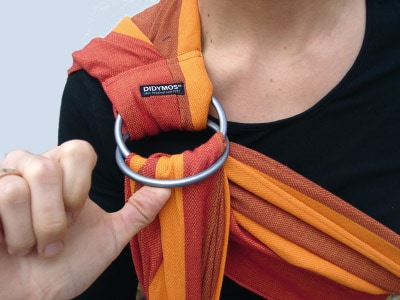 Pull up on the bottom ring to untighten the cloth. The sling gets looser and you can put it off.
Ring Sling binden - DidySling
Bereit für alle denkbaren Abenteuer: Unser DidySling ist ein Ring Sling, also ein Tragetuch mit zwei Ringen, die an einem Ende fest angenäht sind. So entfällt lästiges Knoten und ihr seid sofort einsatzbereit: um kurze Strecken zu laufen, einzukaufen, Wäsche aufzuhängen oder einfach nur Nähe zu tanken. 
Und wenn das Kind raus will? 
Ringe lösen, Kind herausnehmen, Sling zur Seite legen. Der Ring Sling ist bei der nächsten Gelegenheit sofort wieder einsatzbereit und muss nur festgezogen, nicht neu gebunden werden. 
Vorbereitung:
Hinweis: Dieser Schritt ist nur das erste Mal nötig!
Lege den Sling diagonal über den Rücken – die Ringe vor einer Schulter.
Ziehe dann das Tuch von hinten durch beide Ringe ohne es zu verdrehen, anschließend durch den hinteren Ring zurück. Am losen Ende ziehst Du das Tuch fest. 
#DidyTipp: gekippte Kopfkante: 
Bevor Du das Tuch durch die Ringe ziehst, kannst Du die untere Tuchkante nach oben kippen, also einmal umklappen. Auf diese Weise verläuft die Kopfkante gerader, was manche als angenehmer empfinden. Probiere einfach beide Möglichkeiten aus, um festzustellen, womit du dich am wohlsten fühlst. 
Tragevarianten:
Die Möglichkeiten, den DidySling am Körper zu binden, sind vielfältig – aber immer ohne zu knoten! 
Du hast folgende Auswahlmöglichkeiten:
Der Klassiker: Auf der Hüfte
Babys genießen diesen Platz auf Deiner Hüfte besonders, da sie eine weite Sichtachse haben und sich dennoch geborgen und geschützt fühlen.
Und so gehts:
Lege Dir den Ring Sling um, die Ringe vor Deinem Schlüsselbein.
Lasse das Baby von der Schulter in den Beutel auf deine Hüfte gleiten und breite den Stoff bei Deinem Kind von den Kniekehlen bis über den Rücken aus. 
Einem größeren Kind kannst du die obere Kante nur bis unter die Achseln ziegen, einem kleineren bis über die Ohren.
Über Deiner Schulter ziehst Du den Stoff breit und straffst die obere Kante.
Danach ziehst du den Stoff Strang für Strang bis zur unteren Kante, wie die Strahlen einer Sonne, in Richtung Kind nach. Jetzt schmiegt sich der DidySling rundum gleichmäßig um Dein Kind. 
#DidyTipp:
Zu Anfang sollten die Ringe recht hoch auf Deiner Schulter liegen. Beim späteren Straffen rutschen sie in die richtige Position. Durch Anheben des unteren Rings nimmst Du die Spannung vom Tuch. Der Sling weitet sich, und Du kannst Dein Baby herausnehmen.
Für innige Momente: Vor dem Bauch:
Besonders zarte Neugeborene oder ganz kleine Babies fühlen sich zu Beginn oft vor dem Bauch am wohlsten. Hier haben wir ihre Bedürfnisse auch immer im Blick. 
Und so gehts:
Um den Ring Sling vor dem Bauch zu binden, richtest Du Dich nach oben stehender Anleitung für auf der Hüfte, mit der Ausnahme, dass Du Dein Kind nicht auf Deine Hüfte, sondern vor Deinem Bauch ins Tuch gleiten lässt.
Wenn's praktisch sein soll: Auf dem Rücken
Dein Baby wird langsam größer und Du kannst es nicht mehr allzu lange auf der Hüfte tragen? Dann trage Dein Kind einfach im Ring Sing auf dem Rücken! Bei einem Ausflug oder einer Wanderung hat es außerdem die perfekte Aussicht zu allen Seiten. 
Und so gehts:
 
Lege Dir den DidySling über eine Schulter und schiebe die Ringe auf den Rücken. Lasse Dein Baby von Deiner Schulter in den "Beutel" auf Deiner Hüfte gleiten.
Bei größeren Kindern ist es oft leichter, den Sling von oben über das Kind zu ziehen.
Fächere den DidySling über den Rücken Deines Kindes auf. In seinen Kniekehlen verbleibt eine Stoffwulst.
Greife mit einem Arm über das Baby und ziehe mit der anderen Hand am freien Sling-Ende.
Dein Baby rutscht um Deinen Körper herum auf Deinen Rücken, indem Du die Ringe nach vorne ziehst und das Kind mit der anderen Hand nach hinten schiebst.
Leichtes Hüpfen kann den Vorgang erleichtern.
Straffe den Stoff wieder strähnchenweise und ziehe besonders die Außenkanten nach.
Der Po Deines Kindes sollte tiefer sitzen als seine Knie, dann ist die Anhock-Spreiz-Haltung perfekt.