Comfortable in all positions: Didy Meh-Dai (DidyTai)
The Didy Meh-Dai (DidyTai) combines the best features of a woven wrap with the ease and support of a structured carrier. It can be adjusted to fit your growing child. Whether big or small, quiet or active, across your stomach or on your back, you can attach it in just a few simple steps and you're ready to go. With its robust organic cotton fabric, the Didy Meh-Dai (DidyTai) supports your little ones from birth for as long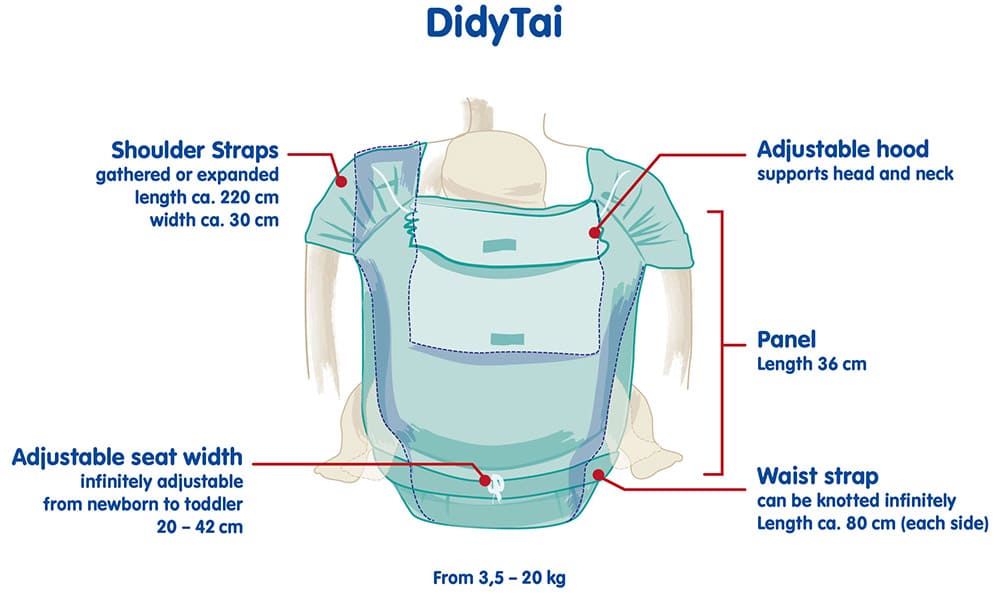 The Didy Meh-Dai (DidyTai)'s diagonal elastic sling material holds your baby in a secure and healthy position, whether awake or asleep. The sewn-in head support can be individually adjusted for newborns and toddlers using the drawstring, ensuring that your child's head is protected while he or she sleeps. The fully adjustable bottom fits your baby at all stages of its growth while at carrying age. And the Didy Meh-Dai (DidyTai) works without any snaps, Velcro fasteners, or buckles, allowing you to put your sleeping adventurer to bed quietly at the end of your busy day together without them suddenly waking up.
The Didy Meh-Dai (DidyTai) is made from the same fabrics as our baby wrap slings which stretches diagonally ensuring high comfort and support. All raw materials come from controlled biological cultivation and spinning and dying is done in certified companies only. The fabric is not treated chemically either before or after manufacture. The Didy Meh-Dai (DidyTai) is sewn in a local tailor shop here in Ludwigsburg. We can have them tailored to your wishes.
All indications are approximate and measured on a new and unwashed Didy Meh-Dai (DidyTai). The Didy Meh-Dai (DidyTai) will shrink 4-5 cm after the first wash.
Selected Didy Meh-Dai (DidyTai) features
The drawstring for tightening the head support is pulled through one of the two loops to the desired height. The stoppers can be turned and pushed through the loops making it easier to thread and unthread the drawstring.
The loops can also be found on the inside meaning the Didy Meh-Dai (DidyTai) can be reversed. This is great for patterned fabrics that have different colours on each side. The height of the head support can be infinitely adjusted with the drawstring. One end of the drawstring is sewn in meaning the stopper can be tightened using just one hand. We designed the back of the carrier so that it moulds perfectly to the back of the child.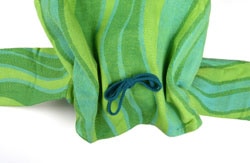 Use the drawstring to adjust the bottom width that fits your child best.
Didy Meh-Dai (DidyTai) Tying Guide
The Didy Meh-Dai (DidyTai) is equally handy for back wearing as well as for front and hip carries.
You can find our tying guides for the Didy Meh-Dai as both video and PDF download on our Tutorial Page.