Babywearing Is Love
DIDYMOS was founded shortly after the birth of twins Tina and Lisa. Ever since, we've been dedicated to promoting babywearing and re-establishing the practice in our Western society. It gives us great joy to see the increasing use of babywearing and to see parents enjoying physical closeness with their children. Many experts are advocating for babywearing and it has become quite natural again for young parents to carry their babies close to their body.
Babywearing is love.
When carried, your child experiences warmth, physical contact and a feeling of security; in short: bonding. Babywearing optimally promotes the emotional, mental and physical development of your child. Another great benefit, babywearing offers the convenience and ease of holding your child close for hours on end while she is securely supported in the DIDYMOS baby wrap or baby carrier.
From birth through toddlerhood, babywearing means love, closeness and freedom. There are no limits.
Babywearing: Feel comfortable all day long.
You might find yourself loving the act of carrying your little one close for hours. Change the Carrying Method every now and then to stay comfortable, so you can go on and enjoy carrying your baby for as long as you want. By varying how you tie them, DIDYMOS baby wraps or carriers allow you to distribute your child's weight evenly over your upper body.
Babies are meant to be carried. In fact, the anatomy of the newborn baby has been perfectly adapted to be carried in an upright position. As your child learns to sit, crawl and finally walk, her rounded back gradually develops into the S shape of adults. Babywearing with a DIDYMOS baby wrap or carrier supports the healthy development of your child's back and hips and helps to prevent less appropriate body postures. So, babywearing is a great way to have your child close as long as you want while you both feel comfortable and at ease.
There is no age limit to wearing your child.
Carrying your child is not limited to the first three months. On the contrary, you can wear her as long as you both want to and feel comfortable. Even toddlers love to be carried around and enjoy the special closeness they experience in a wrap or carrier. Our quality woven wraps are tested to hold any weight – so your baby cannot outgrow your wrap!
For carrying toddlers, we recommend a back carrying method such as the Double Hammock, a carry which, if tied properly with a woven wrap, ensures no extra strain is put on your back and pelvic floor muscles. When carrying heavier children, make sure to use a suitable wrap such as wraps with a heavier weight or woven from cotton blends with linen or hemp. If you have only more lightweight wraps on hand, you might want to tie multilayer carries, which will allow for the child's weight to be distributed evenly on your upper body.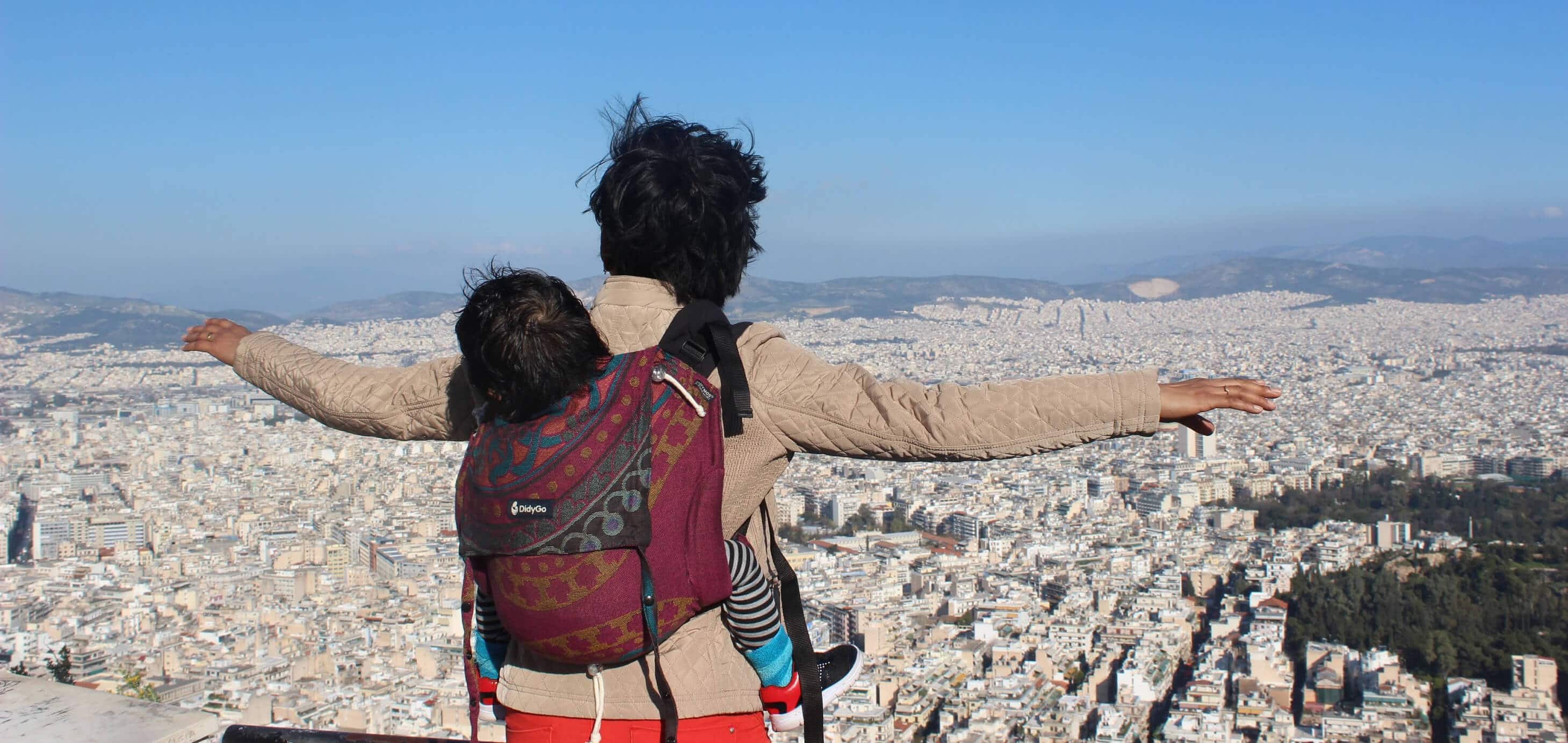 In addition to our baby wraps, all our DIDYMOS baby carriers are perfectly suited to carry your child on your back. Whether you are out and about on long excursions or easy walks, our Didy Meh-Dai (DidyTai), DidyKlick or DidySnap are great and reliable carriers. Fully adjustable, they feature broad shoulder straps and waist belts, providing comfort and support. Easy and quick to put on, our Didy Onbuhimo is a perfect choice for short walks or for the frequent ups and downs of your toddler. A carrier without a waist belt, the Onbuhimo is easy to put on and handles like a backpack and it is suited for carrying children who can sit unassisted and whose weight goes from 7 – 20 kg. Lightweight, it folds flat – practical for when you are out and about.
Babywearing without limits – With a baby carrier that suits your needs
Fast to put on and individually adjustable, our baby carriers are a great choice for babywearing beginners. They suit a variety of needs and situations, ideal for when you need to pop baby in and out frequently or for quick "ups and downs" with toddlers. All DIDYMOS baby carriers support your baby in their natural spread-squat position which is absolutely essential for healthy development of your baby's hips and back.
Nothing quite beats the comfort and fit of a baby wrap. It is tied for a custom fit allowing the fabric to mould to the wearer and baby providing optimal comfort and support. Woven DIDYMOS baby wraps are the most versatile baby carriers with many different tying options for front, hip and back carries. You can choose from a wide variety of wraps woven from cotton or blends with linen, silk, wool, and hemp – you are sure to find the material of your dreams. Knitted from pure cotton or cotton blended with wool or silk, our Jersey hybrid wraps are suited to carry babies from small newborns to about 11 kg. We favour three layer carrying methods to make sure your little one feels protected and comfortable.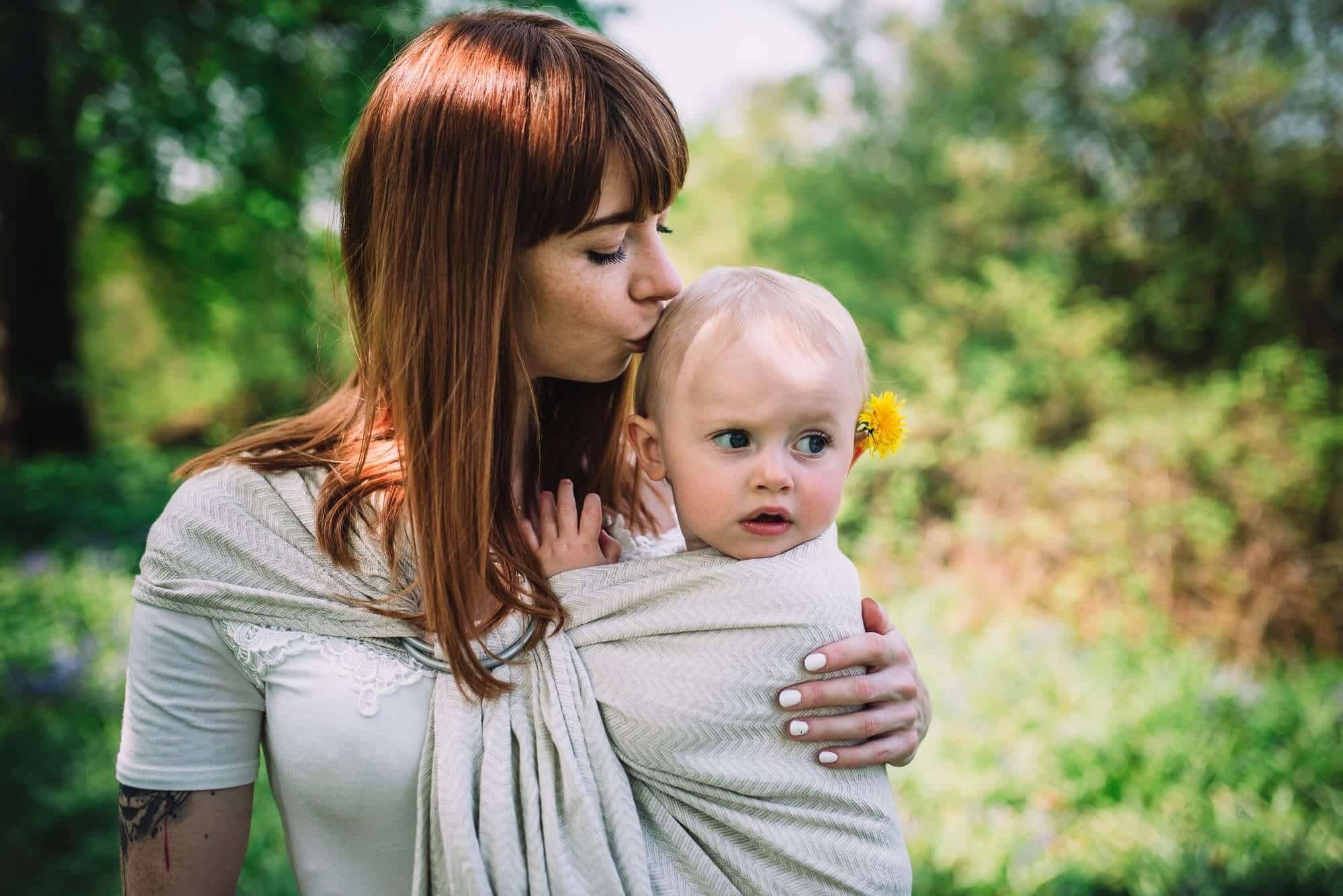 A fast-tying carrier, the DidySling is appreciated for ease of use. It folds flat to fit in a shopping bag or luggage. It is convenient for when you are on the go as you can wear it yourself with or without baby in it as you pop her in and out quickly and easily when needed and your hands are free. The DidySling offers the same qualities as DIDYMOS woven wraps in terms of support, diagonal stretch, durability and high quality.
There are no limits to babywearing! You can wear your baby daily, from newborn through toddler age, for as many hours as you both enjoy it and feel comfortable. Our DidyMagazine has a lot of information about babywearing. You may want to check out our articles explaining why carrying a baby is so beneficial and unique for both the Baby and the Wearer.