Ready-for-use: Full Buckle Carrier DidySnap 4u
Ready for use, the DidySnap 4u carrier can be put on quickly and easily. Ergonomically shaped, the waistband moulds to the body distributing baby's weight evenly over your shoulders and hip. Shoulder and waist straps are fastened completely with buckles. Two freely movable pads attached to the shoulder straps can be placed wherever they are comfortable. Carry your child in the DidySnap 4u in a front, hip and of course back carry. Now your baby can be close to the action during everyday activities or on holiday – for a successful babywearing experience.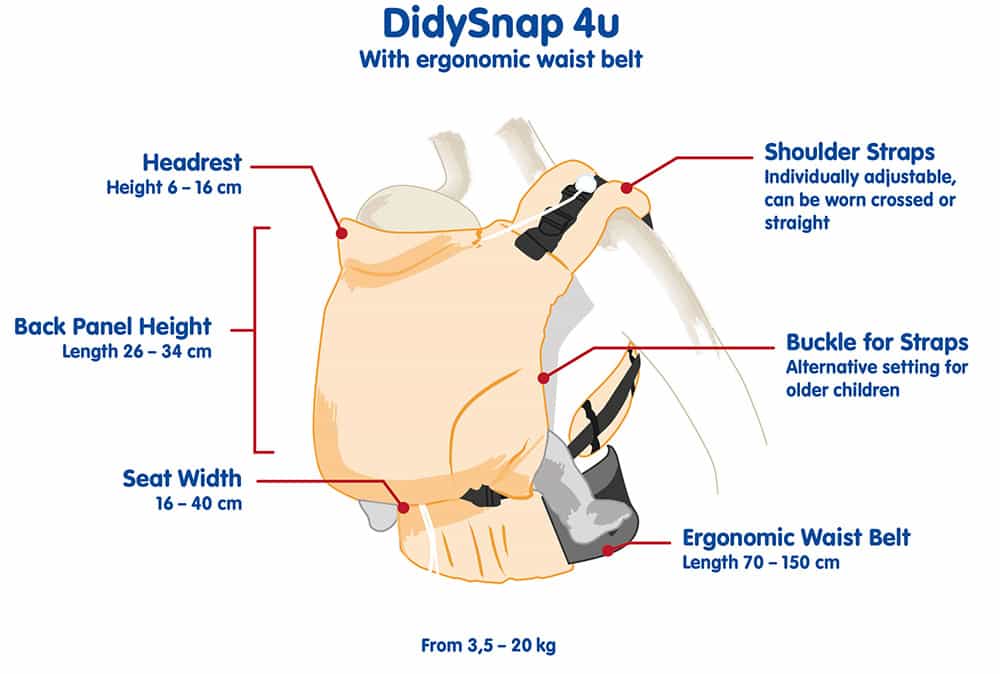 The straps of the DidySnap 4u are fully and perfectly adjustable. The webbing straps on the back make it easy to adjust the length of the shoulder straps to fit any body shape. The straps can be worn either parallel or crosswise.
For small babies click the strap buckles into the patented M-buckle ensuring your baby is ergonomically supported, for an older child the straps are fastened further up on the back panel for extra support to the child's back. The panel buckles can be hidden away if not needed.
The belt securing the shoulder straps is used as a back belt for front carries resp. as a chest belt for back carries. Freely movable, the shoulder pads make sure the pressure of the shoulder strap is distributed evenly adding extra comfort.
An elastic strap ensures the ideal positioning and secure fastening of the buckle. The strap webbing can be rolled up and secured in place with additional elastic straps. The width of the seat can be adjusted continuously using Velcro. This means the baby carrier can grow seamlessly with your child from newborn sizing (3,5 kg) to toddlerhood (20 kg).
The back panel can be extended with the headrest and is adjustable via drawstrings to fit a smaller baby.
The headrest helps support the head of a sleeping baby. Gathered, it will support the child's neck and head.
Carrying Guide DidySnap 4u
You can find a description of all carrying positions for the DidySnap 4u here.