Didy Onbuhimo – the quick and easy back carry
Crawling babies and walking babies love to discover the world, but they also love to be carried for quite a long time.
The Didy Onbuhimo provides a comfortable place on your back.
The carry (which is inspired by the Japanese onbuhimo) is ideally suited for carrying children who can sit unassisted. It looks a bit like a rucksack and is put on and taken off just as fast and easily. Moreover, it is light and fits folded in any bag – very convenient when you're out and about.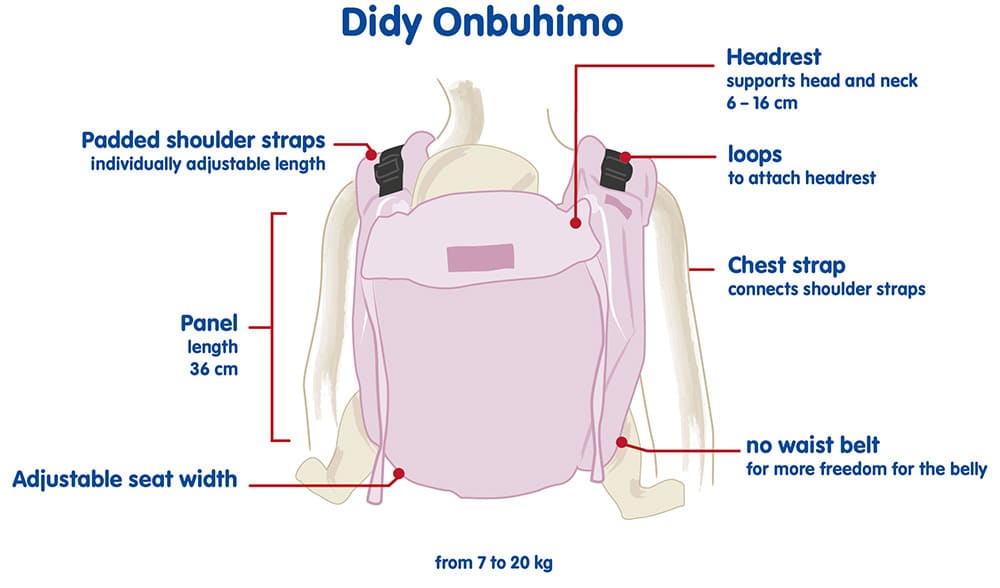 This carrier is a good choice if you're pregnant as it has no hip or waist belt and is used primarily for back carries. There is no pressure on the growing belly.
We manufacture Didy Onbuhimos from the tried and tested DIDYMOS sling fabric. Your child's back is supported ideally with this material, which enables a comfortable seat and safe support for your child (from when they are able to sit unassisted up to about 20 kg).
The intuitive, comfortable handling and the individual adaptability enables fatigue-free carrying close to the body, a high degree of carrying comfort and a great view for your child high up on their parent's back.
Tested according to CEN/TR 16512 and ASTM F2236-16a/16CFR 1226.
Here you will find all information about the Didy Onbuhimo measurements.
You can order the Didy Onbuhimo in our Online-Shop.
The Didy Onbuhimo is especially comfortable if you carry your child in an elevated position. This can be achieved by shortening the shoulder straps significantly. This will be quite easy to do if you hoist your child's bottom at the same time with the other hand.
Didy Onbuhimo Carrying Guide
You can find our Carrying Guides for the Didy Onbuhimo as both video or PDF download in our Didy Onbuhimo Tutorial.
DidyGo Blaue Blüte
Snug and comfortable on mum's or dad's back. Easy to put on, it folds down small. Blue Blossoms woven from blue and gold coloured organic cotton.
DidyGo Denim
Snug and comfortable on mum's or dad's back. Easy to put on, it folds down small. Classy Jeans look.