DidySnap: Grows with your child - quick to put on
Go out and enjoy new babywearing adventures with the DIDYMOS baby carrier DidySnap. It is quick to put on and it grows with your child!
We did a lot of trying and testing, learning from the experiences of babywearing consultants and experts to finally create this versatile baby carrier. We know it is perfectly suited to carry your child from newborn to toddler.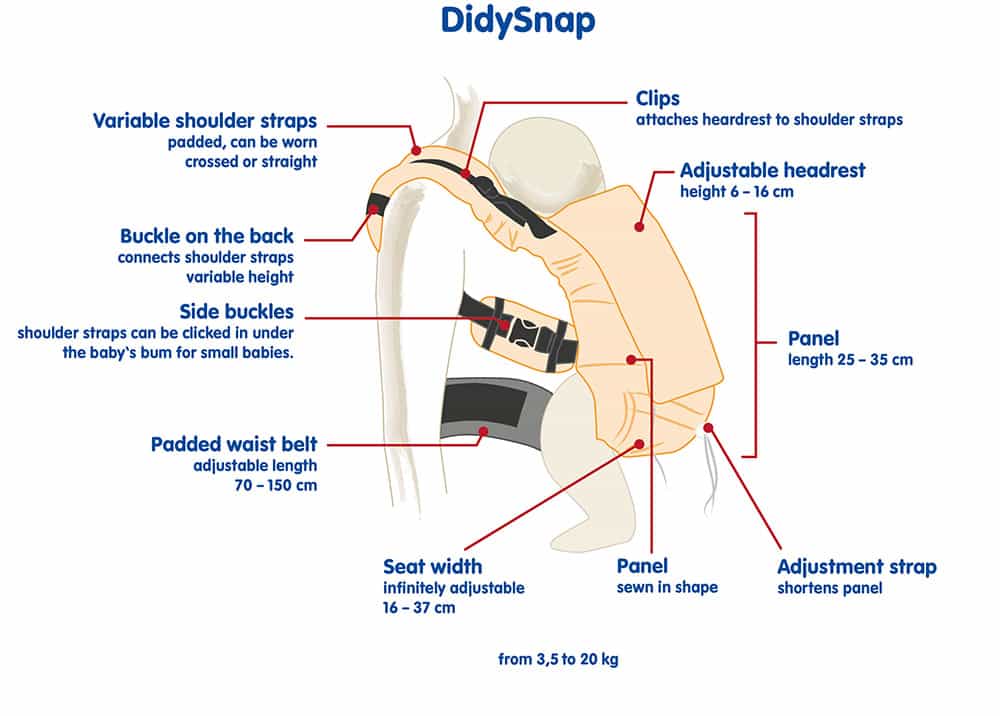 Our new full buckle carrier is convenient and easy to put on, individually adjustable and offers natural wearing comfort. Shoulder and waist straps are fastened completely with buckles. Two freely movable pads attached to each shoulder adding extra comfort. The shoulder straps can be worn either parallel or crossed over your back - whichever is more comfortable for you.
Adjustable, the headrest is easy to attach to the shoulder straps via drawstrings to perfectly suit a newborn as well as a toddler. Two-way-buckles allow for easy fastening and loosening while facilitating a custom fit.
Carry your child in the DidySnap in a front, hip and of course back carry. Now your baby can be close to the action during everyday activities or on holiday - for a successful babywearing experience.
A great plus: Two options to change the base width ensuring your newborn or baby is securely seated in the carrier with DIDYMOS wrap fabric supporting baby all over evenly. The shoulder straps are clicked into the patented M-shaped buckle under baby's bottom in a way to ensure that your child is held firmly in the spread-squat-position.
For newborns and smaller babies, the straps are positioned under baby's legs. For an older child or if you carry on the back, the straps are fastened to the sides of the back panel.
Individually adjustable in width and length, the baby carrier grows with your child. It is easy and quick to change again to accommodate an older child who wants to be carried again.
Needless to say, our DidySnap complies with the prevailing CEN/TR 16512:2015 safety standard.