DidyKlick: Ready-to-use half buckle carrier
A relaxed Babywearing experience with one click! Alongside the DIDYMOS Meh-Dai (DidyTai), our DidyKlick is another convenient combination of Baby Wrap Sling and Carrier, the DidyKlick Half Buckle. A sturdy waist belt with a clip-buckle ensures support around the torso. The soft pouch made of organic cotton offers a safe place for your little ones. The sewn-in headrest guarantees a well-sheltered nap.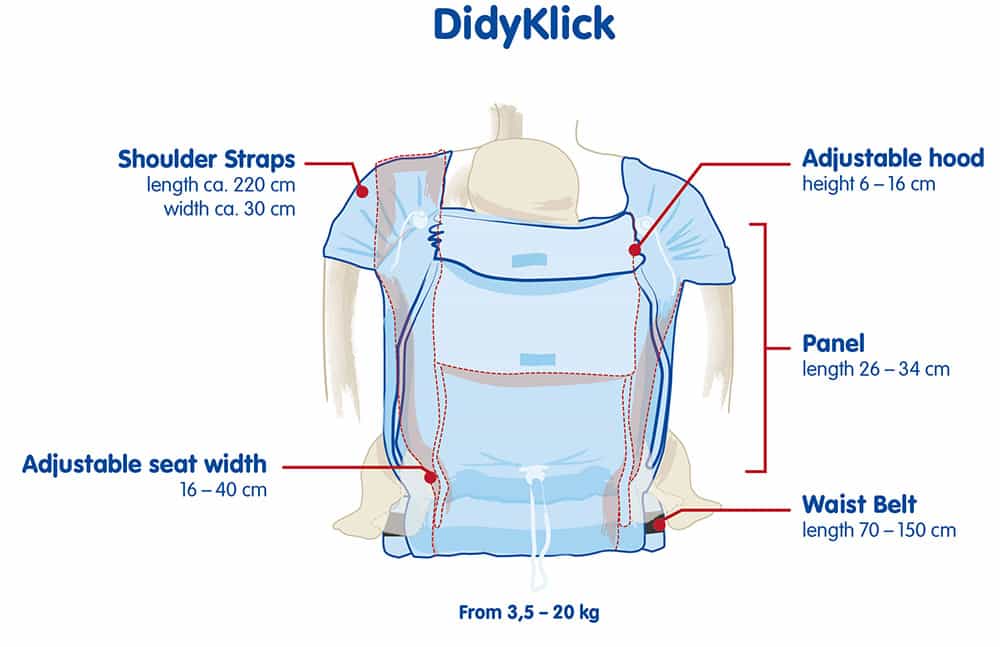 Our DidyKlick allows you to carry your little ones in comfort in a front, back, or hip carry through everyday life. The waist belt is easy to adjust according to the size of the wearer. The pouch can also be adjusted individually according to the size of your child. This enables you to ensure an ideal posture of your child's spine and of the correct spread-squat position at all times.
Needless to say, our DidyKlick complies with the prevailing CEN/TR 16512:2015 safety standard and with the ASTM F2236 standard.
DidyTip
Our innovative pads for the shoulder straps ensure more Babywearing comfort and reduce the strain on your shoulders further. By the way, these are also suitable for our Didy Meh-Dai (DidyTai)!
DidyKlick Carrying Guide
You can find a description of all our carrying positions for the DidyKlick in our DidyKlick Tutorial.
Baby Carriers and Wrap Slings Tested by DIDY-Parents
Our most important critics are you, the parents, the mothers, fathers and all babywearers. Your suggestions impacts the development of baby slings and baby carriers and are very important to us.
But it is also important for you to know how others rate our baby carriers. All tests in this section are written by parents who like to use baby carriers a lot, who enjoy testing them and who have also sent us photos and sometimes videos.
Would you also like to write a review of DIDYMOS baby carriers or accessories? Each published test report will be rewarded with a voucher for 20 euros.