The hip alternative with a view: hip cross carrying position®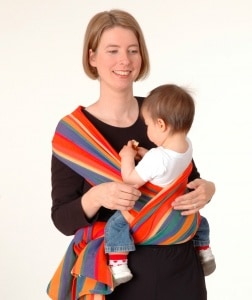 For the hip cross carrying position you tie the cross at your hip. As a result, your child sits close to your body in the natural spread-squat position. As with all hip carrying positions, a particular advantage of this position is that it allows your child to look at you at any time and also to explore the world around her..
Where's the baby? Sideways on your hip
From what age can I carry her in this way? from twelve weeks onwards
Suitable for slings: size 3 and above
The illustrated PDF tying guide for the hip cross carrying position is available here.
Please read the safety instructions before tying the baby wrap sling.