Getting fit with baby - Fitness after birth part 2
Postnatal physiotherapy or mother-child classes?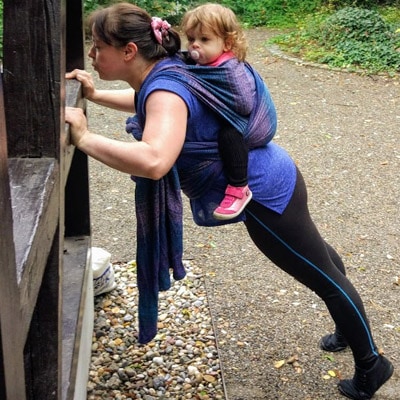 First things first – exercising with a baby? It's totally possible, but there are a few things to keep in mind to make sure that it is a really great experience together.
Pregnancy and birth put a lot of strain on your body. Your ligaments and tendons stretch, your abdominal muscles widen, and your pelvic floor is no longer the same as it was before you gave birth.
The good news is that you can get back into shape with fun and exercise - it's all about the "how".
Postnatal physiotherapy or mother-child classes?
Both are best. Postnatal physiotherapy is not a sport, but rather specific exercises that target your pelvic floor and back and abdominal muscles to strengthen and tighten the parts that are under particular strain, through targeted tension, breathing techniques, etc. You can start with physio after about 6 weeks postpartum and a bit later after a caesarean section.
As a rule, your baby is not present, because you will be paying close attention to the techniques and focusing on the sensations.
Tip: if your partner or another carer is at home with your baby, carrying in Didymos is just perfect. If you are breastfeeding, you can pump milk beforehand. Feed your baby immediately before you leave the house, and often he or she will sleep safely and warmly in the DidySling with dad, a friend or grandparents until you return.
So what now?
Postnatal physio provides the basis, but now you want to do more for yourself. In that case, check out a parent-child course. Many find working out together with baby is just perfect.
You can also start this course approximately 6-8 weeks after birth (or 10-12 weeks after a hysterectomy) with the advantage that your baby is always with you.
These classes focus on specific skills for the postnatal period, i.e. the targeted control of particular muscle groups as well as coordination and endurance.
At the same time you get to know other parents and can talk about everyday life with your baby in a relaxed atmosphere.
Getting fit with baby in a sling or baby carrier - which course is right for me?
This question is not easy to answer as there is really a lot on the market. Indoor, outdoor or a combination of both, for starters.
Basically, some offer interval training, where cardio workouts are combined with strength elements such as squats to guarantee a good complete workout - this includes Kangatraining or Mamaworkout, for example. Or there are courses that focus more on dance elements such as Mawiba.
Decide on what you prefer; usually there are taster courses on offer (and more providers, check out what's in your region).
What should I look for before signing up?
The trainers are specially trained for the needs of your body after childbirth. They know exercises especially for the pelvic floor and your postpartum muscles and work specifically on your posture. There are no jumps, sit-ups or crunches, and no straight planks, because these moves put too much strain on your abdominal muscle, your still open rectus diastasis, and your pelvic floor. It is more important to strengthen all the core muscles, the pelvic floor and to work on your posture.
A good trainer is also familiar with carrying aids and slings, knows what is important for healthy carrying, which carriers are suitable, and works together with a carrying consultant if she is not a carrying consultant herself.
And don't forget: it simply has to be fun. When you exercise, you release dopamine, which is our "reward hormone" and which makes us satisfied and happy when we work out.
Can't I also train online?
Yes, you can and there are now many videos. But, I see it as a supplement, because your trainer can check your correct posture doing the exercises much better on site and adapt the exercises even faster and easier to your individual fitness level. And yes, this is also possible in group classes where many exercises are available for beginners and advanced levels. Plus, you'll be able to see your progress quickly.
Last but not least - what is the baby doing?
The baby should be closely held to your body for the majority of the training. The movement makes him happy and he falls asleep quickly while you are doing your fitness training and with increasing weight - this is also a really good workout for you. Older children enjoy the time on your back and often enough I see in classes that they join in with arms and legs and just have fun with the movement of the parents, the exercises, and the other babies.
Just try it out - you'll see it's great fun and strengthens you all round – physically and emotionally.
You can read the first part here.

This text was written by Anna, who is not only a babywearing counsellor, but also a kanga trainer and fascia and pelvic floor trainer.