The postpartum period and the house
What can you do to get back on top of everything?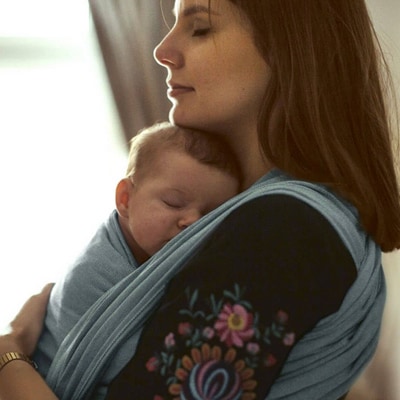 Your baby is here and there's nothing better than smelling him, feeling him, resting together - right? Sounds picture perfect but is it the reality?
The household keeps on going
The ever-growing mountain of dirty laundry moves from one room to another in the apartment. It's amazing how much laundry such a tiny human creates. The dishes make their own pile, and at least the dishwasher needs to be emptied from time to time. Sound familiar? For us it was everyday life. And then sometimes the older siblings also want to be cared for, predictably.
So, the pressure to be on your feet right after birth and to manage your growing family and the household again is huge. Then we add in the list of visitors swinging by to greet your newest addition and it is a lot!
Breaks, time and support
What can you do to get back on top of everything?
First of all: take a break. It sounds strange, but it's true. You need time to catch your breath, to lie down with your baby, and to catch up on sleep. Take advantage of the postpartum period and get all the help you can. A friend who wants to visit you and baby can bring the shopping, grandpa who comes to visit can do the hoovering and your partner can hang up the laundry. Don't be too hard on yourself and others. It doesn't have to be perfect as your body comes first.
One perfect place for resting with your new addition is in a comfortable chair doing skin to skin with our bonding top (only upright, not lying down, not falling asleep with it on). These were actually developed for premature babies and so, they are wonderful in the postpartum period.
Wearing in the postpartum period
Did you know that the postpartum period lasts about 6-8 weeks? This is how long your body needs for the uterus to retract and for hormone levels to return to normal.
Of course, you can get up and have your darling with you in a DIDYMOS baby wrap or DIDY carrier. This is much gentler for you than holding your baby in your arms, because your ligaments are not yet stable again due to the pregnancy hormone relaxin. I loved going for little walks and then sitting on the bench with my son in our DIDYMOS and feeling the closeness.
Babywearing and the scent of the baby, by the way, releases oxytocin. This is our love hormone and it in turn promotes the bond between you and your child, reduces stress and stimulates milk production. Read more about this here.
Or babywearing can also be helpful for the older sibling as you check out a book together or play with a toy and the new baby is just there with you. But listen carefully to your body and don't overdo it.
This text was written by Anna Hoffmann