The Ring Sling - the fast and light baby carrier
Your child experiences the world together with you at eye level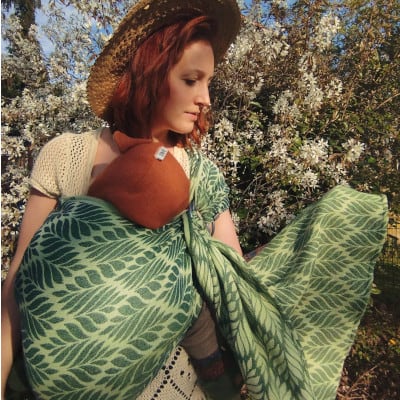 Do you want to put your child on your hip quickly, comfortably, and easily? While using something light and simple? The DidySling is a great companion for many ages and stages.
Carrying safely from birth to toddlerhood in the DidySling.
In general, you can carry your baby in this sling from birth, but as always, you should follow the rules for safe and healthy carrying:
Make sure your baby's airways are clear.
Tie tightly and firmly to your body for a secure hold and a comfortable fit.
Support baby's head and neck according to your child's age.
Make sure your baby is in a good spread-squat-position.
But ring slings are not only suitable for very young babies. It adapts to your needs for your entire carrying journey.
The Ring Sling - a quick baby carrier in different positions
You thread the fabric through the rings once and the sling is ready for use again and again. Small and light, it fits in any pocket, is quick and easy to put on, and is suitable for all carrying ages.
The ring sling is usually known as a quick hip carrier - but other carrying positions are also possible.
If you prefer to carry your baby on your front, it's no problem, just place your child further forward in the sling.
Do you want to cut something, peel an apple, or cook? At a certain age, children have their arms free and find everything that glitters very fascinating - including (unfortunately) knives. Quickly, little fingers can get caught in the middle. With this sling, you can quickly push your child onto your back. From there he or she has the best view and can stay part of the action safely.
Do you want to feed your child on the go? Then loosen the rings a little and you can put your baby in the breastfeeding or bottle-feeding position. Important: after feeding, bring your baby back into an upright position and tighten the fabric in the rings again.
Discover the world together with the ring sling
The DidySling is perfect if you want to carry your baby for many short moments: from the car to the flat, to the laundry room, in the supermarket or because his or her little legs can no longer walk. Who hasn't had this experience? My niece put it this way: I can't walk any more, I have heavy feet. The choice between putting your child on your shoulders or in arms on your hip is not ideal for your own posture.
With a DidySling, you can quickly move on. Your child experiences the world together with you at eye level, you are well supported at the shoulder and back, and can carry upright without pain. Perfect!
DidyTip: Our version made of waffle piquee or facet monochrome is especially good for wearing in the summer - it absorbs sweat particularly well or dries fast after a spontaneous bath in the children's pool, at the lake or the sea.

This text was written by Anna, a babywearing counsellor