Carrying newborns - from when in the baby carrier?
Can I wear a baby carrier from birth?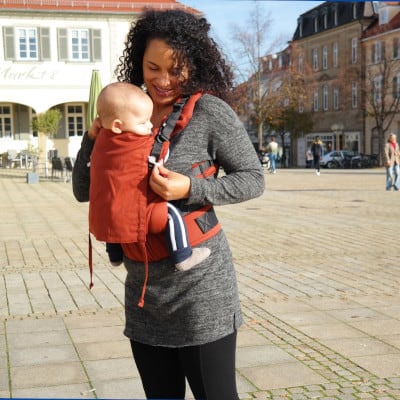 When can I start carrying my child and in which carrier? These are questions that you will certainly have to deal with during pregnancy.
It's not so easy to give a general answer. In the end, it's what you feel comfortable with that counts, but the carrier should fulfil a few points:
Individually customisable and adaptable to your baby's size.
The baby can be carried from birth in a spread-squat position (not too much, not too little).
No pressure and tension on the still-rounded back
Good head and neck support, individually adjustable to the baby's size
From birth and always suitable: baby wrap sling or ring sling
What always works from birth and even for premature babies is the Didymos baby wrap sling or the DidySling. Thanks to the special diagonally elastic weave and the possibility of tightening it strand by strand around your body and your child, it always fits perfectly. It holds your baby safely and securely all around. It always works with all carrying methods, and it grows with your baby and fits perfectly until the end of the carrying time - without weight limit.
Also possible: the elastic hybrid sling: it is knitted and particularly soft - you can tie it in different ways from birth. It is comfortable up to approx. 11-12 kg weight of your child.
Can I wear a baby carrier from birth? That varies according to how babies are.
Halfbuckle baby carriers - buckle and tie for newborns
Halfbuckle carriers like the DidyKlick are beautiful.
The adjustable seat width on the waist belt adapts to your baby's physiologically correct spread-squat position. The second strap shortens the back so that even your little baby does not sink into the carrier, making it absolutely suitable from birth.
The straps can be fanned out and the sling fabric can be tightened in strands, so that it adapts to the development of your child throughout your time carrying. Of course, the neck and head area are also perfectly supported by the adjustable neck support.
The basic size is suitable for children up to approximately 3 years. If you want to start with a larger child from about 6 months, we recommend the DidyKlick 4uToddler, which fits up to about 5 years.
If you prefer to have a waist belt to tie, the DidyTai is a good choice.
Fullbuckle baby carriers for small babies
Fullbuckle carriers (also called comfort carriers or buckle carriers) are very different. It is important that they are easy to adjust and that there is no pressure on your baby's rounded back at the beginning of the carrying period. That's why we make all Didy carriers from the firm Didymos sling fabric that we have been developing for many years. It is simply super durable, free of harmful substances and carries your child safely and for a long time.
The DidySnap can be adjusted very precisely - various options allow for the finest adjustment depending on the size of your baby. In the beginning your baby sits rounded over the shoulder straps, later the straps are attached to the back part and thus redistribute the weight of your then sitting child. This may be a bit more work in the beginning, but since you don't change the position too often, it will only be a minor adjustment later on.
An alternative is the DidyFix, small, light and quick to adjust, it is also suitable from birth due to a few special features. As with all Didy carriers, the seat width is variable and very easy to adjust. The back section can be shortened with two buckles depending on the age of your child. Due to the special attachment of the straps to the back section, the carrier is not tightened over the back, but in a V-shape towards the sit bones, which is perfect!
Both carriers have an adjustable head and neck support, so your child's head is always adequately supported.
Which carrier do you choose? If you are unsure which carrier fits into your everyday life, you can contact us at any time or take advantage of our rental offer to try out the carrier first. Because it doesn't just have to be comfortable for your baby, but also for everyone who carries the baby.

This blog post is by Anna Hoffmann