Buying a baby carrier is like buying shoes
Just as with shoes, the fit of a baby sling must ensure that it is comfortable to wear.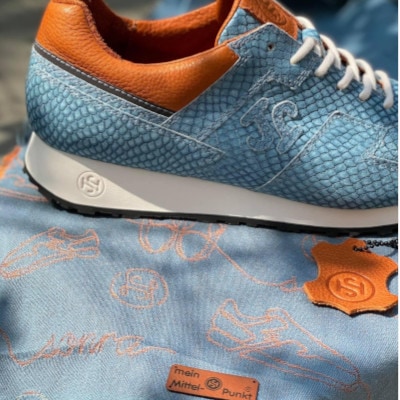 I've friends who just love shopping for them, and others who spend as little effort on it as possible. I say it's much more similar than you think at first - buying a baby carrier and buying shoes. Here me out!
There are so many similarities:
Some people can't get enough of them and there are plenty of occasions to buy new ones, and the selection of different styles also means this: one for everyday life, for outdoor activities, for slipping in and out quickly, for the next wedding,an airy option for the summer and something warm in winter ... sometimes particularly chic, sometimes practical and functional, sometimes an ingenious system.
Others swear by the truly perfect one, comfortable and universally applicable - but maybe a second and a third colour will soon be allowed to move in, to be on the safe side.
Just as with shoes, the fit of a baby sling must ensure that it is comfortable to wear. A carrier that doesn't fit properly can be frustrating and painful. The size and weight of the baby must also be taken into account to ensure a safe and comfortable fit. The smaller the baby,the softer the material we often prefer and a special option for toddlers is also sought.
We are asked again and again, "Which is the right baby carrier for me?"
Here, too, it is like shoes - to know for sure, it is best to try it on. And not every baby carrier sits equally comfortably on every body; your shoulder shape alone can create a completely different carrying sensation than for others. Before you try it out, our baby carrier advisor can give you some initial direction.
Last but not least, when buying shoes or a baby carrier, quality plays a role in people's choices, too. Both good shoes and a good baby carrier are good for our health and contribute to our healthy development. If the baby carrier is well made and durable (Link sustainability and social responsibility), it can also be used for a long time - unlike shoes, our slings and baby carriers are sometimes even used for several generations and still offer the same wearing comfort.
There are some key differences when choosing shoes and baby carriers:
For one thing, baby carriers and wraps can be worn more easily by more than one person if they are comfortable for both people. So, it is also a good idea to test them extensively before buying, like, for example, with our test drive.
The timing is different, too. We usually discover our love of carrying much later in life - because while we have been wearing shoes since our very first steps, we usually only start looking at baby carriers as young parents or parents-to-be. That's why it's all the more helpful to get detailed advice, either at a selected specialist shop near you, from babywearing consultant or simply contact us directly.
Well, do you feel like going shopping?

This blog post is by Christina Riffi