The flexible baby carrier for childs: DidyKlick 4u Toddler
As little babies grow into toddlers, always exploring, always active – they still enjoy being carried, taking a nap close to their parents, receiving cuddles while exploring the surroundings from another perspective.
With this in mind, we have developed the DidyKlick 4u Toddler which is designed to carry older and bigger babies in comfort and with ease. Based on our DidyKlick 4u Half-buckle, the Toddler carrier combines the comfortable support and mouldability of a woven wrap with the convenience and simplicity of a buckle carrier.
Easily adjustable, the padded waist belt is secured with a clip-buckle. With its wider middle part, the waistbelt is ergonomically shaped and is sturdy enough to provide comfortable support around the torso.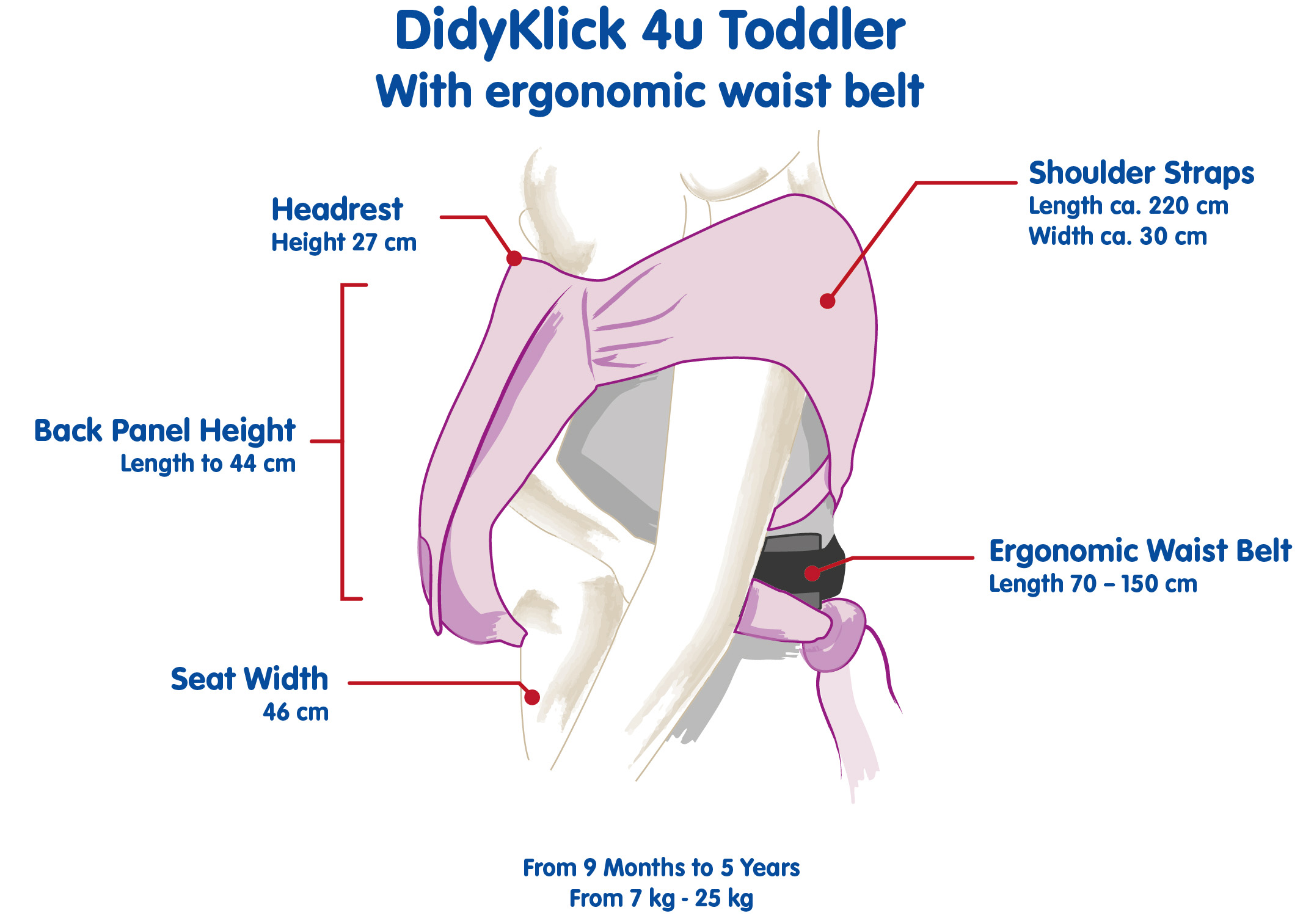 Body panel and shoulder straps are made of wrap fabric They are wide and spreadable and can be tied in a variety of ways to mould around your shoulders allowing a high degree of adjustability for all shapes and sizes. They ensure a snug and enjoyable fit while adding an extra level of comfort and support. Whether carried on your front, hip and back, your child is always supported in the natural spread squat position.
The seat width is simple to adjust, the height of the back can be shortened via ribbons.
Features of DidyKlick 4u Toddler at a glance:
Padded waist belt with safety clip-buckle, sturdy, fully adjustable, ergonomically shaped
Soft back panel with integrated headrest that can be adjusted by drawstings and fastened onto the straps by snap fasteners.
Back height can be shortened easily via lateral ribbons.
Wide, spreadable shoulder straps made from soft woven wrap material for comfortable support in any carrying position
Material: Body panel and shoulder straps made from DIDYMOS wrap cloth woven from pure organic cotton, skin-friendly and sustainable, robust with an inherent diagonal stretch.
Security: Complies to the EU safety standard CEN/TR 16512 and to the ASTM F2236 standard.
Made in Germany and neighbouring countries.
Ideal for wearing babies from abt. 9 months through 5 years (7-25 kg).
Carrying Guide DidyKlick 4u Toddler
You can find a description of all carrying positions for the DidyKlick 4u Toddler in our DidyKlick 4u Toddler-Tutorial.