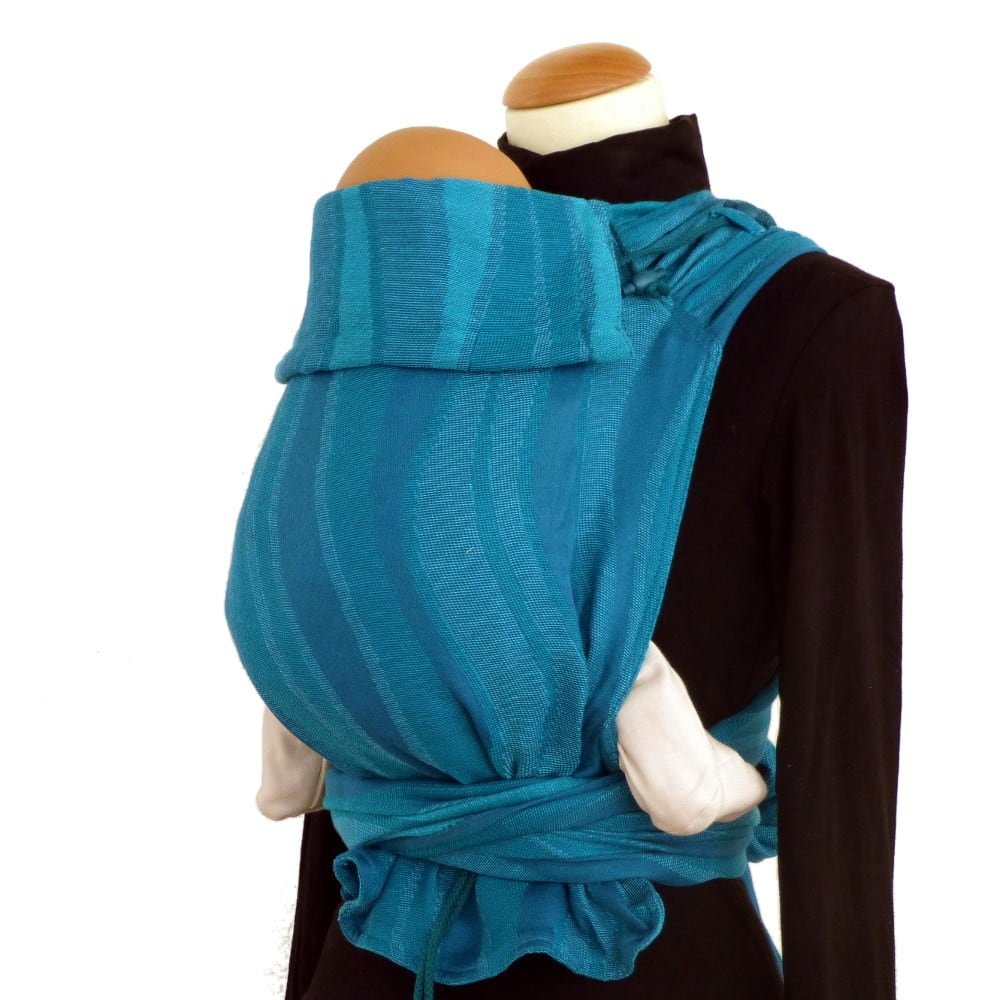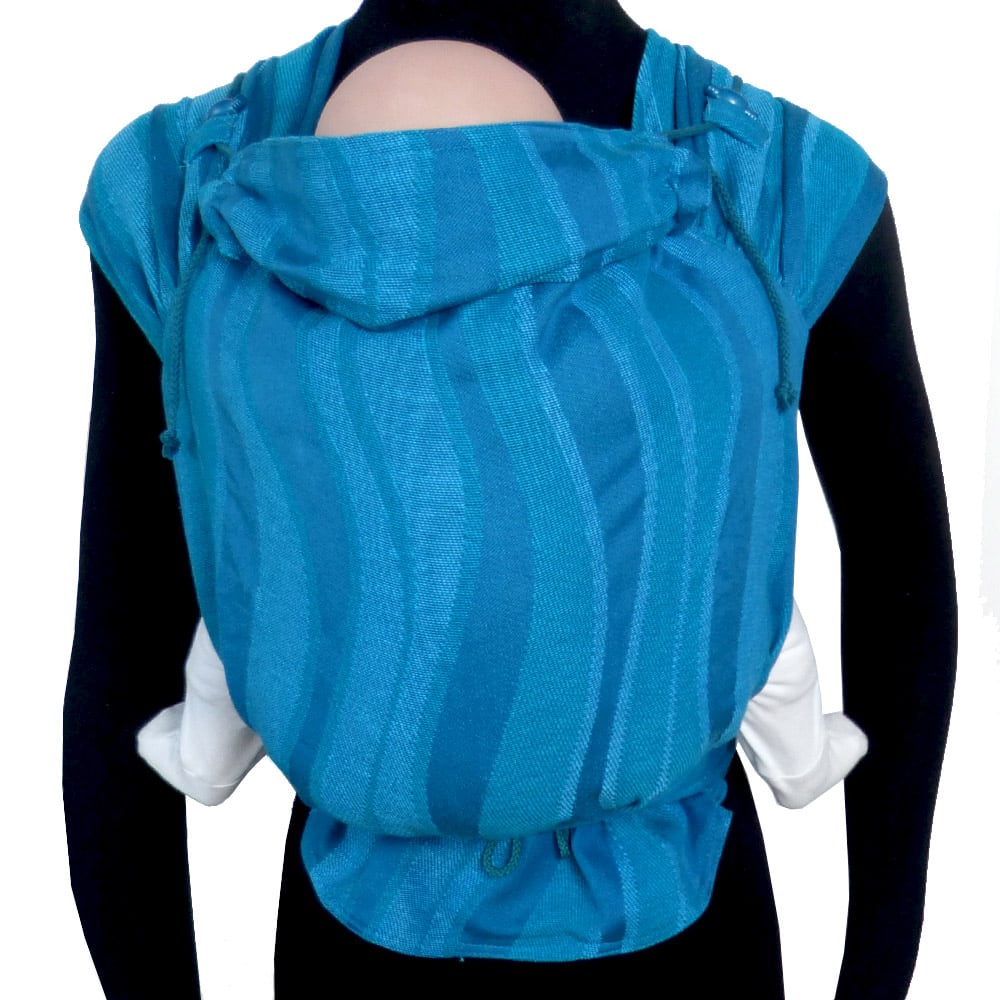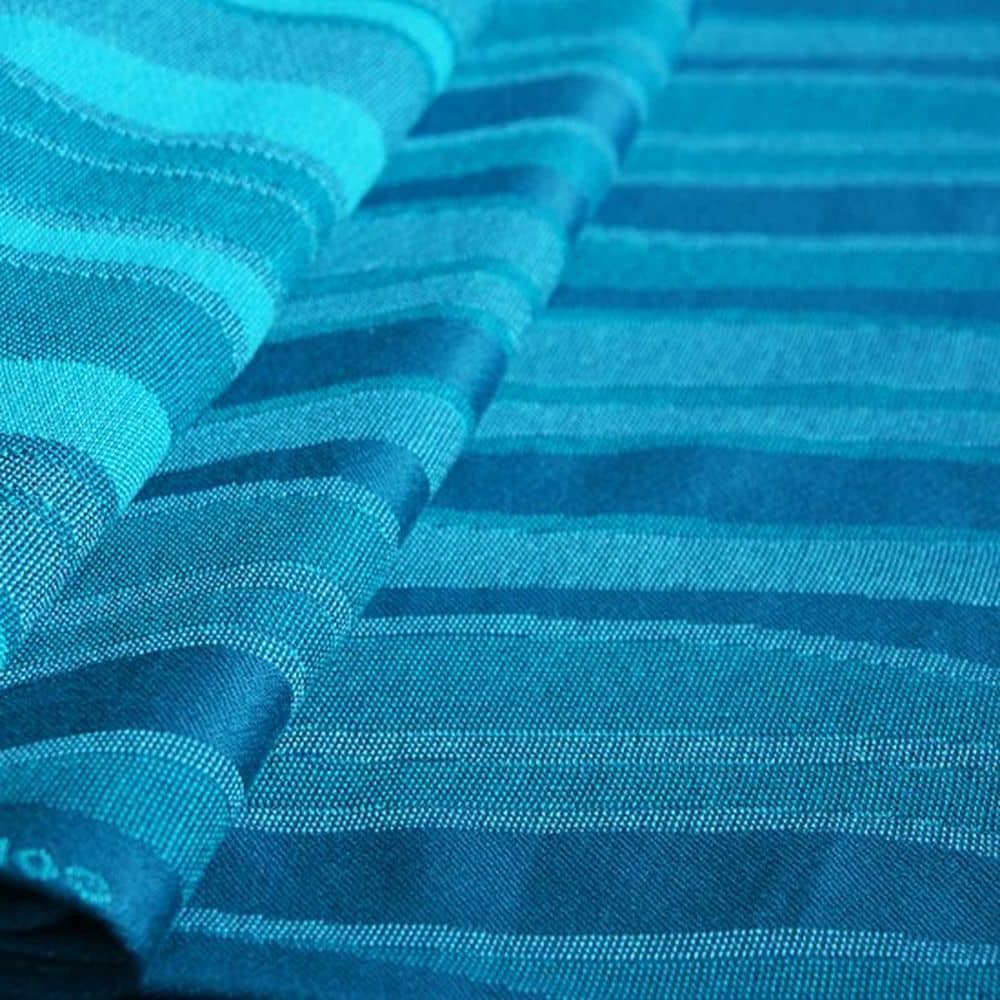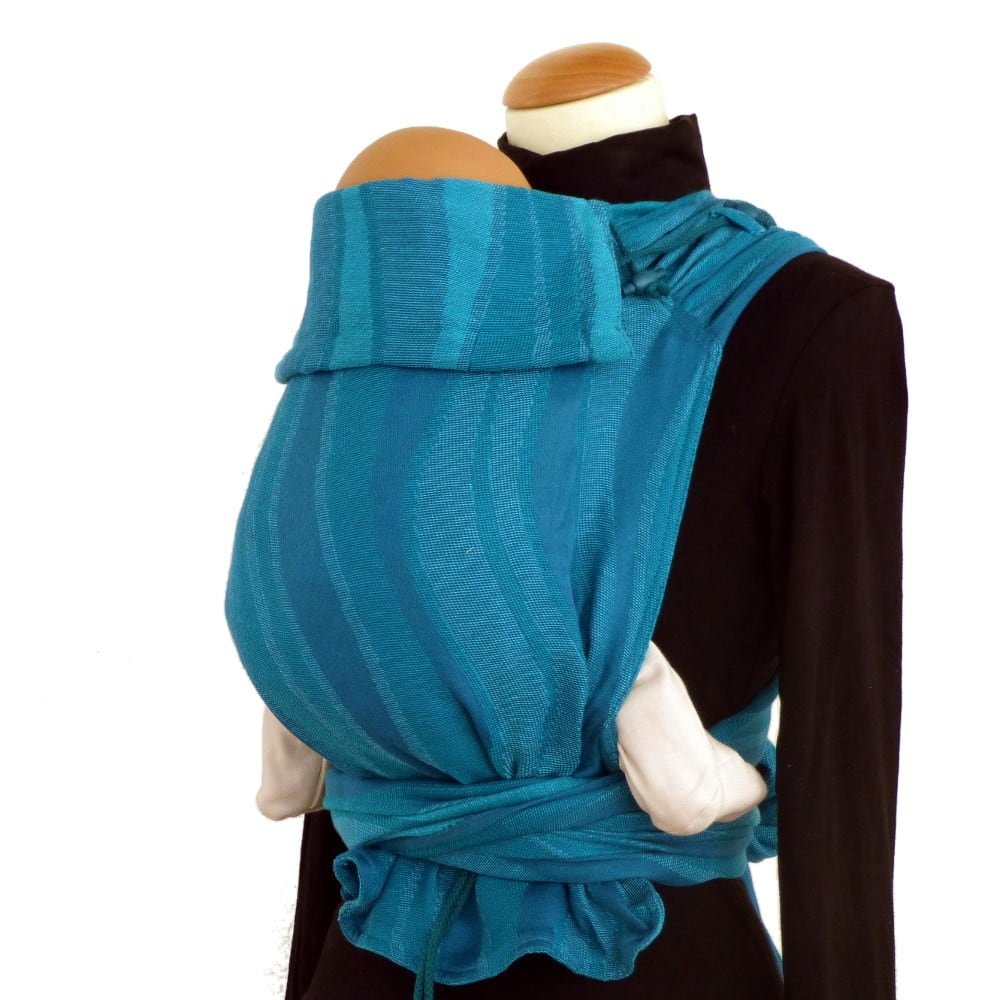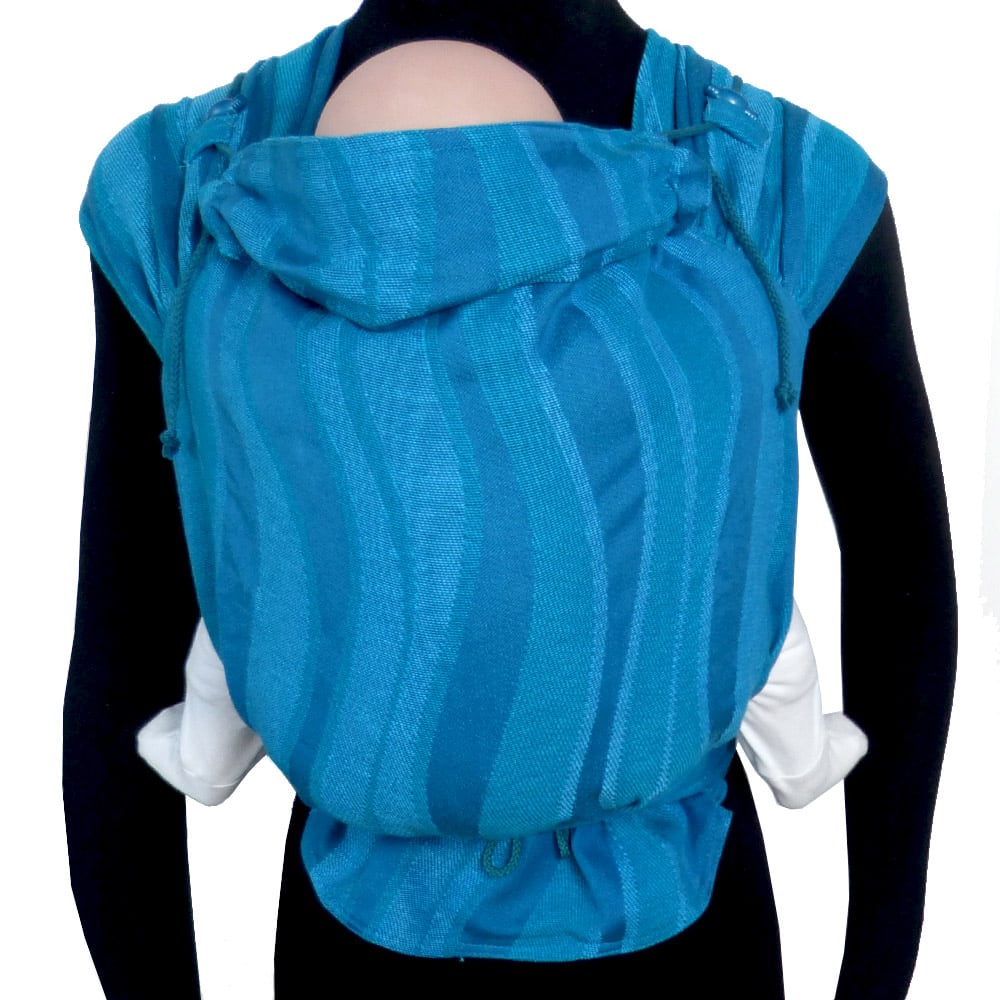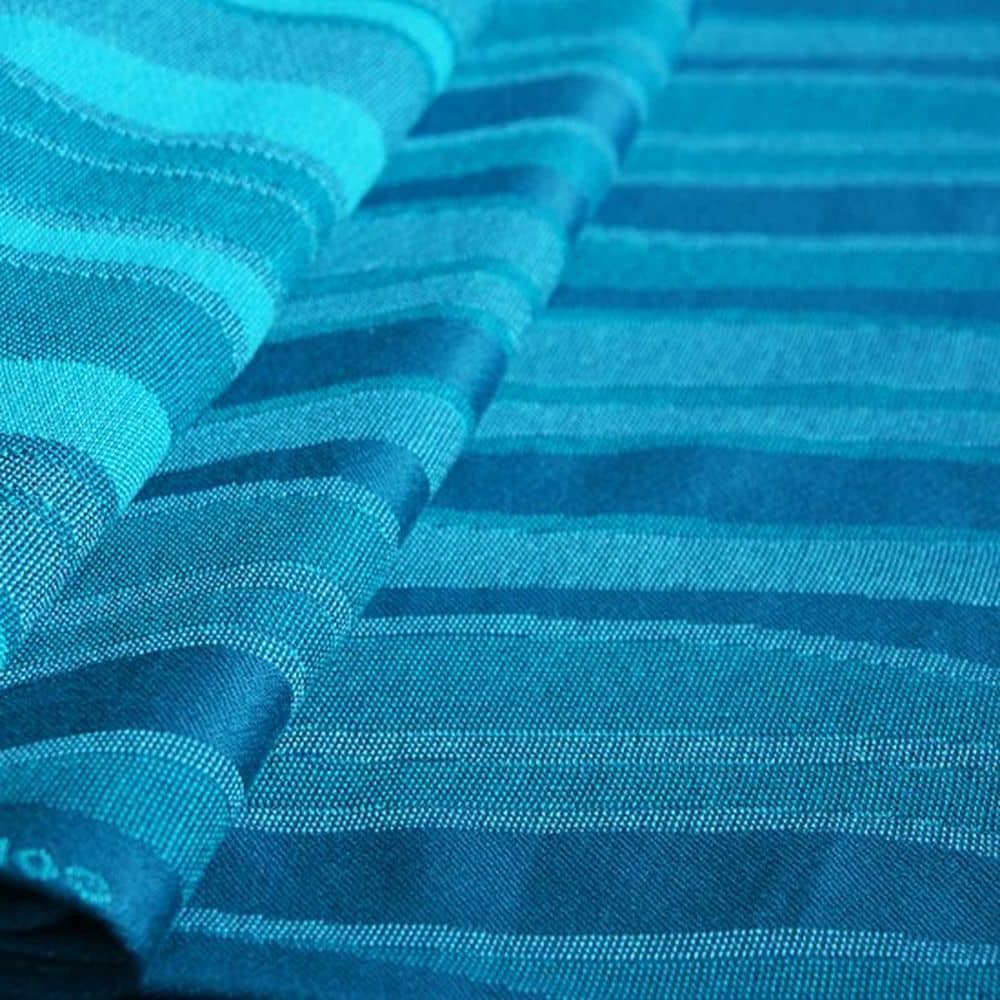 Didy Meh-Dai (DidyTai) Waves Acqua
Available on 29 October 2021
Add to wishlist
Description
One-size Baby Carrier of supreme comfort, very supportive and easy to put on. Made of the same fabric as Didymos Baby Wrap model Waves Acqua
Jacquard fabric with Waves pattern in shades of petrol blue and turquoise. The basic colour is bluish green.
Jacquard weave: the patterns are WOVEN into the fabric and not printed on it, they are the same on both sides, but with the colours reversed.
---
I had a chance to try DidyTai and I loved it! Wonderful for wearing small babies.
Pour avoir testé ce porte bébé sur une longue balade , j'ai apprécié le confort tant en portage ventral qu'en portage au dos . Bébé est bien contenu , le poids est agréablement réparti grâce aux bretelles déployables . Le tissu écharpe donne une sensation proche d'un portage en écharpe , avec la simplicité de nouage d'un mei tai . Les réglages possibles permettent d'ajuste le portage au mieux au confort de chacun . Sans hésiter LE mei tai à avoir !!
Als Tragetuch-Fan wollte ich auch die Vorteile des DidyTai ausprobieren. Stoff und Farbe sind in der bekannten Didymos Qualität, wunderbar!. Die Handhabung ist für Tragetuch-Neulinge vielleicht einfacher, für bereits erfahrene Tragetuch-Fans nur eine Umstellung. Ein großer Vorteil des DidyTai meiner Meinung nach ist, wenn das Baby einschläft kann es leichter aus dem DidyTai ins Bettchen gelegt werden, als aus dem Tuch. Aus meiner Sicht ist allerdings ein Tragetuch in den ersten zwei Monate nach der Geburt besser, da das Baby dort fester und stabiler umhüllt ist, als im DidyTai. Auf jeden Fall ab dem dritten Monat eine klare EMpfehlung!
Suitable Products
Suitable Products
Chest Strap for Back Carries
Suitable for back carries tied with the DIDYMOS Baby Wraps, Didy Meh-Dais (DidyTais) and DidyKlicks. The DIDYMOS chest belt is an optional accessory for back carries if you do not want to cross or tie the shoulder straps over your chest. It makes sure that the straps do not slip down off your shoulders. Having tied the carry, you pass the belt parts around the straps, buckle and you are ready to go. Watch our video clip to learn how it works.
Backpack Waves aqua
Looking for a unique backpack that holds your DIDYMOS Wrap Sling, DidySling or Didy Meh-Dai (DidyTai)? Then you will love our functional little backpacks that are made from the same beautiful organic fabrics as the DIDYMOS Baby Wrap Slings. They measure 35 x 28 cm and are designed to hold your baby carrier or other useful things that you need when you go to the market, the beach or around the world. They are available in many DIDYMOS colours and patterns..
Doll Sling Waves Acqua
Das Puppentragetuch - Geschenktipp für größere Geschwister. Es soll auch Erwachsene geben, die ein Puppentragetuch als Schal zweckentfremden. Das Tuch ist halb so breit wie ein normales Babytragetuch. Wellenmuster in Petrol- und Türkistönen. Dieser Farbton sieht auf jedem Bildschirm anders aus. Die Grundfarbe ist ein kräftiges Petrol, also eher ein bläuliches Grün. Die Motive sind in aufwändiger Jacquardtechnik eingewebt und nicht gedruckt. Jacquard-Gewebe zeigen auf beiden Seiten das gleiche Muster im jeweils umgekehrten Farbspiel. Sie zeichnen sich, trotz ihrer hohen Festigkeit, durch besondere Elastizität aus.