Carrying when travelling: A game changer with the right baby carrier
Why is a baby carrier a gamechanger on holiday and when travelling?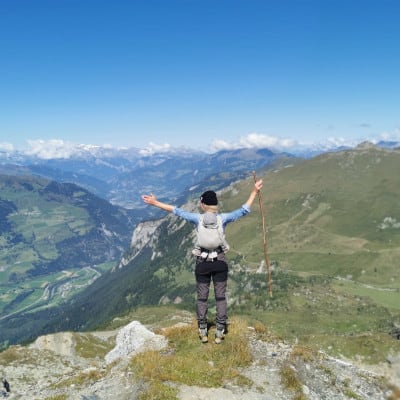 Dear babywearing friends, I am Jenny from Herzenseltern. I am the mother of two wonderful daughters and we discovered our love for babywearing when we had our first child. Since then, we have been able to gain a lot of experience, which we also share on our website. There we write about topics related to family life, including babywearing. Feel free to visit us.
In this post, we would like to share how practical and invaluable a baby carrier is when travelling with a baby or toddler. We are convinced that your next travel experience will be even better if you have the right baby carrier in your luggage.
Why is a baby carrier a gamechanger on holiday and when travelling?
Based on our own personal experience, we really think a baby carrier brings added value to holidays. So, let's take a closer look at our last trip to Mallorca as an example to highlight all the ways a baby carrier can make a big difference.
Getting ready to travel
Shortly before the start of the trip, we wondered whether just a baby carrier would be enough to get us through the holiday comfortably with two children, one of them not yet walking.
We did consider taking our pram with a buggy board because it would have space for both children plus some luggage for the beach, etc.
But in the end, we ended up travelling with a baby carrier only. Was that the right decision?
The flight and the journey: small pack size makes things much easier
Our decision seemed to make sense right from the start at the airport as we didn't have to check any oversize baggage. With only suitcases and hand luggage, check in went like clockwork. Everyone in our family appreciated the short waiting times at check-in and baggage claim.
Of course, we had the carrier with us everywhere, almost permanently strapped on - super practical, especially with our full buckle carrier, which accompanied us on this holiday. Our little daughter slept peacefully in the carrier on mum's front for most of the time.
The same was true for the journey with the rental car. We quickly got everything into the car without any complications and were able to drive off to the farmhouse.
Carrying while travelling makes excursions a no-brainer
Straight to the beach
Especially on the beach, where there is of course a lot of sand or gravel and stones, we were straight on our way with a baby carrier. We easily passed other families who were struggling with their prams or buggies.
With our baby in the carrier on my back, I could devote my full attention to my three-year-old: running back and forth along the water, looking for shells, watching little fish, getting her feet wet - no problem at all.
Next day by bus to the weekly local market
Once or twice, we used the local public transport and went by bus. The baby carrier was perfect here, too. Baby on my front, child holding my hand, onto the bus - super easy.
The first excursion was next up – a visit to the weekly local market. Anyone who has been to a market can picture it, lots of market stands, lots of people, narrow paths, little space. Not good conditions for a pram. Here you want to look at the pretty and delicious things on the stands. With baby in a carrier, none of this was a problem for us. My husband had the big sister holding hands or on his shoulders and I always had the baby close to me and still had both hands free to explore everything.
There was also no need to worry about the safety of the pram or any luggage. We had everything important on us.
Exploring hidden coves only possible with a baby carrier
Since the island has all kinds of beautiful, secluded bays with turquoise blue water, we knew we had to explore as much as we could.
Most of these sites can only be reached via long, rocky hiking routes. Trying to do this with a pram would be hard if not impossible.
But no problem for us with our baby carrier. We could explore everything we wanted.
This was basically true for the whole holiday - with the baby carrier with us, we were free to do whatever we felt like easily. For this very reason, we are firmly convinced that the right carrier can significantly enhance the travel experience with babies and toddlers.
What kind of carrying aid is worth its weight in gold when travelling?
We personally find that full buckle carriers are wonderfully suitable for this simply because they're easy use, there's never long lengths of cloth hanging down, and they're quick to put on. All in all, they are super practical for travelling.
For example, the DidyFix Oceanis with linen is a great choice for the summer holidays. But we also highly recommend the DidySnap.
Alternatively, half buckle carriers are great for longer carrying sessions. The weight distribution is optimal over the shoulders and back of the wearer. The DidyKlick would be the right choice here.
What else is there to consider when carrying while travelling?
If you are travelling, the destination is usually a beautiful place with fantastic weather. We are usually drawn to the warmth. It is important that your child is protected from the sun.
This includes covering their sensitive arms and legs with light, but UV-proof clothing and making sure your child has a proper sun hat on.
In addition, a carrier made of linen or other summer-suitable fabrics will help you stay cool in warmer temperatures. Find more information in the article Babywearing in the Summer.
You can also read about all the other details on the right sun protection in the article Babywearing with the right sun protection.
Concluding words
We hope you now know how valuable a baby carrier is when travelling. For us, it is an absolute must-have. Perhaps we've convinced you, too, and you're grabbing one for your next trip. In any case, we wish you a wonderful, stress-free holiday.
This blog post is written by Jenny from Herzenseltern