Carrying in Childcare Settings
First, let's dispel a myth. Children are not spoiled by being carried and they learn to walk just like all other children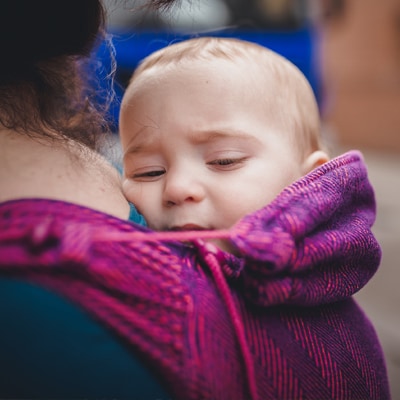 More and more often, nursery school teachers, childminders and other educational staff are using baby carriers in their daily work. This comes as no surprise as carrying not only has advantages for the child being cared for, but is also practical for professionals in the busy day-to-day life of the day-care centre.
Why carry children in a day-care centre?
First, let's dispel a myth. Children are not spoiled by being carried and they learn to walk just like all other children. Therefore, educational professionals do not need to be afraid of spoiling a child, giving them preferential treatment or hindering their development when they carry children in childcare settings.
In fact, using a carrier is a game changer in many situations. If a child is settling in, even though there are many other things to do, the educator and the child can establish a bond and build trust with each other with this simple act. Many children already know carrying from life at home and look forward to it, some have had no experience with it and find they enjoy it, and others don't like it at all - that's okay, too.
Another advantage is that children often fall asleep while being carried, which means that they are accompanied to sleep like they may have been at home and children can get used to sleeping in the nursery at their own pace.
Sometimes a child has a bad day, is inconsolable or just wants to be held - impossible in the stressful day-to-day life of a nursery, where another child needs a new nappy, demands help getting dressed or an argument has to be settled at the same time. Carrying is a remedy here, too, and helps to meet the needs of several children at the same time.
Baby carriers can also be helpful on outings, when small children's legs are slowly getting tired, but the pram is already full or perhaps was left behind for the day. Just put them in the carrier and the way back is as easy as pie.
Babywearing in outside-the-home care has many other advantages:
The stress hormone cortisol, which is often released by children in nurseries, is reduced.
No tension or back pain for the carer due to ergonomically correct carrying
Compact and mobile means of transport for children who are not yet able to walk.
More satisfaction for the staff when several children need attention at the same time.
General facilitation of everyday life in the childcare centre.
Which baby carrier is best to use in day-care settings?
Carrying systems that are easy to learn and can be flexibly adjusted to different adults and children have proven themselves infinitely useful in everyday childcare centres.
In practice, a full-buckle carrier such as the DidySnap scores highly. With this system, only two buckles need to be fastened and the straps adjusted to the size of the carrying person. The child sits ergonomically and the carrier is comfortable for both adult and child.
Many professionals also appreciate a half-buckle carrier, such as the DidyKlick, because it doesn't need to be readjusted between adults. The highlight: our DidyKlick is now also available in toddler size, so even larger and older day-care children can also be carried comfortably.
The ring sling has also proved its worth, coming closest to the classic "on-the-hips carrying" used in the context of many childcare locations. Our DidySling can be put on quickly and is suitable for every wearer.
The DidyGo, on the other hand, is particularly practical for on the go or on excursions. This is an Onbuhimo-style carrier that can be put on and taken off just as quickly.
Whether you prefer to wear these systems on your front, on your back or on your hip depends on your individual preferences and can be adapted from situation to situation.
How to get started
Would you like to use baby carriers in your centre or try it out as a team? Then we recommend that you first take advantage of a professional babywearing consultation as a team. There you can find the right carrying system for you and learn how to use it correctly together.
You can find a babywearing consultant near you in our Carry Finder or directly through us. If, on the other hand, you are already experienced and want to try out something new, a look at our tutorials will help. We also lend carriers for testing through our lending service DidyTry. Take advantage of our special rates for day-care centres, which you can ask us about.
Enjoy carrying!
This text was written by Tabea