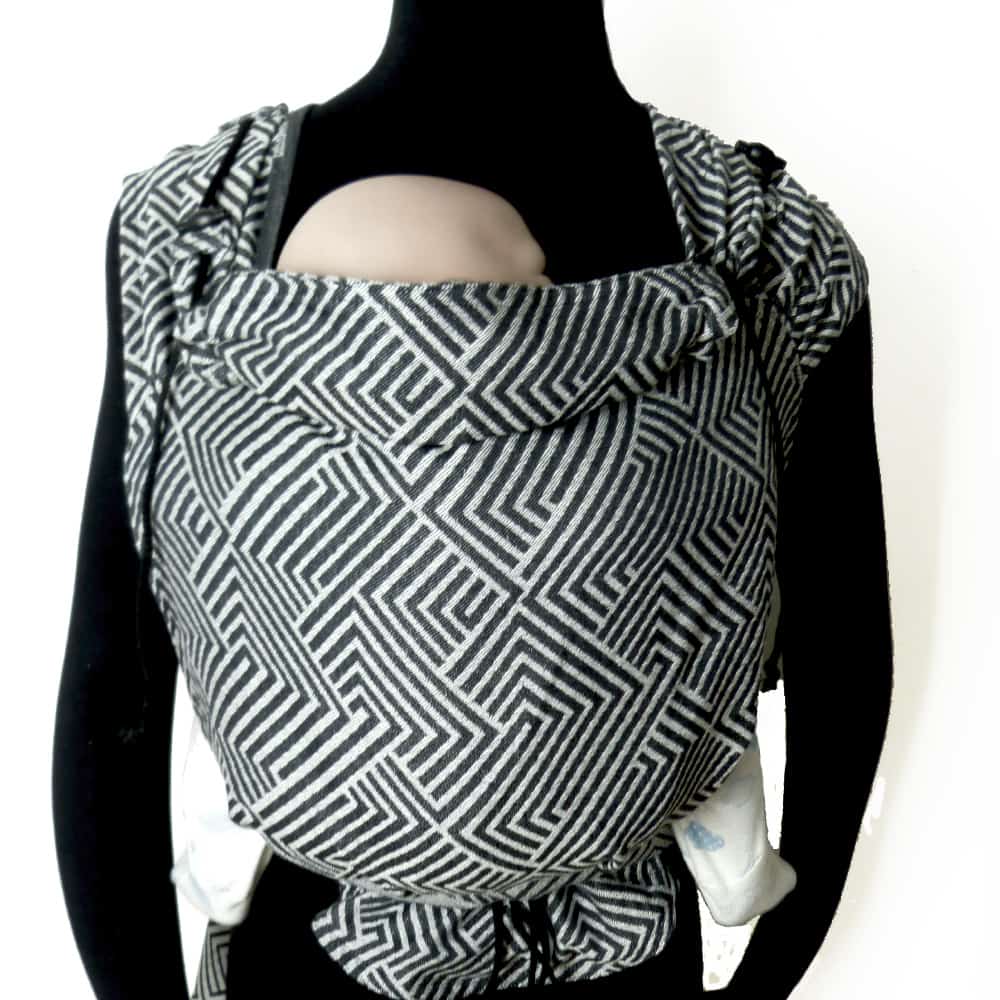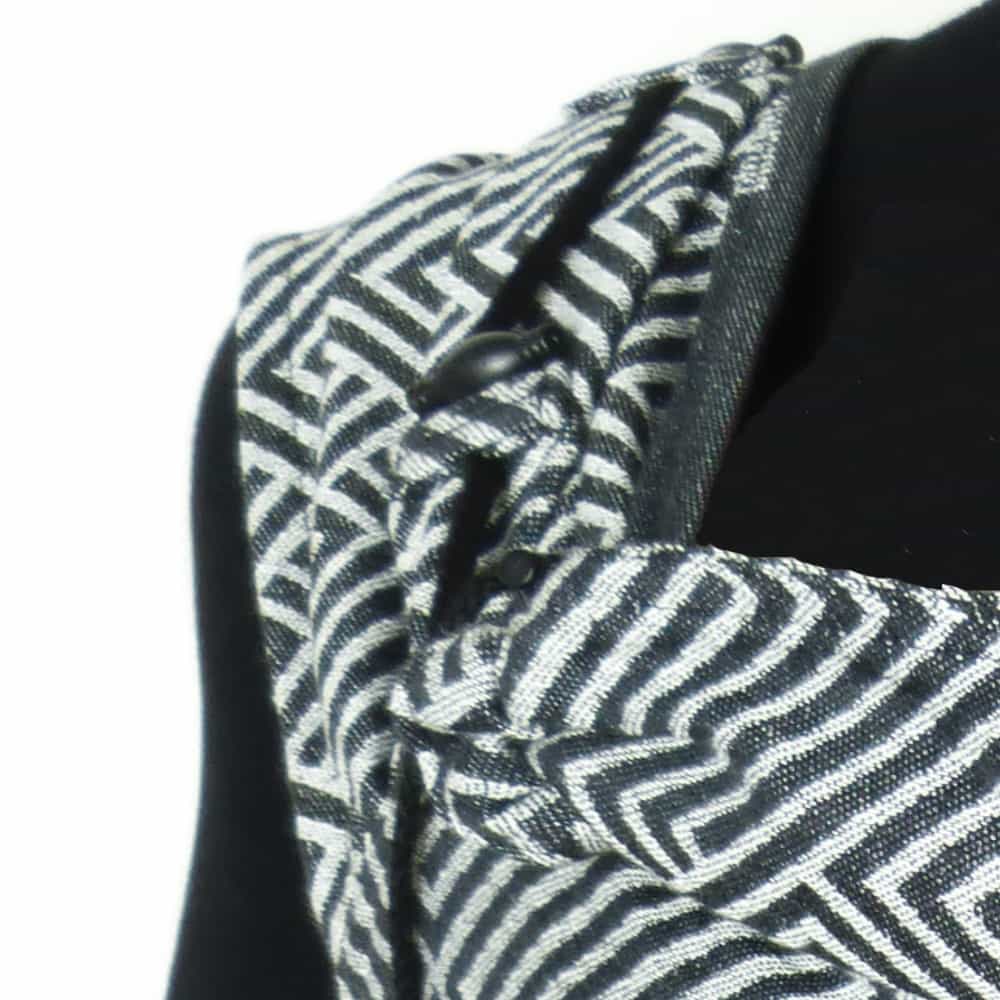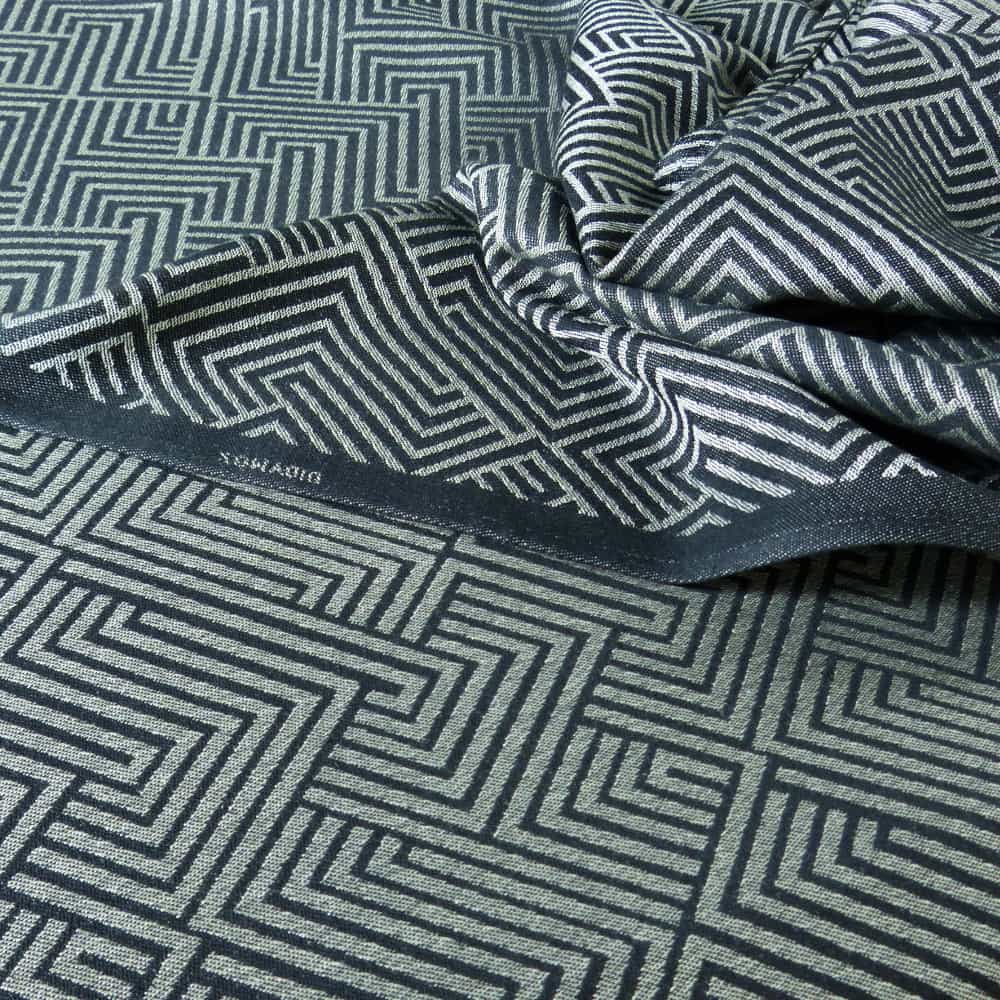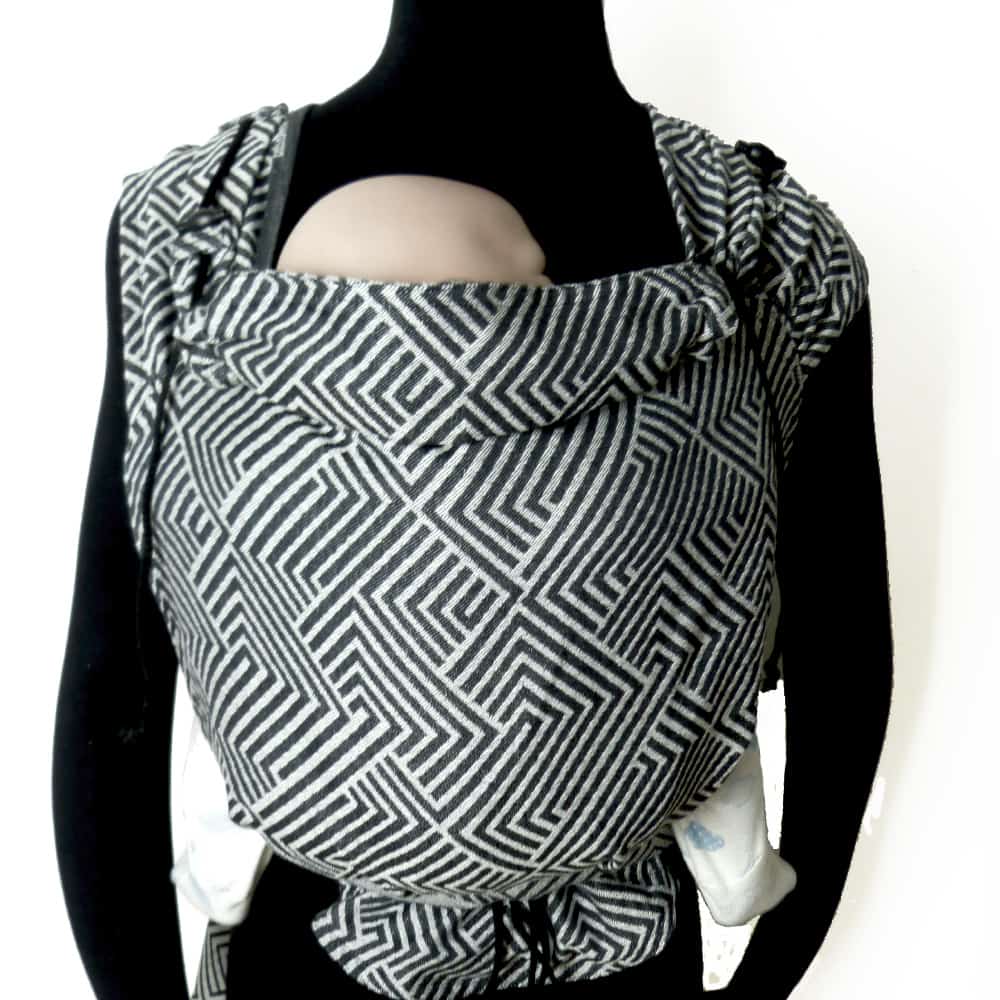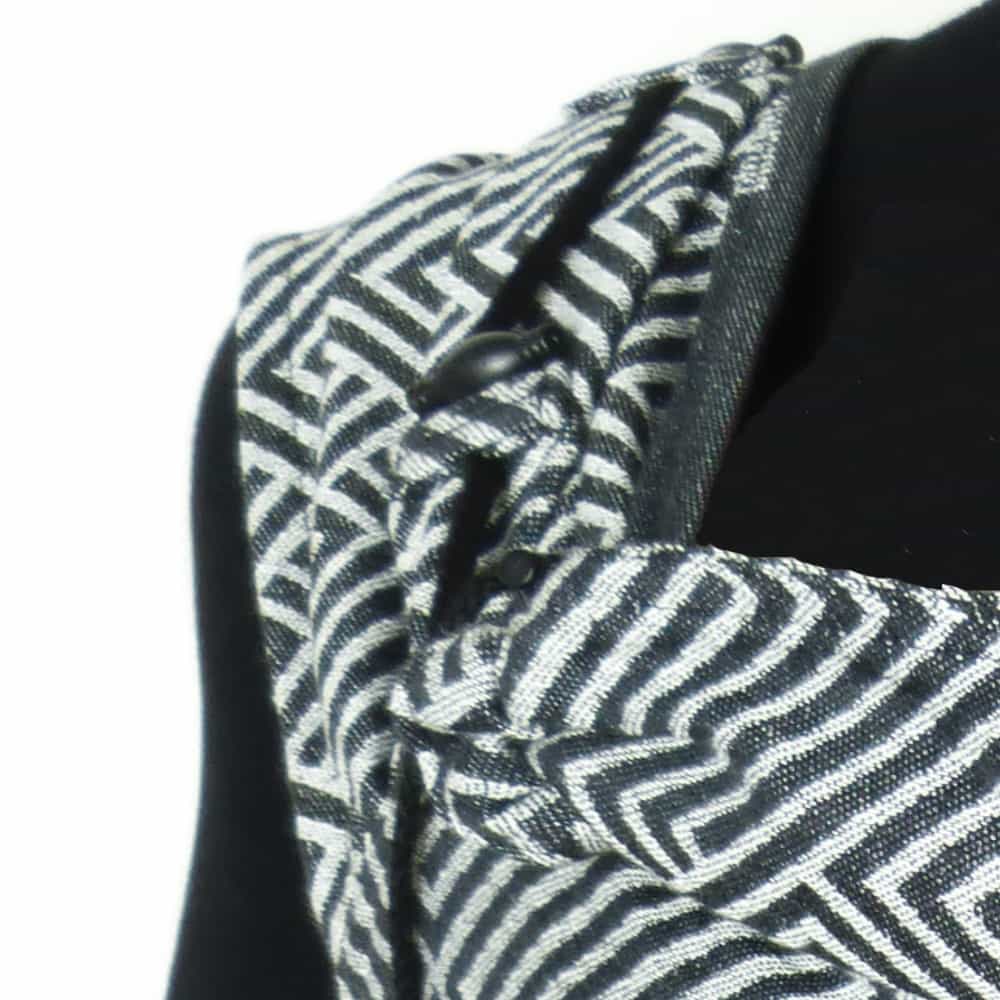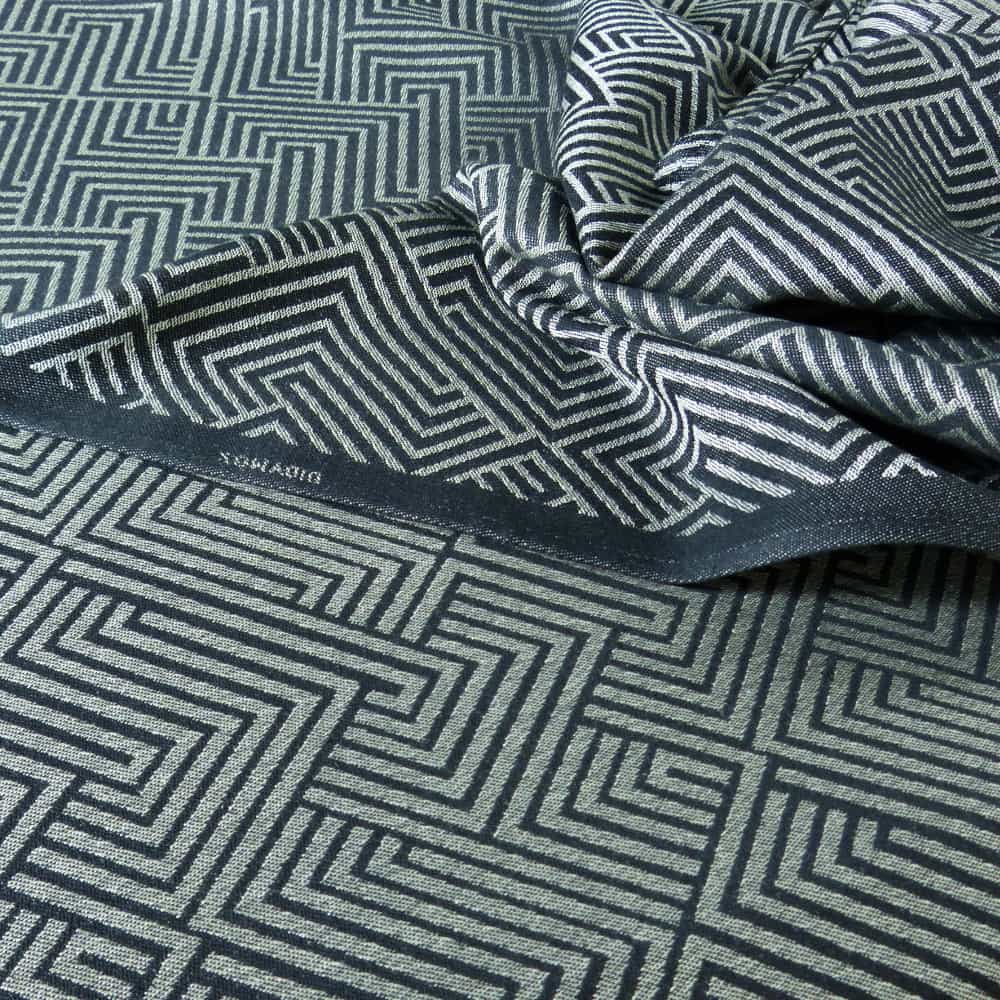 Description
Easy-to-put on, pre-structered soft carrier. Sewn from the high quality DIDYMOS wrap fabrics, the Didy Meh-Dai is comfortable and supportive and nearly as versatile as the wrap, one-size and ideal if different-size persons want to use the same carrier, nothing has to be transformed. Allows you to carry a newborn as well as an older baby on the front or back.
Didy Meh-Dai (DidyTai) featuring the graphic pattern in a classic colour combination that emanates style and chic.
Woven all in organic cotton and of medium weight, the jacquard woven fabric is soft and moldable from the beginning. With its diagonal stretch that is typical for all Didymos wrap fabrics, it is comfortable to manipulate and adapts to all needs and carries. A versatile and supportive carrier to wear children of all ages and stages.
Material & properties
Age of child: From Birth
Color: Anthracite, Raw White
Material: 100 % Organic Cotton
Surface weight: 210 g/m²
Vegan: Vegan

Washing & care instructions
Washable: Up to 60°C, Gentle Cycle, Low Spin Speed

Please follow our DIDYMOS Care Tips to make your DIDYMOS model last for many years.
Suitable Products
Suitable Products
Bum Bag Metro Monochrome
Bum bag, banana bag, waist bag or belt bag - whatever you want to call it – the bum bag is back in vogue and it is one of the most practical and comfortable accessories there is. Made from the Didymos wrap fabrics we love, they are trendy, look great and they are sturdy, lightweight and ultra-convenient. They open wide with a zipper and are spacious enough to keep all the little things you need to have close when you are on the go, from lip balm, purse, wipes to phones or extra diapers and anything else in between. A little snap hook inside the bag additionally secures things you do not want to loose. Ideal for babywearers who need to be hands-free while having all these little things close and securely stored. The bag sits comfortably against your body and with the adjustable straps, you have the option to fit it to your carrier and the way you are wearing your child. Styling tip if you do not babywear or for back carries: Today's trend is to wear them slung over the shoulder and across the chest rather than around the waist The bag comes in in many Didymos colours and designs to match your favourite wrap, carrier or outfit.
Chest Strap for Back Carries
Suitable for back carries tied with the DIDYMOS Baby Wraps, Didy Meh-Dais (DidyTais) and DidyKlicks. The DIDYMOS chest belt is an optional accessory for back carries if you do not want to cross or tie the shoulder straps over your chest. It makes sure that the straps do not slip down off your shoulders. Having tied the carry, you pass the belt parts around the straps, buckle and you are ready to go. Watch our video clip to learn how it works.
Didy Onbuhimo Metro Monochrome
The Onbuhimo carrier, originating from Japan, is worn up high on the back and is designed for children who can sit unassisted. Like a rucksack it is as fast to put on and to take off - ideal for toddlers who love frequent ups and downs! Without a waist belt and worn on the back, it is a perfect choice for a pregnant mother who can carry her child without putting pressure on the growing belly. Made of the same high quality fabric as Didymos baby wraps, the Didy Onbuhimo supports your child's back and holds her/him in a healthy and safe position. Individually adjustable and easy to handle, the Didy Onbuhimo carrier allows for close, stress-free babywearing. Features that make our Didy Onbuhimo so comfortable: Suitable for caregivers of different body shapes and sizes Wide, padded shoulder straps, individually adjustable Back panel made from DIDYMOS high quality wrap fabrics with inherent diagonal stretch allowing the panel to conform to your child's shape and to crreate a supportive and comfortable pouch. Adjustable chest strap to optimize the fit of of the shoulder straps and the pouc Fully adjustable seat width to conform to your child's size. Padded edges to protect the back of your child's knees. Adjustable head rest to provide secure hold and support for your child's neck and head. Suitable for children who can sit unassisted, weight from abt. 7 to 20 kg Back panel and shoulder straps of this Didy Onbuhimo are made from baby wrap model Metro Monochrome featuring a modern graphic pattern in a classic black on white combination.