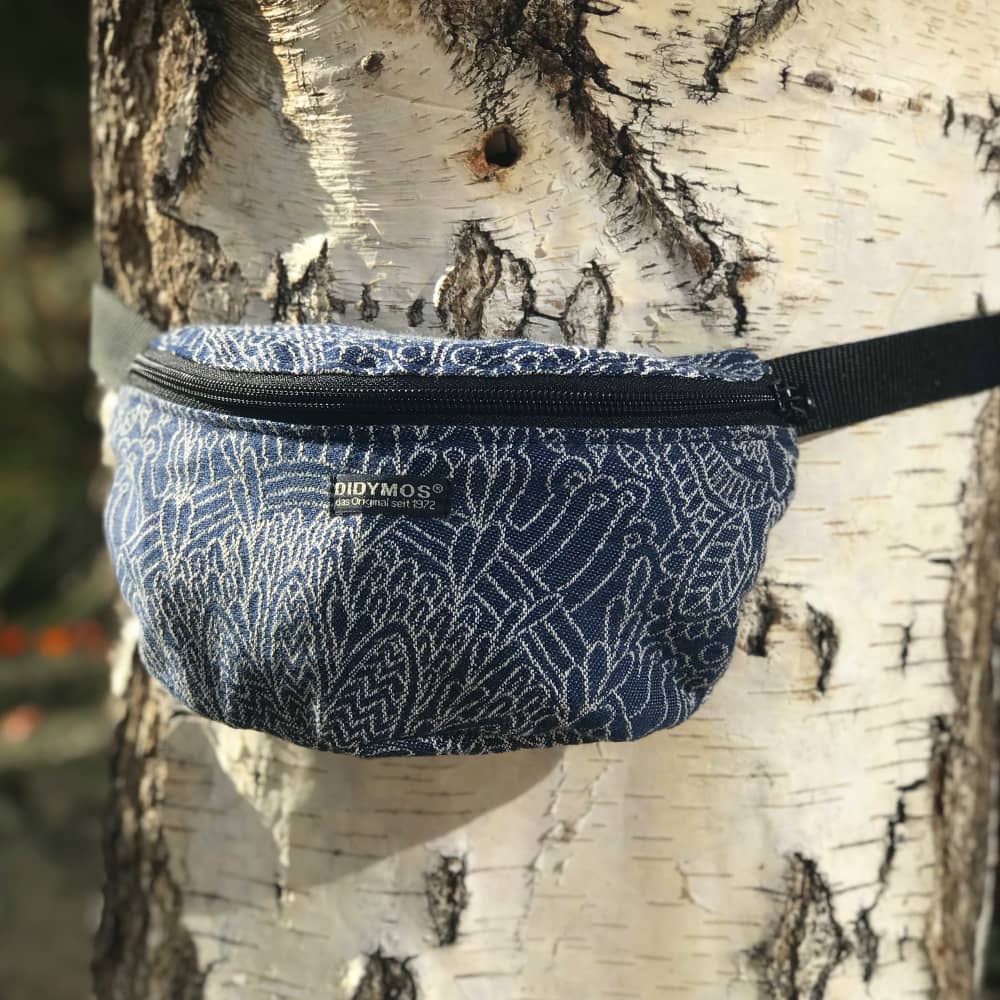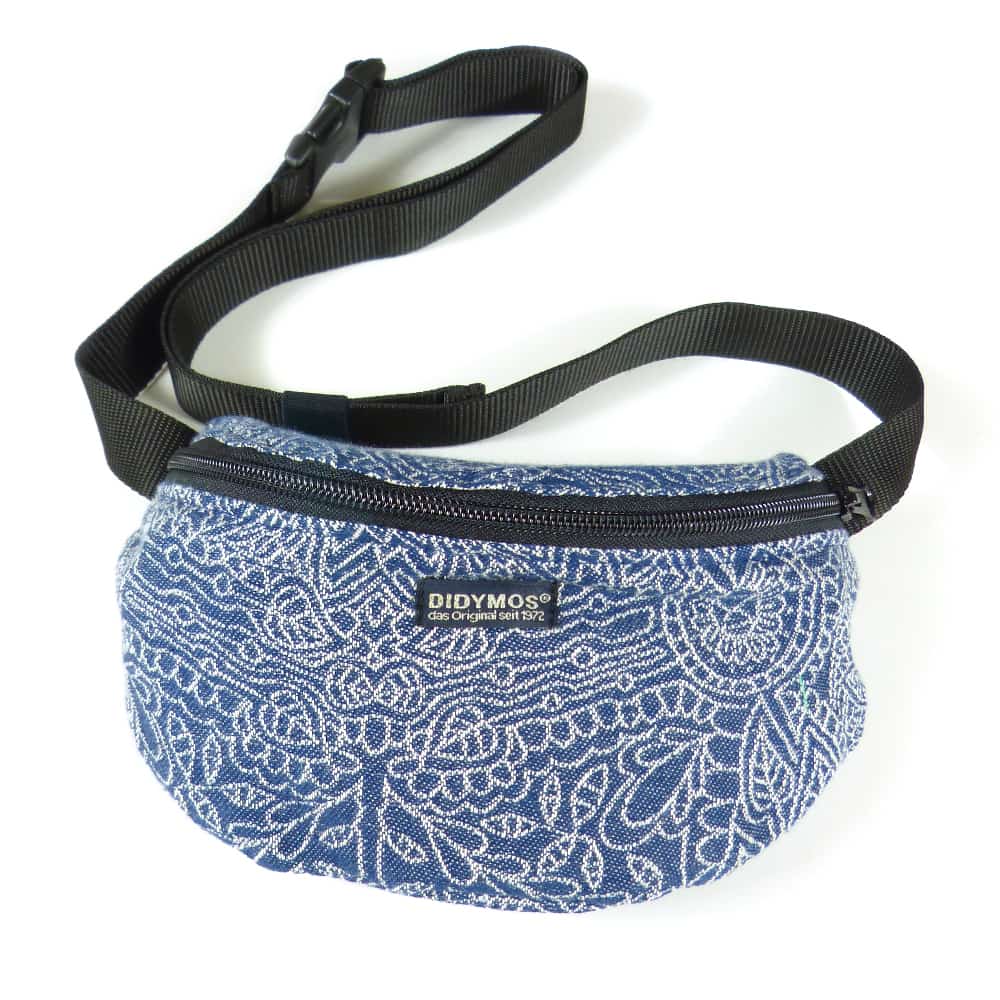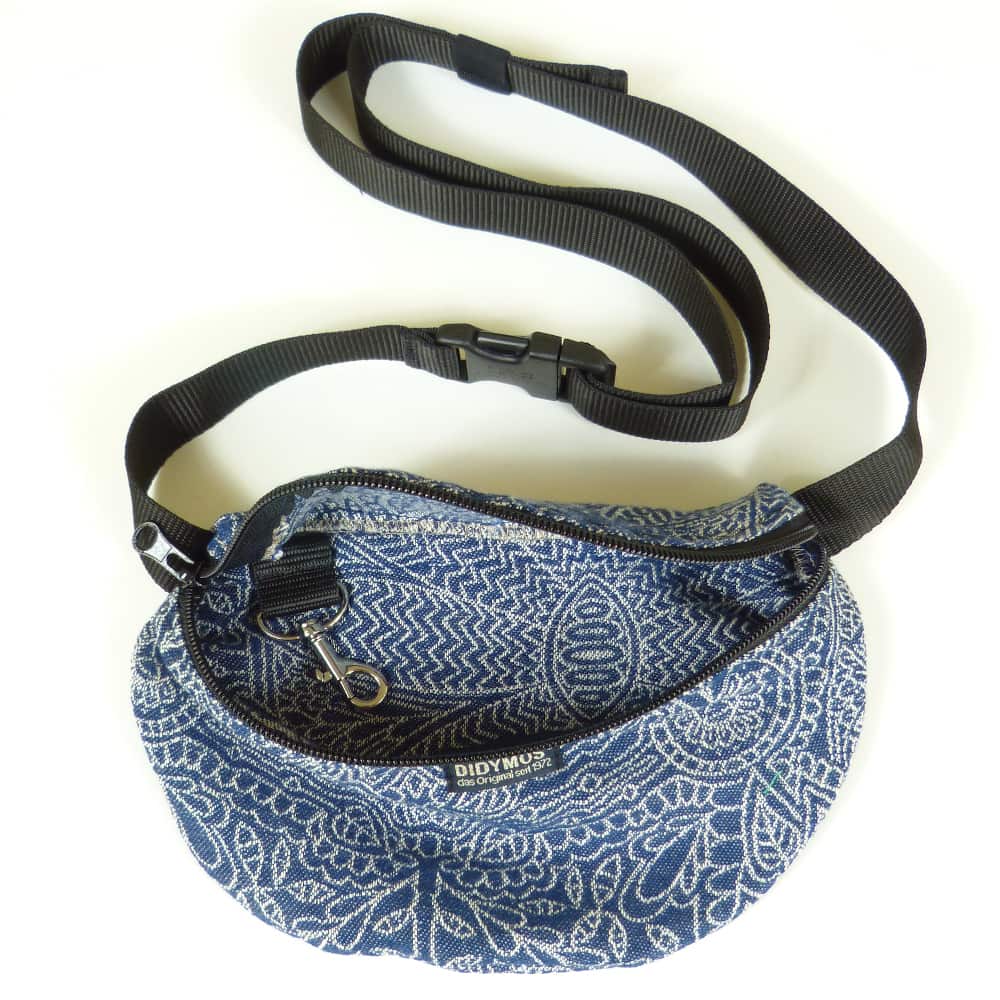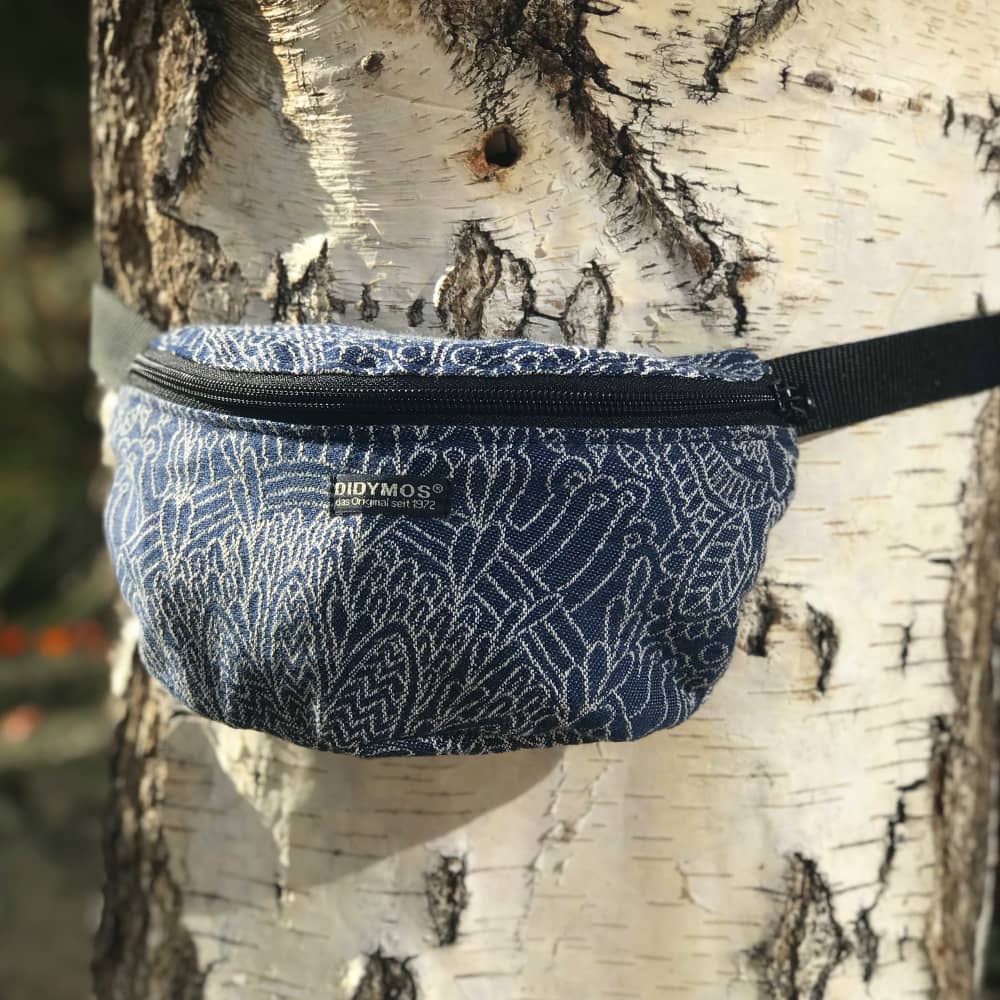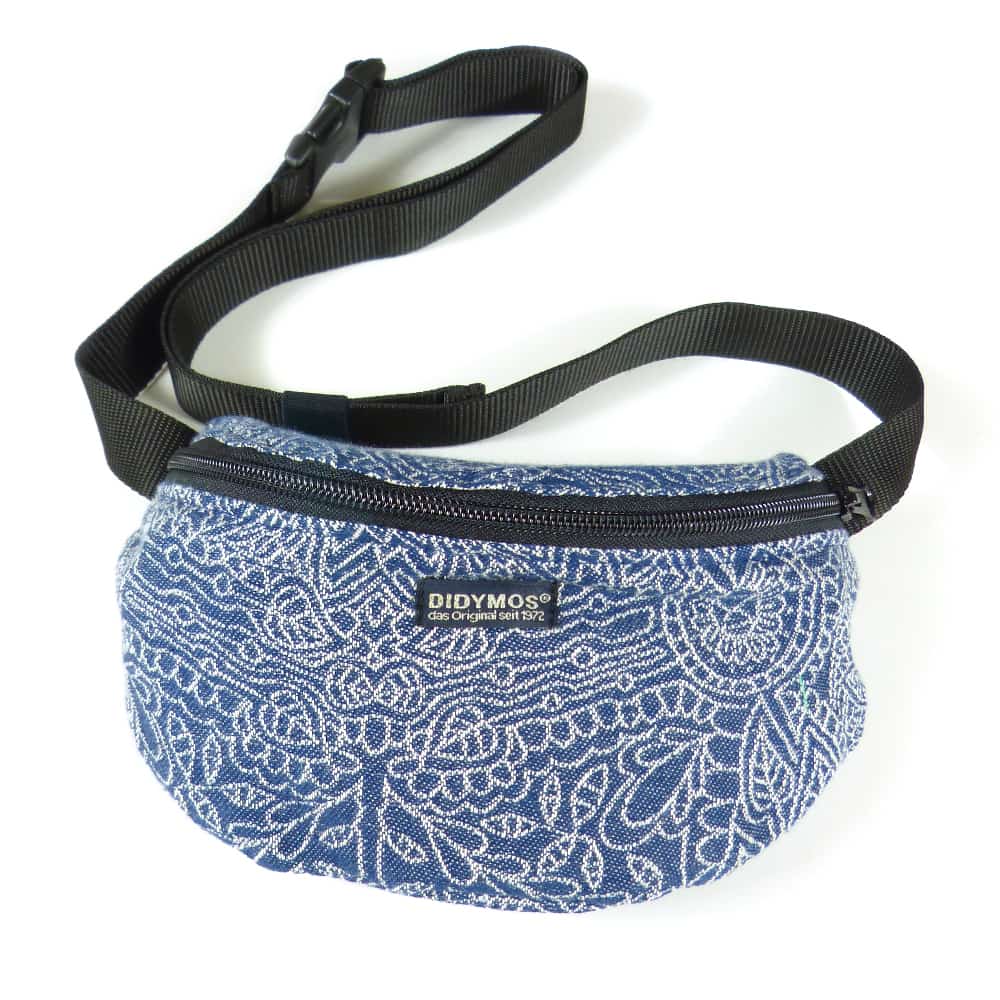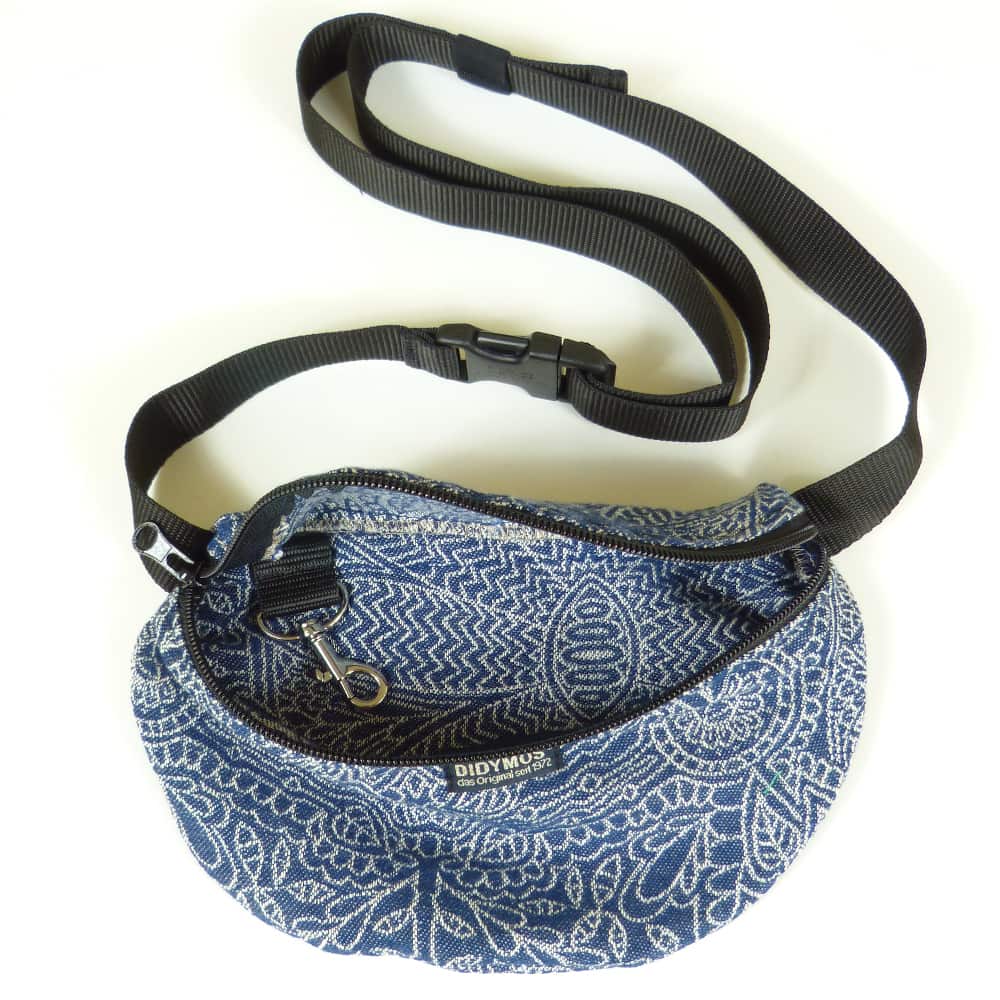 Description
Bum bag, banana bag, waist bag or belt bag - whatever you want to call it – the bum bag is back in vogue and it is one of the most practical and comfortable accessories there is.

Made from the Didymos wrap fabrics we love, they are trendy, look great and they are sturdy, lightweight and ultra-convenient. They open wide with a zipper and are spacious enough to keep all the little things you need to have close when you are on the go, from lip balm, purse, wipes to phones or extra diapers and anything else in between. A little snap hook inside the bag additionally secures things you do not want to loose. Ideal for babywearers who need to be hands-free while having all these little things close and securely stored. The bag sits comfortably against your body and with the adjustable straps, you have the option to fit it to your carrier and the way you are wearing your child.
Styling tip if you do not babywear or for back carries: Today's trend is to wear them slung over the shoulder and across the chest rather than around the waist
Mix and match with your favourite wrap, carrier or outfit - for example with model Kipos featuring a floral design in dark blue and white.
Suitable Products
Suitable Products
DidyKlick Kipos
Buckle around your waist, sit your baby in the soft pouch, tie the shoulder straps and you are ready. You can go wherever you want to go and do whatever needs to be done while your baby is snuggled up and held like in a woven wrap. A semi-structured, half buckle carrier, our DidyKlick combines the comfortable support and mouldability of a woven wrap with the convenience and simplicity of a buckle carrier Easily adjustable, the padded waist belt is secured with a clip-buckle ensuring support around the torso. The large, adjustable body panel made of wrap fabric creates a soft pouch offering a safe place for your little one. Wide and spreadable, the shoulder straps can be tied in a variety of ways to mould around your shoulders allowing a high degree of adjustability for all shapes and sizes. They ensure a snug and enjoyable fit while adding an extra level of comfort and support. The DidyKlick allows you to carry your baby on your front, hip and back at the appropriate ages while your child is always supported across the back and the bottom ensuring the natural spread squat position. Features at a glance: Padded waist belt with safety clip-buckle, sturdy, adjustable to all sizes. Soft back panel with integrated headrest that can be adjusted by drawstings and fastened onto the straps by snap fasteners . Wide, spreadable shoulder straps made from soft woven wrap material for comfortable support in any carrying position Material: Body panel and shoulder straps made from DIDYMOS wrap cloth woven from pure organic cotton, skin-friendly, ecologically compatible and sustainable, robust with an inherent diagonal stretch. Security: Complies to the EU safety standard CEN/TR 16512 and to the ASTM F2236 standard. Made in Germany and neighbouring countries. Fully adjustable and suitable from 3,5 kg up to 20 kg For all features of our DidyKlick at a glance click here Back panel, shoulder straps and waist belt of this DidyKlick are made from baby wrap model Kipos, a pure organic cotton fabric featuring an appealing, Zentangle-like pattern in dark blue and white.
Doll Snap Kipos
DIDYMOS doll carrier Doll Snap is perfectly suited for little babywearers. It is a great gift for big sisters or brothers, so they can wear their little dolls and toy friends just as you carry their little sister or brother. Easily adjustable, shoulder straps and waist belt are comfortable to put on and to be buckled by small hands. Soft and moldable, the back panel is made from DIDYMOS wrap fabrics. It is absolutely skin-friendly as DIDYMOS uses only 100% pure organic cotton and dyes that are free from any harmful substances. DIDYMOS Doll Snaps can be worn in the front or back position. They are safe for children and like our doll slings and doll ring slings they are available in many DIDYMOS colours and you can choose the one that matches your own wrap or carrier. Model Kipos features a lovely floral pattern in dark blue and white.