What to pack when traveling with baby?
Wondering what to pack for a baby's comfort when traveling?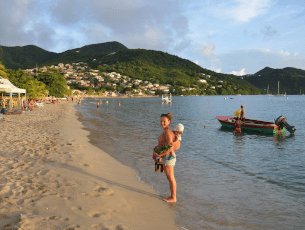 Let's be honest: it can be hard to decide how and what to pack for your summer holidays, particular-ly when you have a baby in tow.
Your suitcase will be full to the brim in no time and still you feel like you forgot to pack something super important. The problem is that luggage space and luggage weight allowance is limited. So, what do we REALLY need?
What we do NOT need!
First of all, you can leave your pram at home, particularly if you're traveling with younger babies. Bulky, prams take precious storage space and you don't need them most of the time. Instead, grab your favourite baby wrap or carrier and stay mobile whether on the beach, on mountain hikes, in the city or at the airport. For your summer holidays you'll want to opt for easy-care wraps made from breathable materials cotton, linen or hemp.
DidyTip: Practice breastfeeding in the wrap or carrier to make sure nursing on the go is stress free.
It's also a good idea not to pack too many clothes: not only do they take up space, they also lead to huge laundry piles after the holidays. Instead, pack a few selected items made from wool/silk. Natural thermal regulators, they are also dirt-repellent and antibacterial – and they are breathable and feel pleasant on the skin.
Do not forget sun protection!
Whether on a summer holiday or winter getaway: always keep sun protection in mind – a must when you carry your baby in a wrap or carrier! Make sure baby's head is protected with a high-quality sun hat with a wide brim. Also consider woolen baby socks and thin baby legwarmers to cover baby's delicate skin. To make things easy make use of our BabyDos cover. Want to know more about baby-wearing in summer? Read on here.
Plus, we recommend a baby blanket made from lightweight material like cotton, linen or muselin. Versatile, the blankets can be used as sun protection, beach blankets or blankets for baby (or parents) to snuggle under for a midday nap.
First aid kit
A first-aid kit is an essential item to pack when you're travelling with babies and children. Make sure it contains a thermometer, antipyretic medicines, antiseptic wipes, plasters and gauze dressings and other first aid essentials. It's a good idea to consult your family doctor or a pharmacist.
And if you've forgotten something?
Don't worry, most things, if forgotten, can be bought at your destination.
DidyTip: Make a list of the things you forgot as well as of those you don't need to pack next time. This will help you to gradually create your own packing list that suits your individual needs.
This text was written by Tabea.