Traveling alone with Kids 
During your holiday trip, you'll likely use baby carriers more frequently than in your day-to-day life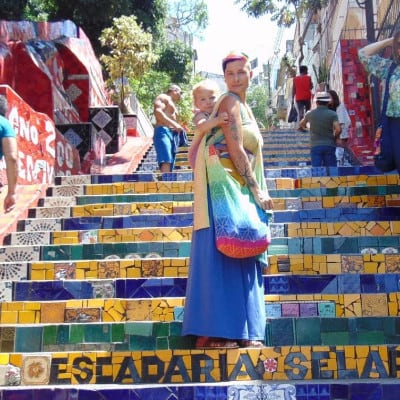 As a single mom, embarking on a journey with young children can feel like a daunting task. The responsibilities seem endless, and the thought of planning a vacation can sometimes be overwhelming. I'm here to share some tips and insights from my own experiences to help you prepare for your next travel adventure.
One tool that has been a game-changer for me is babywearing. Not only does it provide flexibility, but it also allows me to adapt to my children's sleep schedules seamlessly. Naptime becomes a breeze when you have your little one snugly wrapped against you. So, let's dive into some tips and stories that I hope will inspire and assist you along the way.
Babywearing helps to keep your hands free
I still remember my trip to London with my three young kids—a six-year-old, a four-year-old, and a one-and-a-half-year-old. One of them had a fear of escalators, which added an extra layer of challenge. With the youngest in a carrier, I juggled our luggage with one hand and held another child's hand while trying to navigate the escalator. Unfortunately, the third child got scared and didn't step onto the escalator, making me feel helpless. Thankfully, a kind stranger stepped in, encouraged and assisted her. In hindsight, I realized that wearing two kids would have allowed me to have a free hand for luggage while still attending to my eldest. Lesson learned: consider wearing multiple children or opt for an elevator when faced with similar situations.
Making traveling with children easier
Traveling becomes much easier with additional adults around, so if possible, bring a friend or family member along to share the load and give yourself a break. However, I've also traveled solo with my three kids on a 10-day holiday to New York. In such cases, finding opportunities for breaks, such as visiting playgrounds or parks during the day, becomes crucial. Also, stock up on snacks to keep hunger at bay and be prepared to let go of some expectations. I remember taking my jetlagged kids to Times Square at night to show them the dazzling lights. Of course, they fell asleep on the subway, and waking them up amidst the bright lights wasn't the happiest experience. Our journey back to the AirBnB with public transport and two grumpy kids (plus one happy child) was quite an adventure!
Choosing the right babycarrier for your holidays
Now, let's talk about the carriers. How many should you bring? Are you a minimalist backpack traveler, or do you tend to overpack? With kids, it's likely you already have a lot of luggage—outfits, diapers, toys, and possibly a travel cot and stroller. Considering the space you have and your method of travel, I always suggest bringing multiple carrier options.
Why? During your holiday trip, you'll likely use baby carriers more frequently than in your day-to-day life. This may strain your muscles differently than usual, so having different carrier types or wraps to switch between can alleviate discomfort. Additionally, if you're traveling to warm destinations, consider the carrier's drying time between uses and ease of washing, as sweaty baby and body may necessitate more frequent cleaning. While silk may be tempting in high temperatures, a sturdy all-cotton wrap or one with some linen or hemp can often be more practical.
When traveling by plane, opt for a quick and simple carrier without metal for easier airport security checks. Although it's never guaranteed, avoiding carriers with rings and choosing a meh dai as the DidyTai or short woven wraps can increase your chances of keeping your child in the carrier during the inspection. I recall having to remove my sleeping baby during a security check in the US, where I actually had to hand him to a security officer as I was travelling alone.
During city trips that involve long walks, toddlers may tire easily and desire to be carried. For such occasions, I find wearing an full buckle carrier as DidyFix or half buckle carrier as DidyKlick 4u to be convenient. If you're the type of parent who prefers a large backpack or diaper bag during outings, you can easily store the carrier in it. Personally, I tend to bring only the bare minimum when we're out, so wearing the carrier (empty) when not in use works best for me. While a ringsling is compact, it may not be the ideal choice for a napping toddler (although it's great for younger babies).
Carrying on journeys with older children
As my children grow older, babywearing becomes less frequent. However, during hikes, having a carrier on hand proves to be invaluable. I choose the carrier that provides the most comfort for my body, considering the weight of the child. Typically, a half buckle carrier like the DidyKlick or a long woven wrap works well for me.
Last summer, we embarked on a hike up the Brocken in Germany. Opting for the shortest but most adventurous trail, I wore Felice (4) in the DidyKlick 4u Toddler for certain sections. When his legs needed a break, he enjoyed being carried, and once he regained his energy, he was ready to walk again. On the way back down (which felt even more challenging for our legs), my older son Emile (7) grew tired. I carried him for a while until he rested enough to continue hiking.
Enjoy your time together
Remember, every journey is an opportunity for adventure and growth, both for you and your children. Embrace the challenges, cherish the unforgettable moments, and celebrate the resilience that comes with being a single mom traveling with kids. You're capable of creating beautiful memories that will last a lifetime!

This blog post is by Hedwych Veeman from wrap you in love,a babywearing consultant