Jeanine tested our baby wrap sling Trias Pure
Trias Pure - loom to bloom.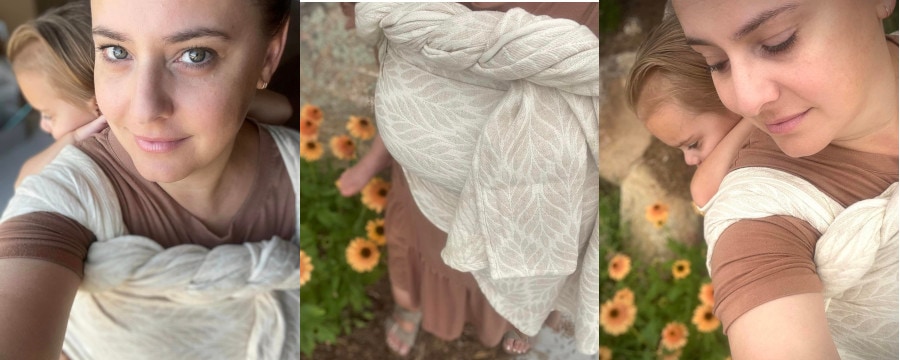 There's been a little chatter in the Daily Didy over this one, so I thought I'd finally post.
Trias Pure - loom to bloom
I had my hesitations about ordering this one, because truth be told, the tussah/hemp combinations have not been my favorite, and the gsm is low for me right now (listed at 200 gsm, and my wrapee is 3.5 yrs and over 32 pounds). BUT, I've been hoping for a Trias in these colors for a couple of years, so I decided to try it, and WOW. Before a wash, it felt tissue paper thin, and you can see in the pictures just how see through it was. But one wash later, and it has fluffed up to a soft, airy, "muslin blanket" feel to me. Nothing like the other Marta Triblends that were gritty and took some work to break in. I can see this one softening up quickly. The weave tightened up a bit, and is not as see through. It's definitely still a lightweight wrap, but the airiness of the weave makes it cushy. I like it in my base size for now, but just ordered a base +1 so it will still work for us in the long run. Definitely a must try if you need something breathable, lightweight but cushy, and you enjoy the natural fibers. I love the delicate little inclusions throughout the wrap. I would be so happy if Didy decided to release a few more colors in this blend and weave!
*edit to add: my typical routine for pretty much any wrap after I wash and hang to dry, is that I put my wraps in the dryer on NO heat, with wool dryer balls and a damp rag to prevent over drying. It helps fluff them up, remove lint, and shorten the breaking in process after a wash. If you skip this step, it may be a little longer before this one feels as soft and fluffy. (I even do this with wool, but without the damp rag and only for 5-10 minutes).