Eszter and Rémi tested our DidyKlick Metro Olive Anthracite
Baby felt safe and comfortable enough on our back to take his nap on the go, even in busy, noisy places.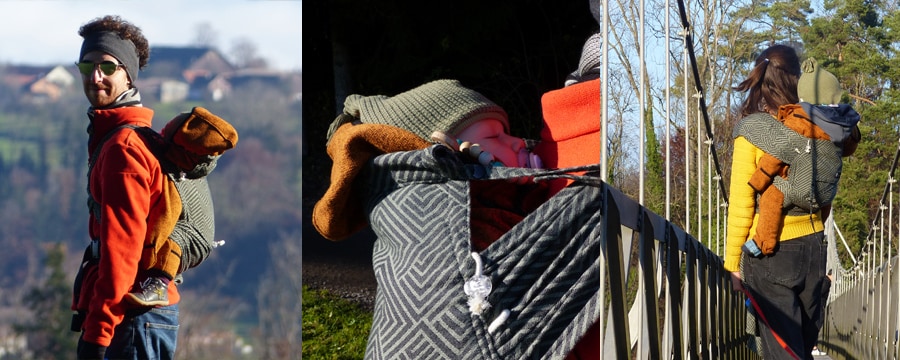 "The padded waist belt is fast to adjust, and provides a safety feeling. If you have a baby that likes straigthening his legs, and wiggling a lot, you will be relieved - he cannot remove himself from the soft pouch. This came in particularly handy when, in colder weather, the baby carrier is above many layers of winter clothes, and it's more difficult to feel how tight and well placed it is. Also, switching from outdoor to indoor places implies removing all the extra layers, and thus putting the carrier on and off many times. This half buckle carrier saved us lots of time! It's especially recommend for beginners, who wish for the mouldability of a woven wrap, but couldn't put on a wrap fast enough, before baby gets fussy and too hot in winter clothes.
The DidyKlick lets itself easily adjust, it being for an afternoon walk, or getting to places. We used it exclusively during our winter holidays. We took the train from Germany to France, and the plane to Hungary. Not only did it save us the trouble to carry a stroller with us, but it also allowed us to be more flexible going through the cities, staircases, the metro, museums...
Baby felt safe and comfortable enough on our back to take his nap on the go, even in busy, noisy places. In that case, the DidyKlick has an integrated headrest to secure baby's head, that can be adjusted by drawstings and fastened onto the straps by snap fasteners.
Finally, it has a fine, lightweight fabric, which allows you to practice finishes easily, as well as to adjust the pressure on your chest by tightening the shoulder straps more or less, so it provides a high comfort feeling for the carrying person.
We gladly recommend the DidyKlick, for anyone who's a bit self conscious about putting a kid on his back alone, if you need to carry on and off often in a short time, or even for when you're travelling. It goes well both for front and back carry, even though we used it mostly as a back carrying solution."