Babywearing on special occasions
Take your baby to a wedding and say "Yes, I will (carry you)!"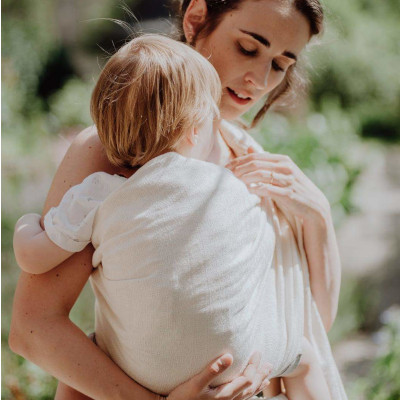 The wedding season is upon us and we hear wedding bells ringing everywhere
Are you invited to a wedding this summer? Or are you planning on getting married yourself? If so, you're probably anxious about taking your baby to the event.
Whether you're a bride, groom or wedding guest: Consider carrying your little one in a baby carrier or wrap. Babywearing is indeed a great solution offering unbeatable advantages!
Read on for more and learn how to carry your baby in comfort and style – on the most beautiful day of your life or on any other festive occasion.
Reasons to use a baby wrap or carrier on wedding days:
Hands free! A baby wrap or carrier makes it easy to keep your baby close no matter what you want to do on such a day: throw rice, say yes, dance… everything goes!
Reduce overstimulation: In the wrap or carrier your baby is shielded from too much noise and curious gazes of others.
Breastfeeding is easy: While the guests enjoy the buffet, you can nurse your baby comfortably and discreetly. Close to you in the wrap or carrier your little one can receive the nutrition and love she needs.
Sleeping: It's late but you do not want to leave the party yet? No problem, babies who are carried find it easier to settle and fall asleep.
Fashionable accessory: A stylish baby wrap or carrier will make you the eye-catcher of any party!
Which wrap or carrier is best suited for a wedding?
If you want to find the perfect wrap or carrier for a wedding party, make sure they match your out-fit.
If it's your own wedding and you're in a white dress, you may want to opt for a simple white or natural white wrap like ourPrima Nature or Ada Pure. With their neutral look, they fit many occa-sions and styles and when the wedding is over you can wear them in your daily life, and remember your special day.
If you're going to be a guest dressed in a more colourful outfit, visit our shop and browse through a wide selection of wraps and carriers. You can get them in almost any colour to suit your look and style.
Also, do not miss out on our ring sings! They are a great option for weddings and ideal for frequent ups and downs.
DidyTipp: Make sure to choose the right material – silk for example can add a luxurious sheen and drape. Linen is a perfect option for hot summer days.
Is there anything else you'd like?
You can top it all off by creating a Fancy Finish - be sure to practice before the event!
Get inspired!
(Best practise examples bzw. pictures from our Community)
Share your wedding look on Instagram or in our #didylove gallery!
This Text was written by Tabea.
Photo: Helen Berber