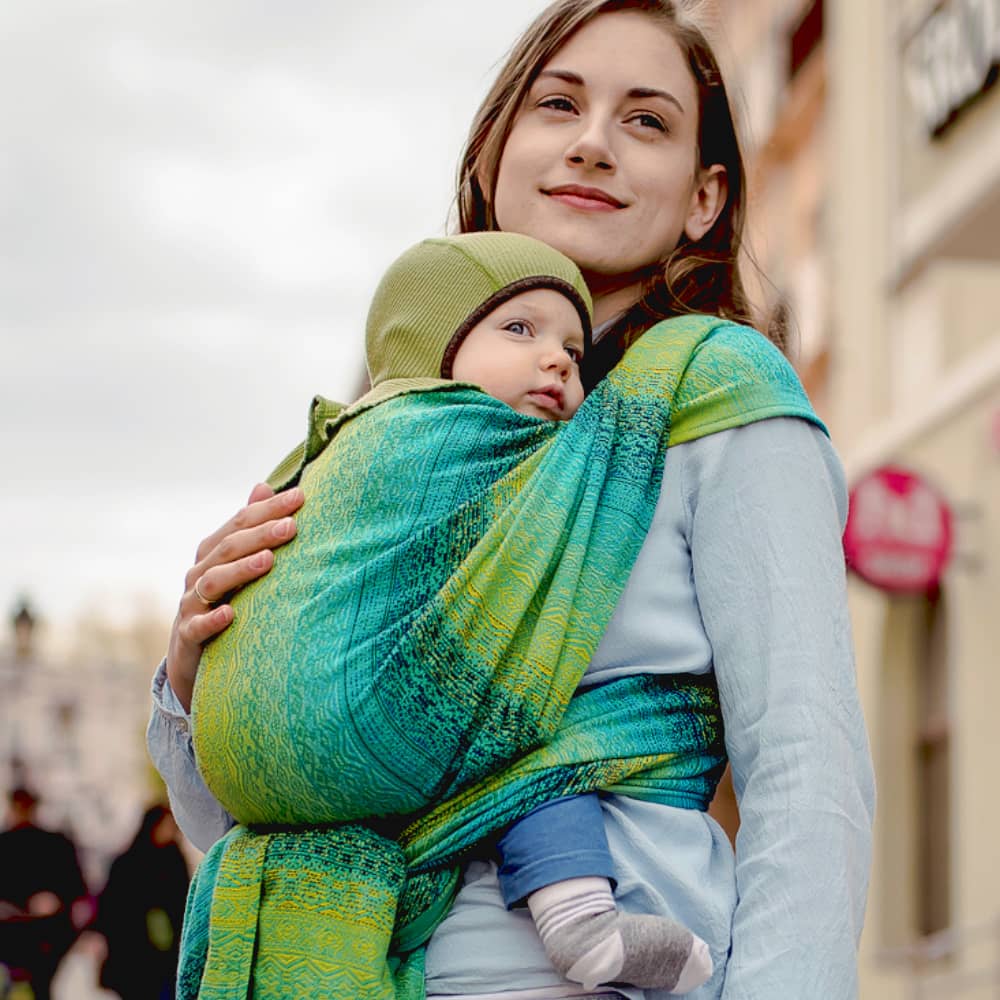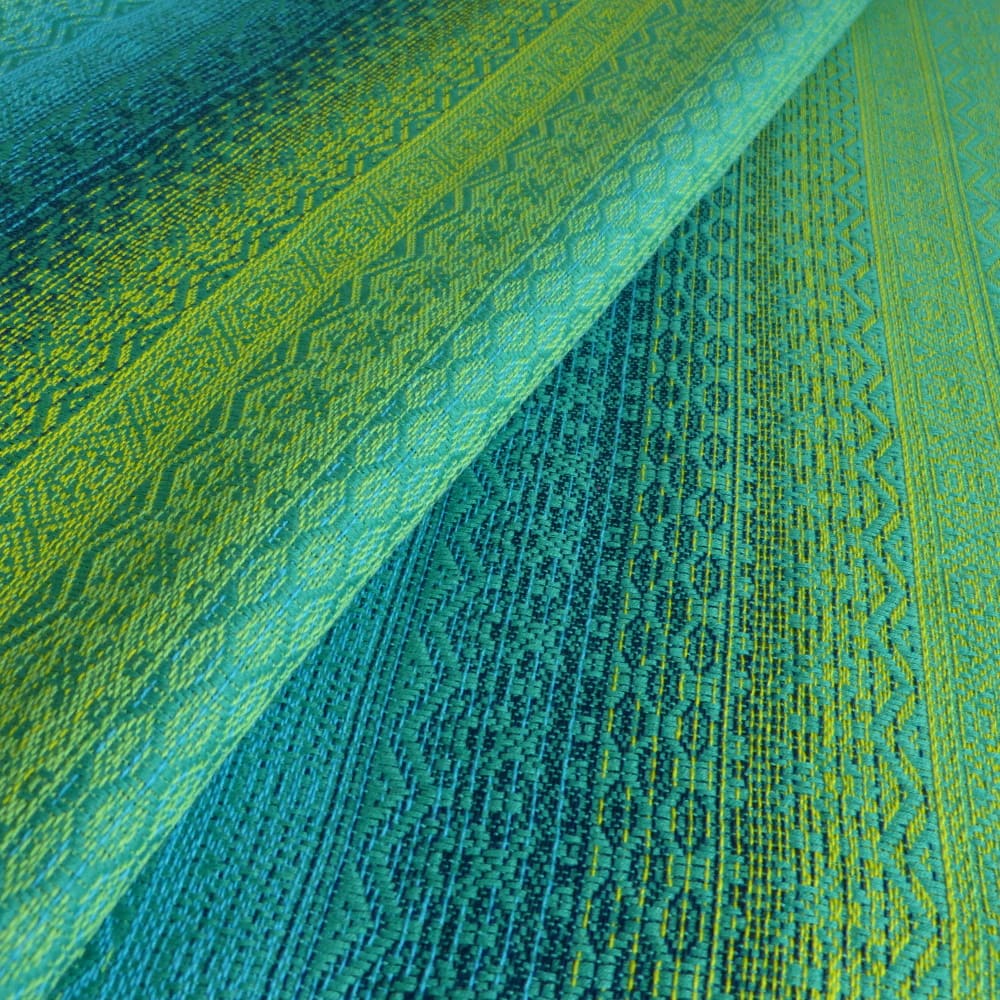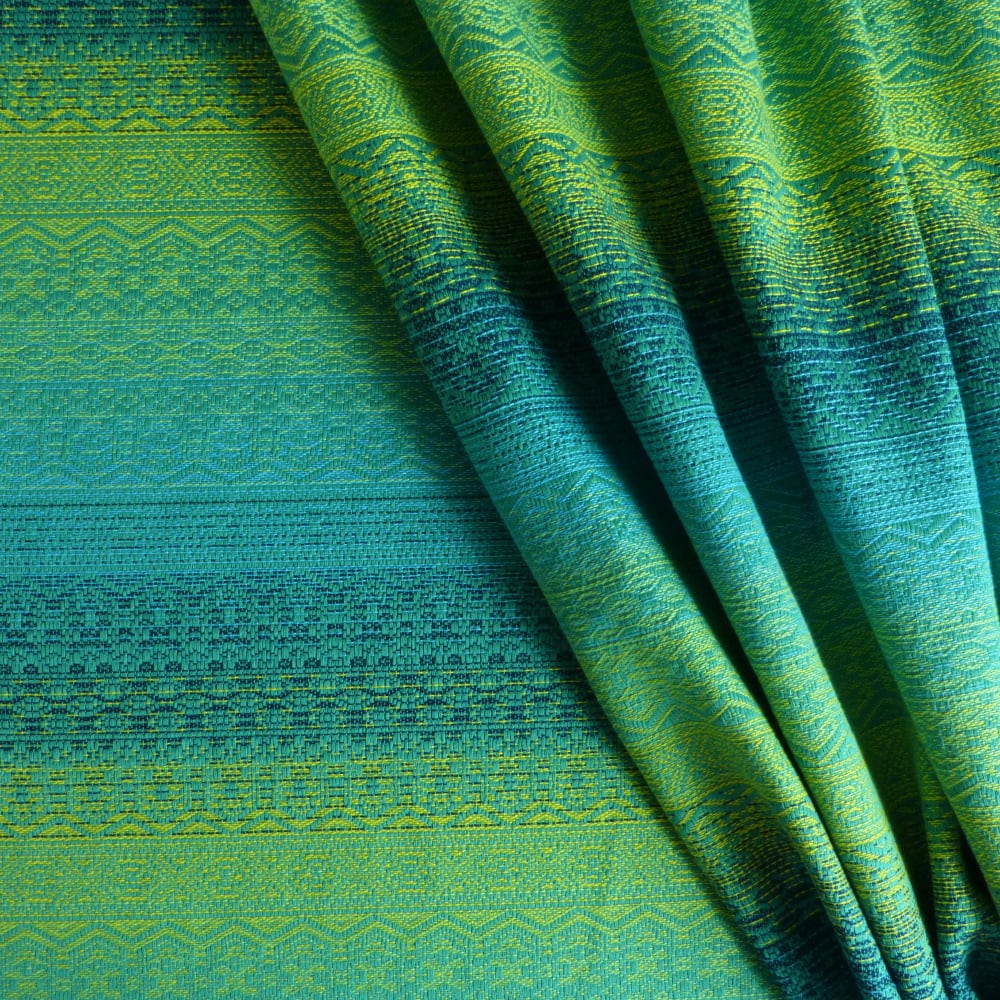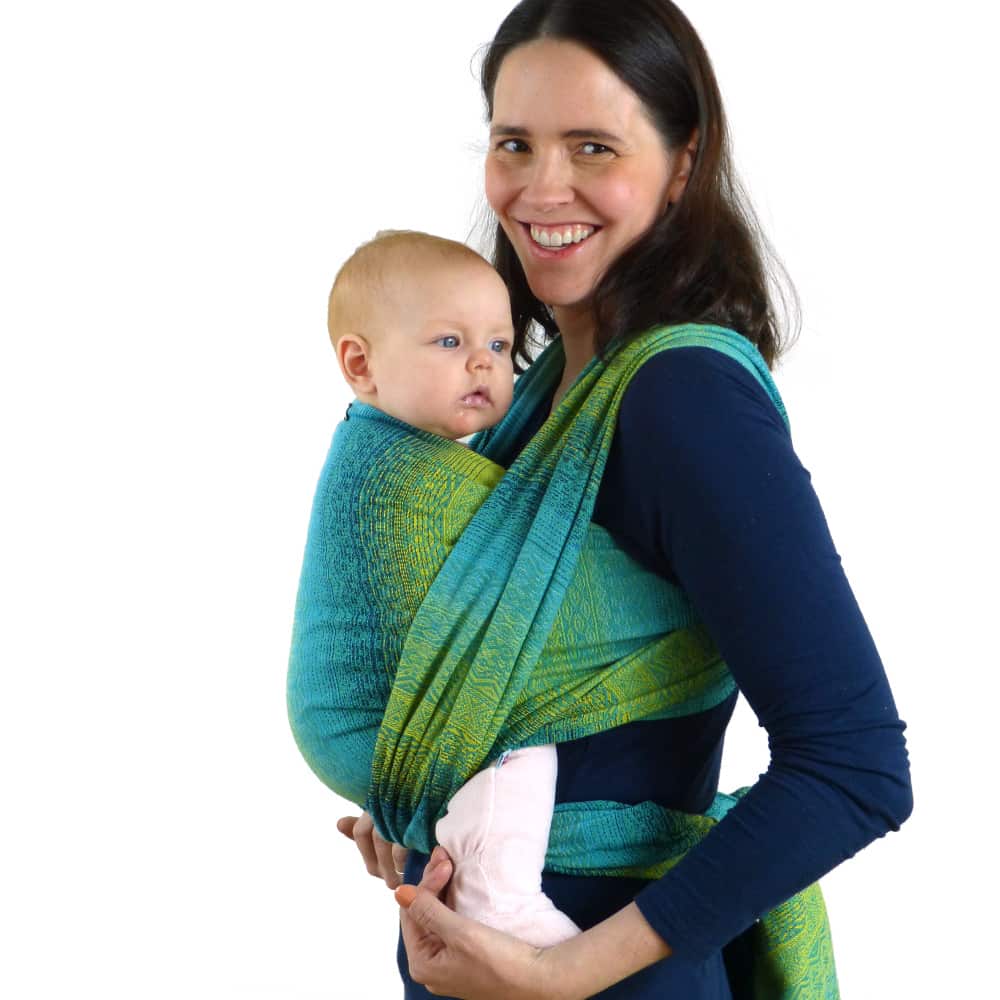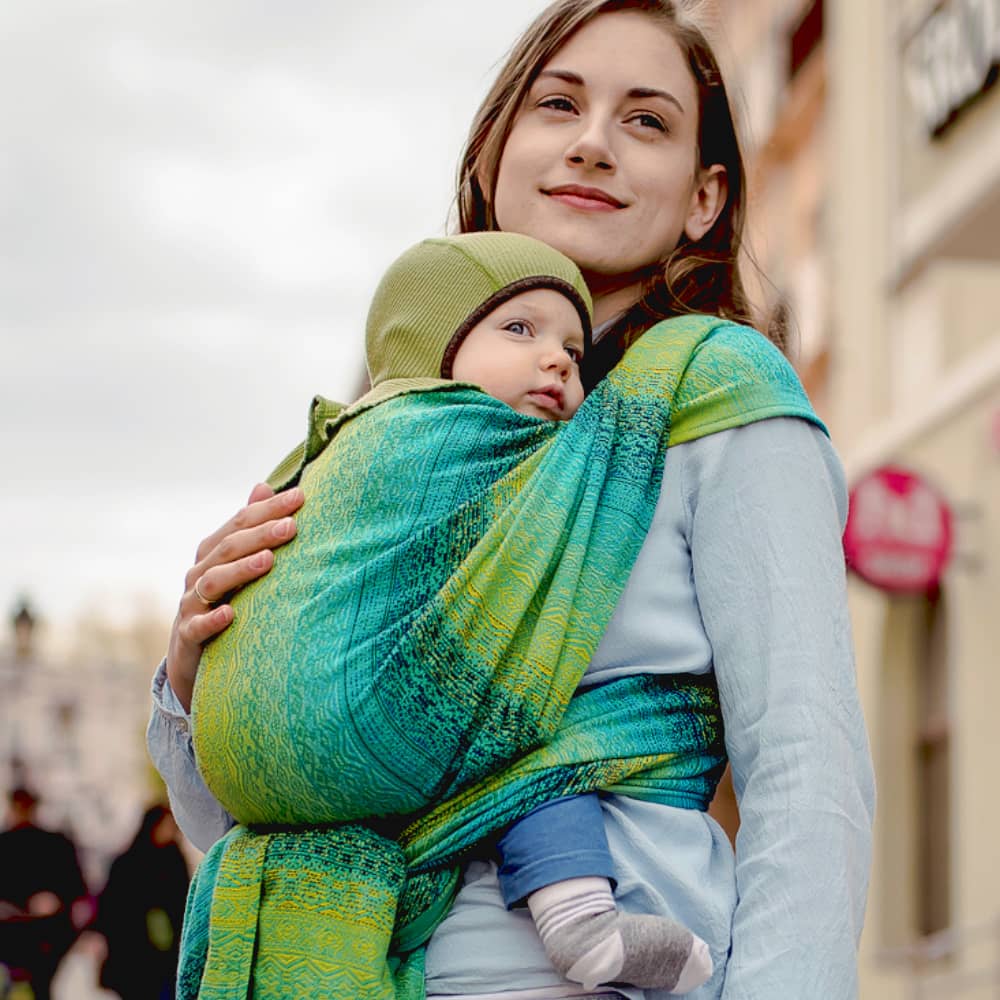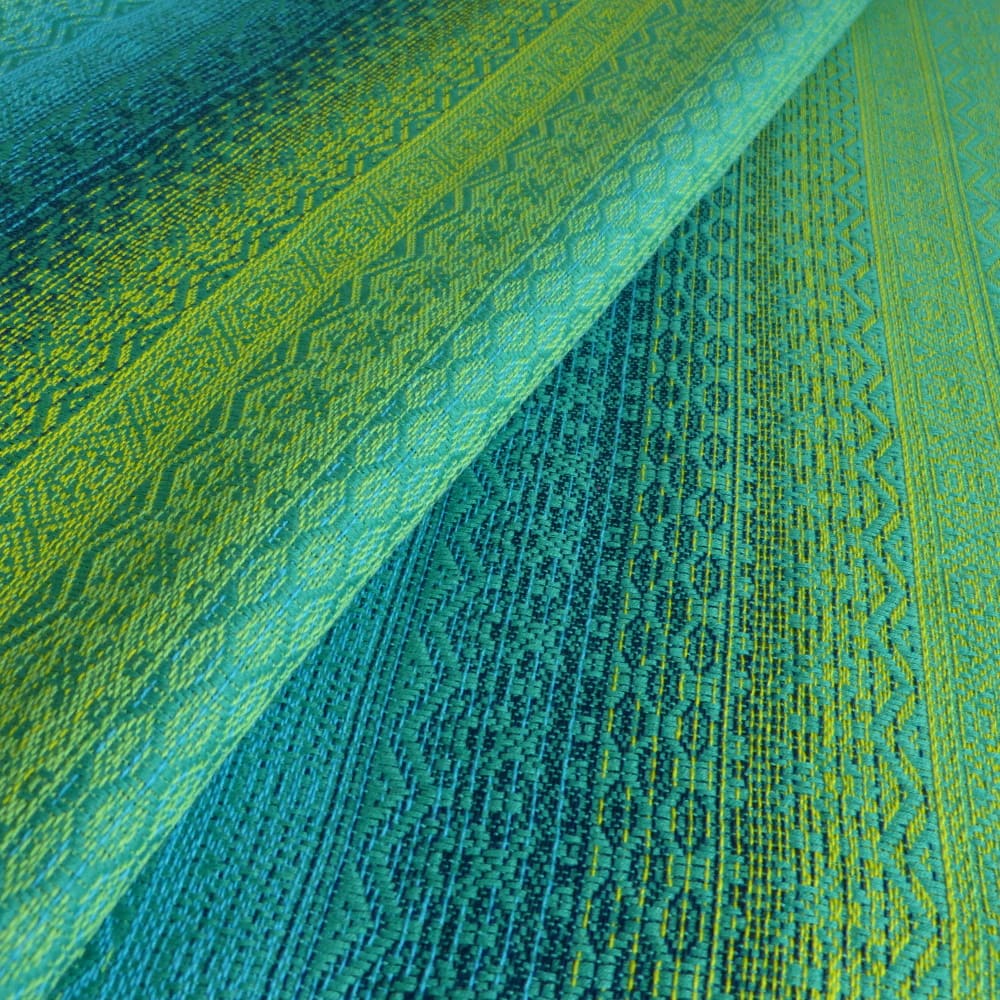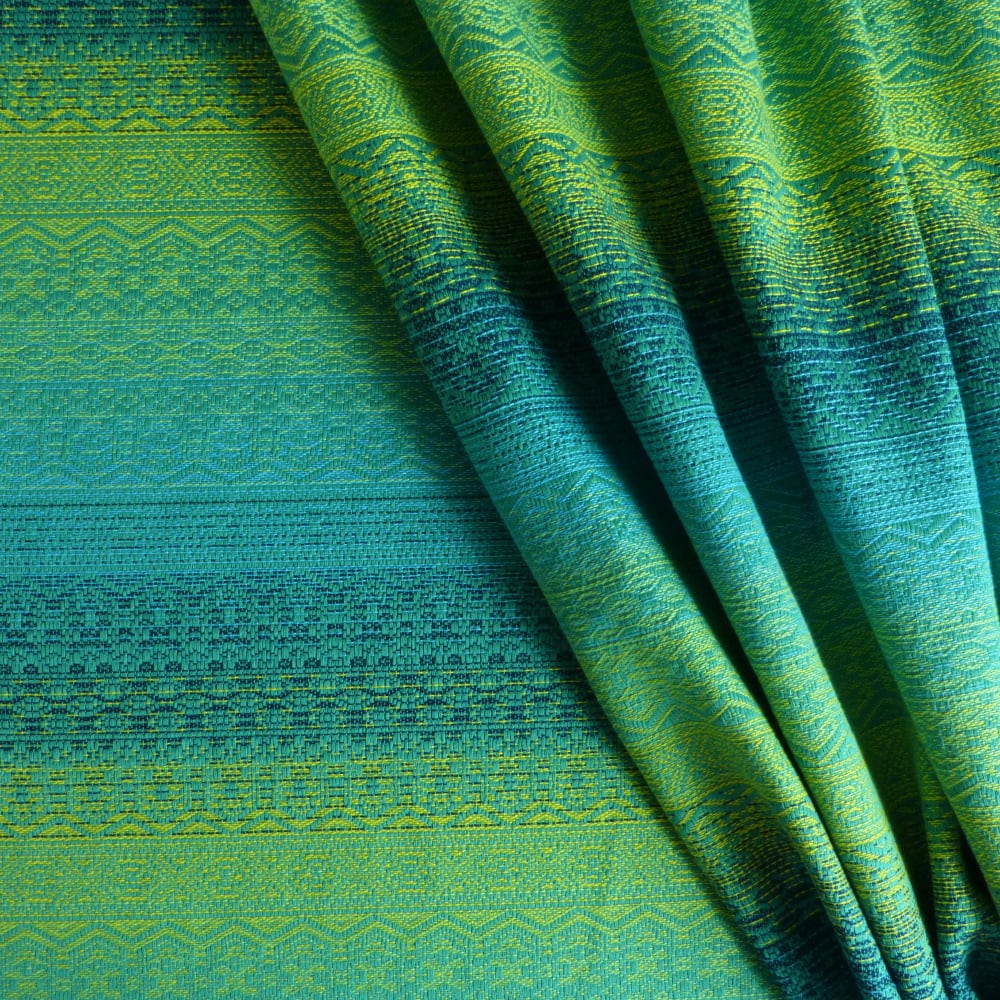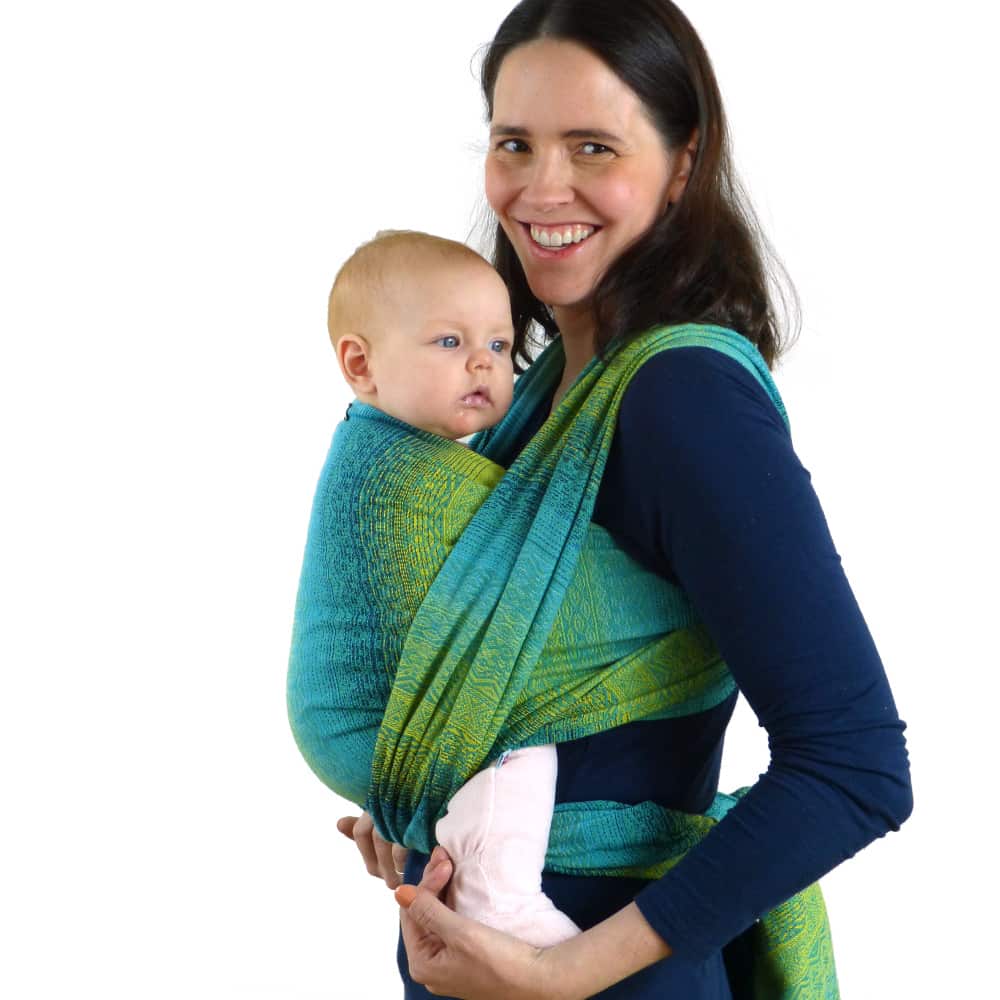 Baby Wrap Sling Ada Malachite
Color:
Emerald, Dark Blue, Turquoise, Light Green, Bright Yellow
Surface weight:
190 g/m²
Material:
100 % Organic Cotton
Description
Still deep in winter and longing for spring, we wish you will love the fresh colours of our new Ada release. The emerald cotton warp harmoniously interweaves with weft yarns alternating from dark blue to turquoise, to light green and bright yellow, a gradient that makes the pattern shine in fresh hues of blue, green and yellow.
The Ada model is made from a Jacquard woven cotton fabric featuring the rich variety of traditional European weave patterns.
Lightweight. the fabric is fluffy and soft, yet has a slightly textured surface that is grippy enought to hold knots in place and allows for tying exact and supportive carries.
.
Material & properties
Age of child: From Birth
Color: Emerald, Dark Blue, Turquoise, Light Green, Bright Yellow
Different Edges: Yes
Material: 100 % Organic Cotton
Surface weight: 190 g/m²
Vegan: Vegan

Washing & care instructions
Washable: Max. 60°C, Gentle Cycle, Low Spin Speed

Please follow our DIDYMOS Care Tips to make your DIDYMOS model last for many years.
---
Didy is always great choise, we had one for first three kids and the new one looks and feels amazing as well! :)
Das Tuch ist wie beschrieben schön leicht und dünn. Es lässt sich für mich als Anfänger sehr gut strähnenweise festziehen und binden. Es schmiegt sich sehr gut an mein Baby, das sehr zufrieden im Tuch ist. Das Handling gibt mir ein sicheres Gefühl und das Tragen ist dann sehr bequem für mich. Ich nutze jetzt lieber das Tuch, welches eigentlich als Ersatz gedacht war, als unsere Trage, auch wenn das Binden noch etwas länger dauert als das Anlegen der Trage, da mir der Tragekomfort mit diesem Tuch besser gefällt. Man sieht die Fäden des wunderschönen Musters, die sehr gut verarbeitet sind. Der Stoff ist weich, aber nicht flauschig und griffig ohne rau zu sein. Leider ist das Mittelpunkt Etikett nur mit vier Fäden an den Ecken vernäht, wovon sich bereits ein Faden gelöst hat. Das finde ich bei dem Preis und der Handarbeit echt schade und schmälert meine Begeisterung etwas. Angesichts der Stoffqualität, der Funktionalität, des mutmaßlich aufwändigen Musters und der Produktion in Deutschland ist der Preis für mich okay.
My all time favourite. Habe ich zur Geburt meiner Tochter geschenkt bekommen, damit begann meine Liebe auch für Didymos. Leicht und mega stabil und die Farben einfach ein Traum. #greenobsession
Das Tuch war Liebe auf ersten Blick. Es ist wunderschön, weich und trotzdem gut griffig. Die Farben sind einfach zum Verlieben. Mein Baby - 7 Wochen alt - liebt dieses Tuch auch.
Dieses Tuch haben wir zur Geburt unseres Kindes geschenkt bekommen und sind absolut begeistert. Die Farbverläufe sind wunderschön und das Tuch ist kuschelig weich und hat trotzdem die nötige Festigkeit, damit beim Tragen nichts verrutscht. Wir können dieses tolle Tuch wärmstens empfehlen.