Carrying a baby safely and comfortably
We have compiled the most important checkpoints that you should always keep in mind when carrying your baby.
Can baby breathe easily? Isn't it too tight? How can she be comfortable and is this good for development? As new parents, we learn many new things, and at the same time those around us are often quick to judge us with pointed questions.
This all also applies to babywearing. Despite the fact that we humans have always been the type to use baby carriers, the practice disappeared from our western world for a long time and only started to come back into our everyday lives about 50 years ago with the founding of DIDYMOS. However, since it takes many years for a norm to become established in our society, we are still doing the work of teaching. We can't forget that most of our parents and grandparents didn't use a baby carrier either.
Despite this, today, experts over and over confirm that proper baby carrying has many advantages and is healthy and safe.
We have compiled the most important checkpoints that you should always keep in mind when carrying your baby.
Clear airways when carrying your baby
To make sure that your baby gets enough oxygen, baby's nasal passages should always be free and clear so that exhaled air has space to go and she has fresh air to breathe in. The headrest, any cloths, or even large scarves should never be spread out over baby's entire head to avoid CO2 accumulating.
Secure hold in baby carrier and sling
Your little baby should always be well held in the sling so that her body has the best possible support. This prevents baby from slumping and at the same time allows her back to round well according to her development. For newborns, we also want baby's neck to be supported.
The older the baby is, the more securely she can hold herself, but baby still needs sufficient support, especially when sleeping.
When the baby is firmly held, she sits so close to your body that you can lean forward and your bodies should still remain firmly connected. This also ensures an ergonomic weight distribution in the carrier and comfortable carrying for you.
Upright positioning instead of the cradle position
Only in an upright position can baby be in a posture that supports her spinal and hip development.
This means the baby's body will be so well supported by the sling or baby carrier that the child doesn't have to do any extra work beyond her current developmental stage, and her spine is automatically supported.
If you can kiss baby's head, then you know that her height is good and baby is comfortable.
Spread-squat position - Why is it so important?
Your baby automatically lifts her little legs when you pick her up. This behaviour originates from our evolutionary development and contributes to the optimal development of our hips. When we are born, our hips are not yet fully developed. The spread-squat position helps to ensure optimal blood circulation in the hips and that the position of the femur and the socket develop in such a way that they do not rub against each other later on. In order to be able to adopt the spread-squat position, the bottom edge of the seat of your baby carrier should reach from the back of one baby's knees to the back of her other knee.
Can babywearing be dangerous?
If you follow the list above, you are doing everything right. The points about clear airways and a secure hold are also relevant to safety, but you should also make sure that your baby can breathe freely in all other situations.
If the baby does not (yet) sit perfectly when you first try to carry her, this is no reason to be worried. With each carry you get more practice and soon you will be more focused on enjoying these moments together. You will find lots of support for practising in our instructions.
Quick guide - safe and easy babywearing
Here we give you an overview so you can do a little safety check every time you carry your baby: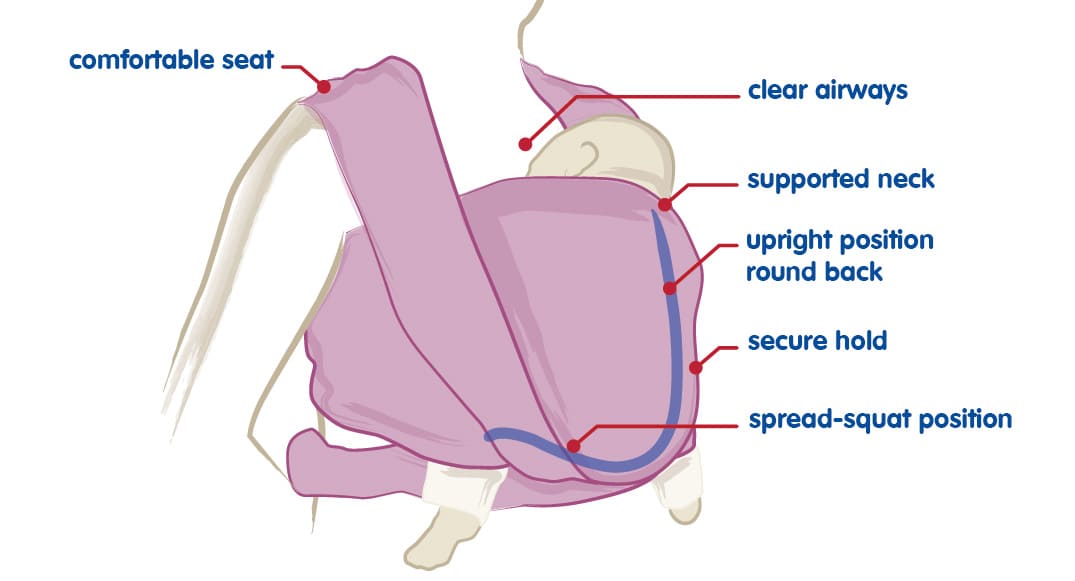 Do you have any questions? Our team of babywearing advisors will be happy to help you by phone, via our contact form, or in our chat.
We wish you many wonderful carrying adventures and lots of joy with your DIDYMOS!

This blog post is by Christina Riffi