The DidyFix babycarrier for newborns and very small babies
The quick alternative to the baby wrap sling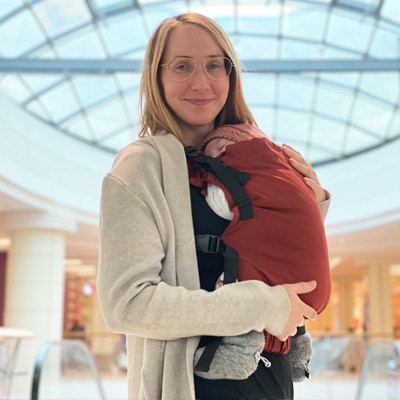 Eleven weeks ago, I gave birth to my second daughter and we are already learning new lessons: Yes, she is also a carried baby, through and through, BUT: she needs a completely different tool.

Babies have strong opinions....
While my first loved to snuggle up for hours in a front wrap cross carry and patiently waited for me to tie the baby wrap sling, my youngest daughter had absolutely no desire.
For one thing, she'd rather look around instead of being cuddled, and for another, she complains loudly if the tying takes longer than ten seconds.
With my first I had come to love slings and tying, but now I had to return to the drawing board.
The quick alternative to the baby wrap sling
Just as I was about to sink into perplexity, DIDYMOS released their new full buckle carrier, "DidyFix." It's supposed to be similar to the DidySnap, but stripped down to the essentials, slimmer, more sophisticated.
"Perfect," I thought, "I love minimalist. And if putting it on is as quick as the name suggests, I will hit the jackpot. I'll give this a try!"
No sooner said than done, I snatched the package out of the mailman's hand and adjusted the DidyFix to fit me and my baby in no time. Adjust the seat width and back height, set the straps to fit my body, and I was ready to go - it wasn't five minutes of work.
Once in the sling, I even managed to manoeuvre my baby onto my back with it - it was a breeze thanks to the enclosed instructions. With a baby wrap sling, I actually wouldn't have dared to do that yet - with the DidyFix, I felt safe to give it a go, since the closed straps gave me the security that it would stay where it was supposed to be when tied on.
Your checklist for the right fit
Ready to give the DidyFix a try with your baby? However, maybe you're worried about getting everything right.
Here is my personal checklist - reduced to the essentials:
- The seat goes from the back of baby's knee to the back of baby's knee.
- The back panel reaches up to the earlobe of your child.
- When you bend forward, your child does not move noticeably away from you.
- Your child's chin is not resting on his or her chest.
Honestly, these are the most important four things. If something else isn't perfect - so what? There is no need for perfectly carried babies, well and safely tied is good enough.
If you are still unsure, you can of course contact a babywearing consultant to have the proper fit and adjustment checked.
Conclusion: DidyFix for newborns and very small babies?
My personal summary is: The DidyFix is wonderfully well suited even for very small babies. Also, the sewn-on straps are totally beginner-friendly, because baby's little legs do not need to be repositioned at all once in the carrier. I know from my everyday consulting work that this confuses parents. Instead, they are nicely supported in the DidyFix.
And for the babywearing aficionados amongst us: it's really obvious the DIDY Team specially chose the fabric and the placement of the straps so that even the smallest babies are well positioned, removing pressures that can come up in other positions.

This blog post is by Tabea