Formula is just as good as breastmilk these days, isn't it?
Part 4 of our series "Old wives' tales about breastfeeding"
This has been claimed for almost 170 years. So, let's first take a very brief look at the history of infant formula. Justus von Liebig developed the first ready-made baby food in 1865, initially in liquid form as "soup for babies," later as ready-made powdered food. The pharmacist's assistant Henri Nestlé changed Liebig's recipe and added condensed milk. He marketed the powder as Nestlé's infant cereal after a trial on two infants. And voilà, there we have it - formula food. And the monetary interests of the food industry.
In the 1930s, the baby milk industry really started to grow in Germany. Milupa (two-bread flour dissolved in milk) and Alete (infant formula sugar) came into play. In the period after World War II, attempts were made to make milk substitutions more and more like breastmilk. They were sold as "humanised" or "adapted". In 1964, Milupa developed the first synthetic milk called Milumil.
And these were already really "good" baby foods. If you look at the time before that in all cultures and countries, you wonder why babies survived with it at all.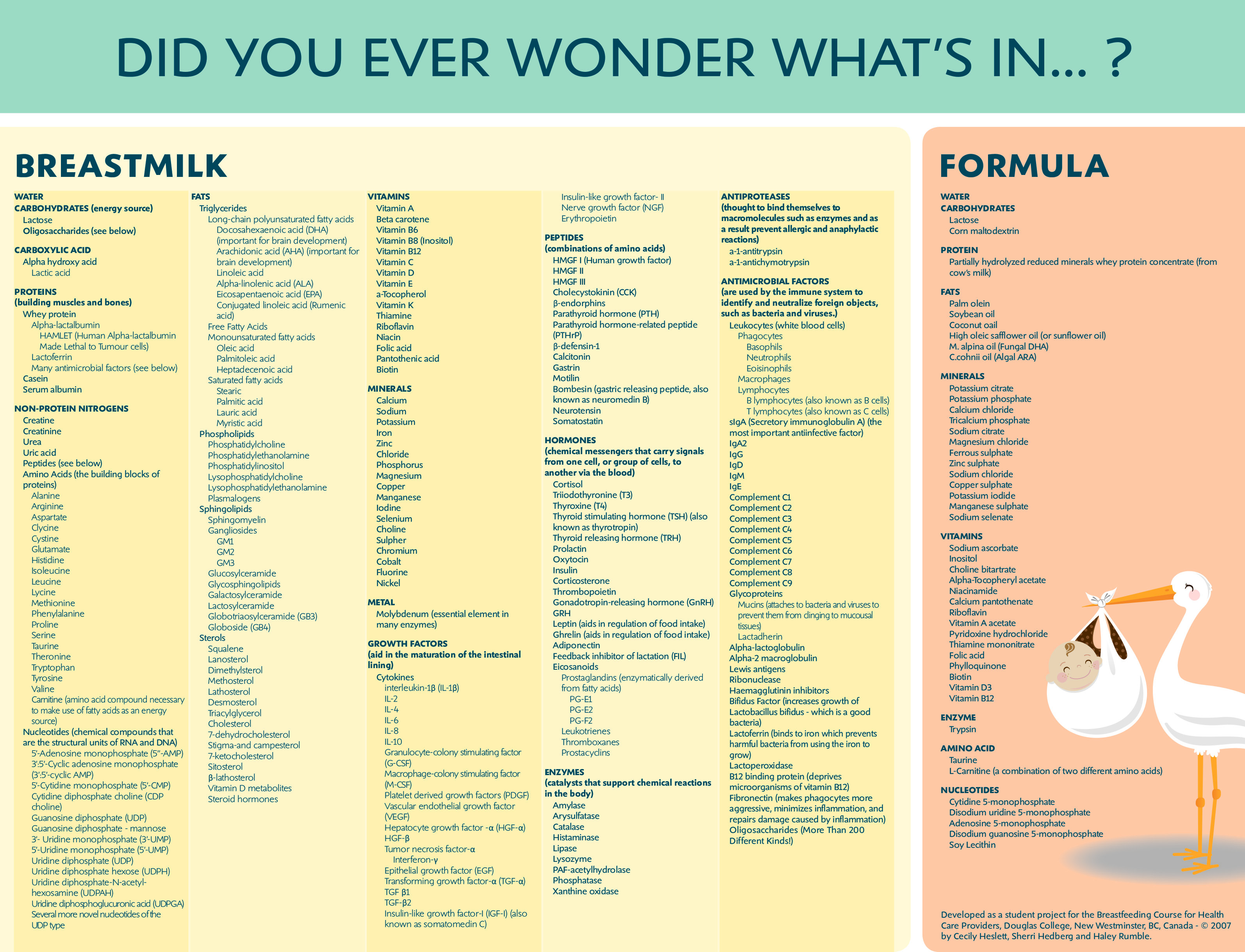 Source: http://www.clocc.net/wp-content/uploads/Whats-in-Breastmilk.pdf
Even a quick glance at the chart shows that despite all the advances in the production of powdered milk, artificial infant formula cannot match the health benefits of breastmilk. Breastmilk is not just food, it is a complex, individualised system, developed over millions of years, by human bodies for human children. Evolutionary in origin.
It is perfectly conceptualised for the development of a large and powerful brain, not for the rapid growth of bones, as in cattle. It is immunologically perfectly designed for the survival of our children. It contains very differently constructed carbohydrates with important functions in the child's body, pluripotent stem cells, hormones, cytokines and enzymes.
Breastmilk is alive, it is not a dead food like formula. It contains moving, living cells - about 4000 to a mm³. It influences genes and thus protects against certain metabolic diseases and cancers, for example. It adapts continuously: is the child healthy or sick? Born too early or three years old? To extreme climates and many other circumstances.
It is constructed differently and uniquely for each breastfeeding dyad. There is no such thing as exactly the same breastmilk in the world. Why should we give our children cow's milk to drink? Cow's milk is not suitable for human babies. It is intensively processed in order to be edible for children.
It is not for nothing that Nestlé has been trying for years to obtain patent rights on certain components of breastmilk. For example, the small protein HAMLET. It is successfully used in cancer therapy.
If we now consider that even in the 21st century we are far from knowing everything about the composition and dynamism of human milk, then the answer to this old wives' tale should be clear.
Formula can never and will never be as good as breastmilk. Not in any future.
Here you can find more parts of our series "Old wives' tales about breastfeeding":
Part 1 - We dispel old wives' tales
Part 2 – Small breast no milk?
Part 3 - Not enough milk for the first few days?

This text was written by Eva Vogelgesang
DIDYMOS babywearing instructor trainer and IBCLC and EFNB-certified paediatric nurse