First shopping list for babies - what does a baby (not) need?
Babies don't need a lot of material things when they are born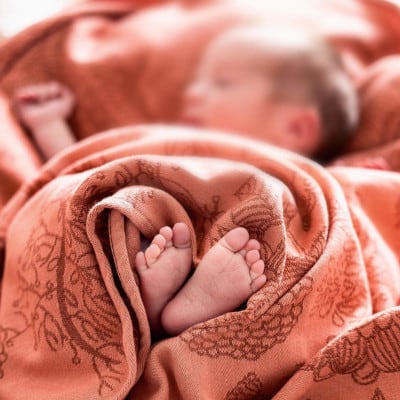 I still remember my first pregnancy well and the initial shopping lists I went through. But does a baby really need all?
Today, with a few years' experience under my belt, I know that babies don't need a lot of material things when they are born and that most things can be quickly bought if they are needed.
What does a baby need after birth?
Newborns are mainly busy sleeping, drinking, filling nappies and cuddling a lot, to put it very simply.
To meet these needs, they need:
A safe place to sleep
Milk to grow
A place to change and nurse
Closeness and physical contact
A safe place for baby to sleep
Small babies sleep a lot, often in different places. It is especially easy for them to sleep in close physical contact, with gentle movements or with a familiar soundscape.
In order to find peace at night, it is worth setting up a sleeping place within reach of your own, e.g. in a cot. It is warm enough in a sleeping bag and you can take your baby to you at any time if s/he gets restless or hungry.
Babies also prefer to sleep in close physical contact during the day. During the postpartum period, you may find yourself spending a lot of time with baby in bed or a favourite chair. A small blanket makes it cosy and cuddly for both of you.
When you are on the move again and busy in everyday life, babies are in the best of hands in a baby wrap sling or baby carrier. Here they can sleep and easily join you in everyday life. The transition from awake to sleeping phases is also much easier.
If you want to put your baby down for a nap, you can set up a sleeping area in your living room.
Milk to grow
Isn't it fascinating that healthy babies need nothing but milk to grow? Just as fascinating is the fact that we humans produce it ourselves and that the composition adapts quite automatically to the development of our baby.
Even if we are naturally equipped with everything s/he needs, the start of breastfeeding can be difficult. Everything is new and needs to be practised - lactation consultants and midwives are the best people to talk to here.
In principle, I didn't need to buy anything to feed my newborn. Nursing bras that can be worn during pregnancy are helpful. It's also useful to have muslin cloths handy - either for milk that the baby puffs up or leaky breasts in the early days.
A place to change and nurse
With a new baby, you spend a lot of time caring: changing nappies, washing, bathing, changing clothes. It pays to set up a fixed place for all this baby hygiene fun. In the best-case scenario, you will always have everything you need at hand:
(Hand-warm) water
Flannel
Towels
Cloth or disposable nappies
Fresh clothes
When it comes to care products such as creams or bath additives, less is more and can also be replaced by breast milk. If there is enough space in the bathroom, setting up a changing area in the bathroom is helpful and can save a lot of walking.
Protection, safety, and security through closeness and physical contact
The smaller our babies are, the more helpless they are and the more dependent they are on attachment figures.
Physical contact and closeness automatically give our children a feeling of safety, protection, and security. This is a basis for physically and psychologically healthy growth and can also be seen in the fact that children are calmer and cry less when they're kept close.
When we carry our children, we automatically meet these needs and have our hands free to manage our daily lives.
There is a wide range of baby carriers and it is worthwhile to start investigating the options during pregnancy. Our little babywearing guide gives you a great overview. Once your baby is here, you can find the right option for you both. If you're not sure, our DidyTry programme offers you the chance to try out one or more carriers before you buy. A babywearing consultation can also be a great help.
Depending on the season and weather, carrying jackets or covers are useful - and can also be worn during pregnancy. If it is cold outside, you can keep each other warm and don't have to worry about the baby getting cold. You only need to protect baby's head with a hat and legs and feet with woollen socks.

We have not compiled an ultimate list of what you do and don't need for your baby. However, if you go through the items, you will see that it doesn't take that much to take care of your new addition.
Many things like towels you already have at home, and you can think about what you can use or make baby-friendly. Toys, towels with cute designs, or cuddly toys will come all by themselves in the next few years - e.g. as gifts, you'll see.

This blog was written by Christina Riffi