DIDYMOS Babywearing School: what is it? 
Who can become a babywearing consultant?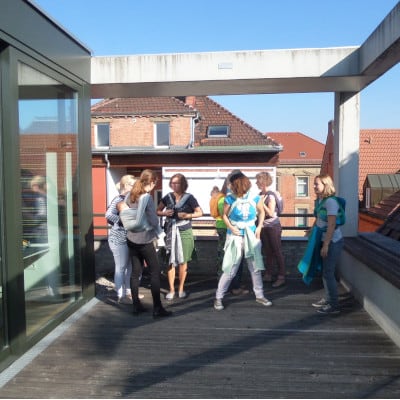 You've probably read about babywearing consultants before, and maybe you've even used a consultancy.
Babywearing advisors are well-trained experts who know all about carrying, guide you through the "carrying jungle" and find the right carrier for you and your baby. Because sometimes it's not that easy, it should fit and be comfortable, and that's where professional support can be helpful.
Who can become a babywearing consultant?
Anyone who enjoys working with children and families. Midwives, physiotherapists and occupational therapists, but also educators, nurses, maternity nurses or simply as a career change. Everyone interested in helping families with babies and who would like to teach carrying in a professionally-safe and well-founded way in courses, facilities or consultations.
What do I learn in babywearing courses?
You will receive evidence-based training in:
- Anatomy and physiology of the baby
- History and why a baby is still in the stone age
- How carrying influences the baby's development
- Why do we actually carry babies and is it an invention of modern times?
- Prejudices and facts
- Course design (didactics/course types/advertising/pricing/legalities/finances)
Of course, we also practise tying with the wrap, because if you understand the principle of a wrap, all carrying systems will be easy for you, and it will be easy to see whether the basic rules of healthy carrying are being observed or how you can optimise a carrying aid.
Can I give advice directly after the course?
Yes, you can, because you are not only very well trained, but the well-trained babywearing consultant should also be able to respond confidently to your needs and those of your child.
It is important that you, as an independent babywearing consultant, discover the advantages of babywearing together with the parents. To make sure you are absolutely sure, there is also an optional examination at the end of the training - don't worry, you will be really well prepared for it.
In addition to a detailed script, you will automatically receive a Didymos sling size 6 and a DidyKlick, so that you can start right away.
What types of courses are available?
The training takes place either 2 days online or 2.5 days in Ludwigsburg, Germany.
Who teaches you at the DIDYMOS babywearing school?
Eva Vogelgesang is the medical expert on carrying - she developed the Bonding Top for premature babies with DIDYMOS and established the carrying concept at Saarbrücken Hospital. She is a specialist paediatric nurse, babywearing consultant, breastfeeding consultant IBCLC, developmental neonatal companion, gives lectures and has won prizes for her posters on the subject of bonding.
Anna Hoffmann is a babywearing counsellor, postnatal trainer, pelvic floor trainer and fascia trainer and has long been concerned with healthy posture while carrying, the different ways of carrying, and knows a lot about the current baby carriers available for parents. She gives training on carrying in midwifery and parenting schools and also advises parents individually on all aspects of babywearing.
Is there any further training that follows?
As in any profession, it is important that you stay "up-to-date" and continue your education. We always have exciting further training courses that deal with individual topics such as breastfeeding and carrying or new ways of carrying.
Partner programme
Become a Didymos partner and benefit from our partner programme after your training. You will then receive special discounts on DIDYMOS carriers.
Where can I register?
Prices, dates and registration can be found here .
Of course we are happy to answer all your questions about becoming a babywearing consultant at mail@didymos.de and I am looking forward to meeting everyone in the training, it's great fun!

This blog post was written by Anna Hoffmann