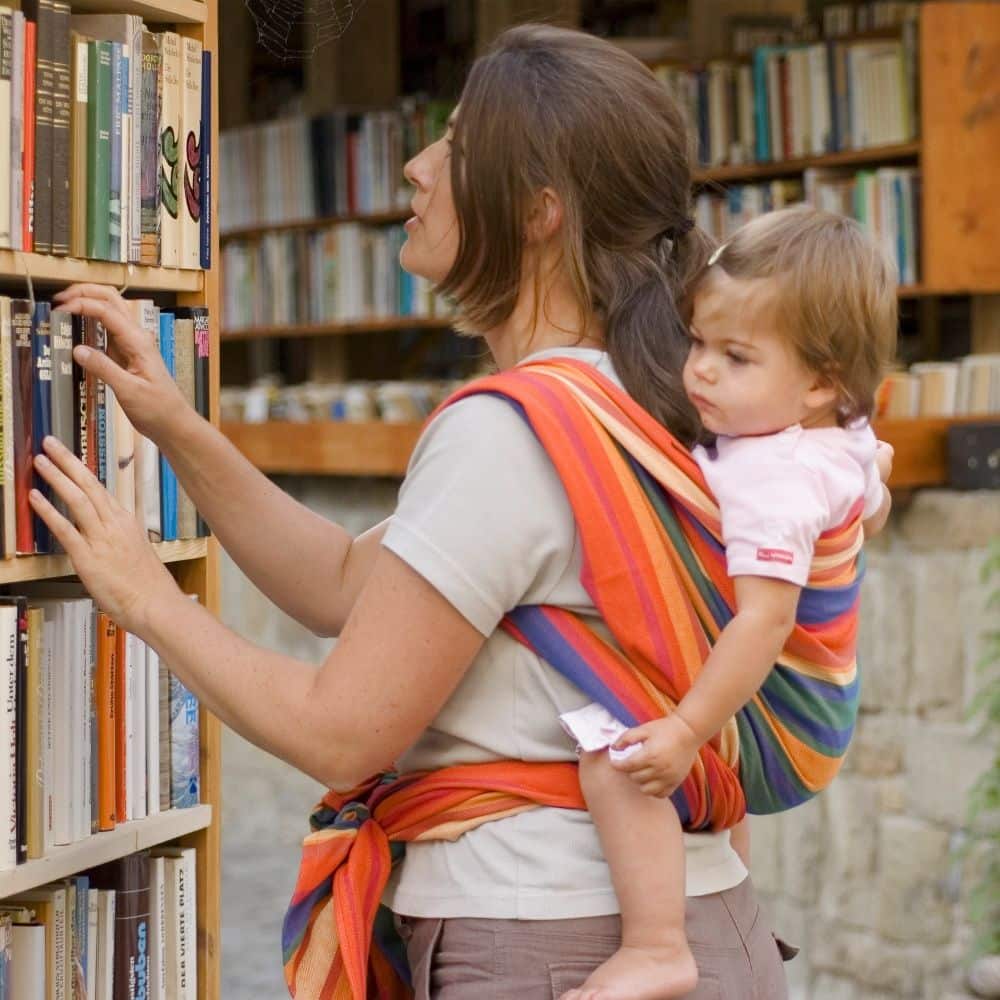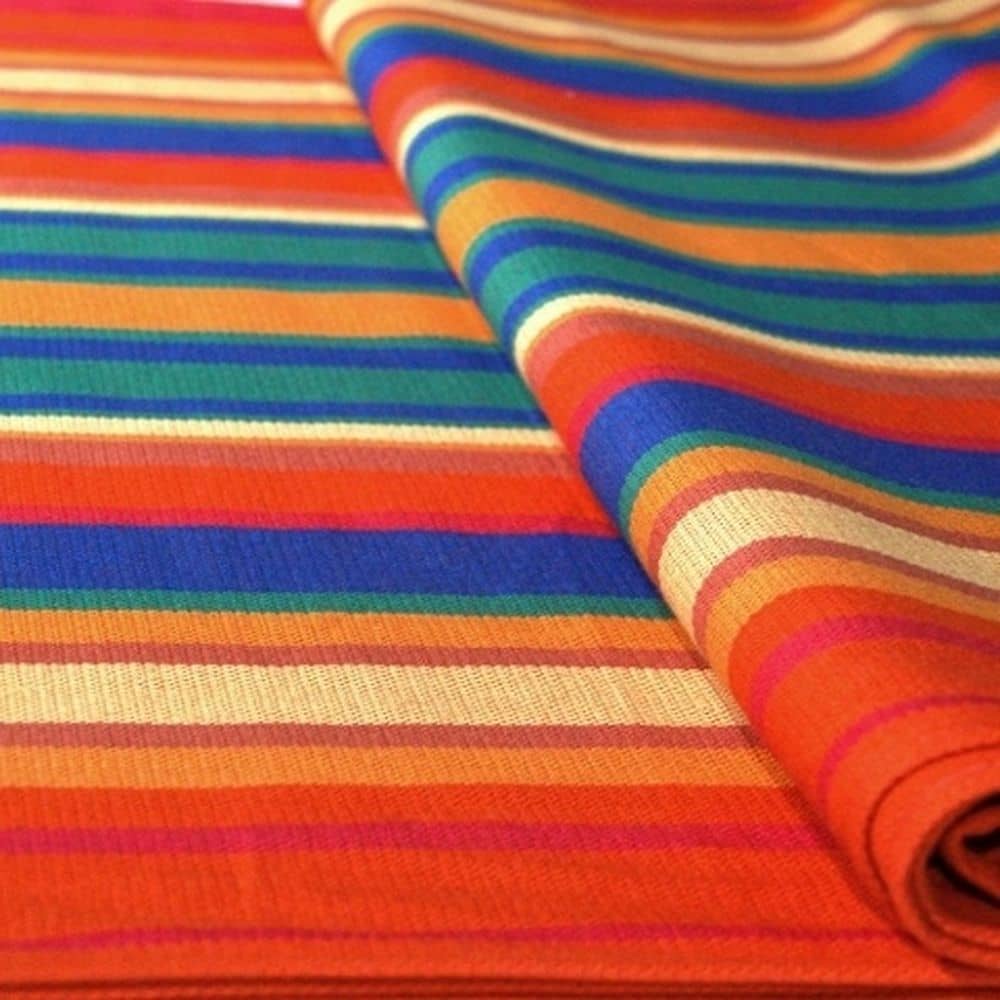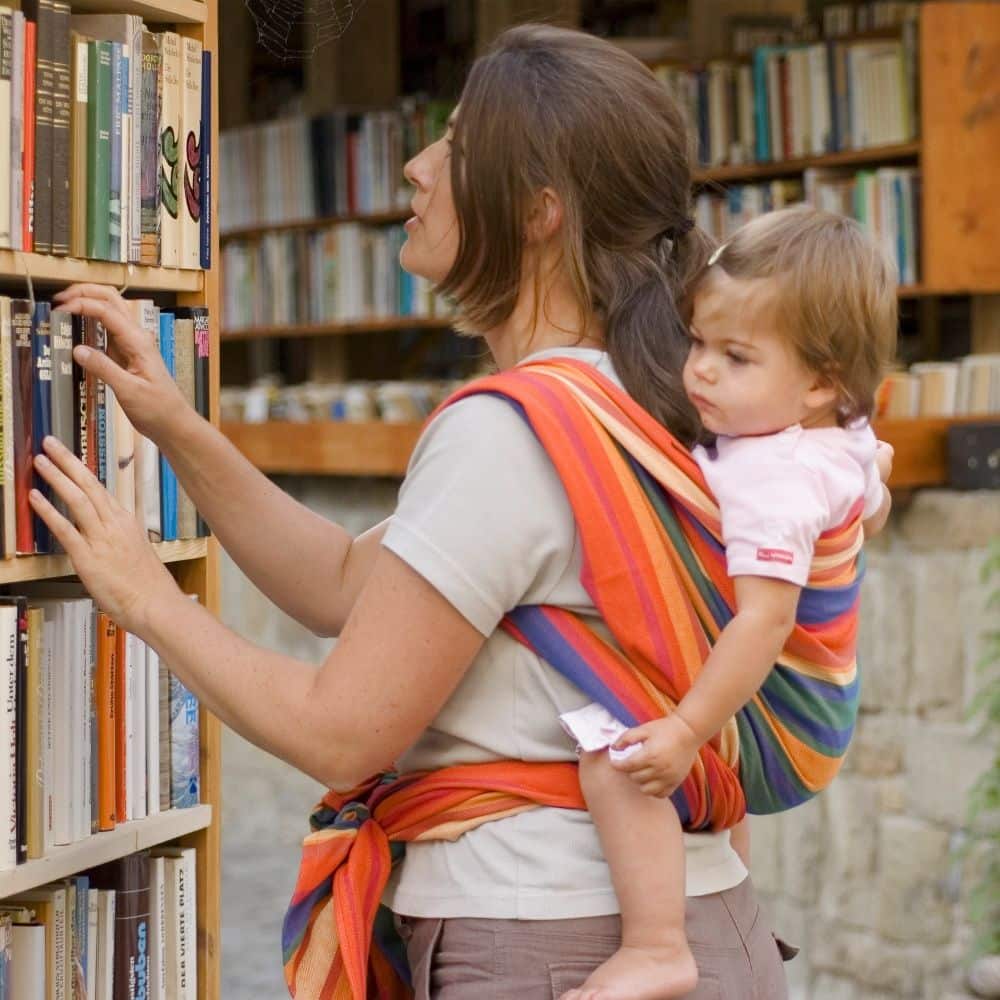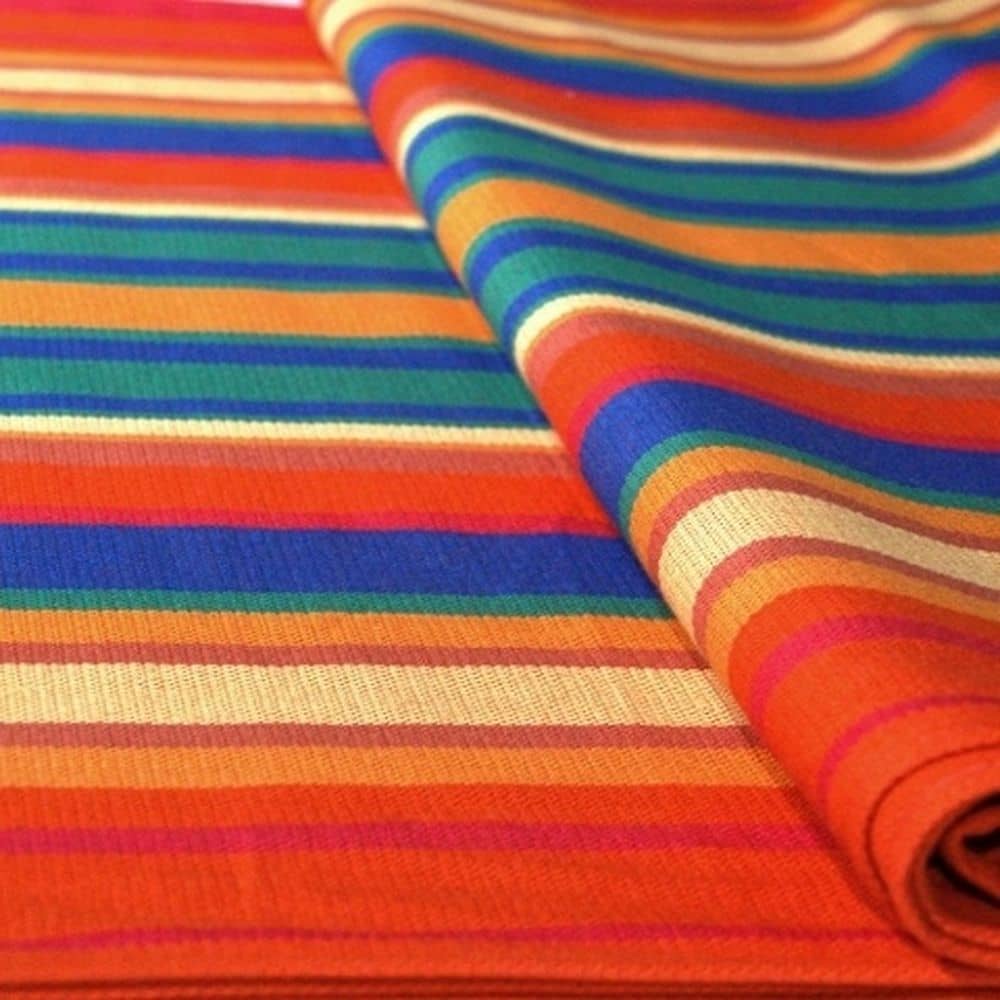 Description
Stripe pattern in bright and sunny colours of yellow, orange, red and blue.
With its inherentdiagonal stretch, the cross twill fabric is robust and sturdy yet adapts comfortably to all carries and makes sure that both a newborn and older toddler are held with comfortable support.
Material & properties
Age of child: From Birth
Color: Blue, Green, Orange, Yellow
Different Edges: Yes
Material: 100 % Organic Cotton
Surface weight: 220 g/m²
Vegan: Vegan

Washing & care instructions
Washable: Up to 60°C, Gentle Cycle, Slow Spin Speed

Please follow our DIDYMOS Care Tips to make your DIDYMOS model last for many years.
---
Das kunterbunte Katja ist ein Gute-Laune-Tuch, aber auch ein sehr stabiles, strapazierfähiges Tuch, das noch für grössere Traglinge geeignet ist.
Ein gutes Bindeanfängertuch. Robust, unempfindlich, kinderalltagstauglich. Bei größerem-schwererem Baby und mit etwas längerer Bindeerfahrung favorisiere ich jedoch schwerere (höheres Flächengewicht) Tücher von Didymos - das ist allerdings subjektiv und muss nicht für alle Tragenden zutreffen.
Katja ist ein sehr dankbares Tragetuch, dass sich einfach binden lässt und sich gut wäscht, sollte der Stoffwindelpopo mal nicht ganz dicht sein. Durch das Streifenmuster können Anfänger präzise binden lernen, zudem ist der Preis familienfreundlich. Selbst meine größeren Kinder (10kg und 16kg) binde ich mit etwas Erfahrung mehrlagig gerne in Katja-Streifen ein.
Mit diesem tuch begann meine sucht. Es ist ideal für Anfänger, da der stoff nicht verrutscht und man nich sooo genau binden muss und trotzdem ein ideales trageergebnis hat. Geeignet vom neugeborenen bis zum brocken. Mitlerweile besitze ich auch tücher mit bambus und seide, die m e präzisere bindung und straffung erfordern, also im vgl zu diesem eher für fortgeschrittene geeignet sind. Aus diesem tuch habe ich mir mitlerweile einen sling gemacht, was unglaublich gut geht. Zunächst hatte ich zweifel aufgrund der einseitigen belastung beim sling. Diese zweifel waren absolut unbegründet!!!
Sehr schönes Tragetuch. Hatte es mir eigentlich als Zweittuch gekauft, aber es trägt sich so gut, dass es wohl zu unserem Haupttuch werden wird ;-) Das Material ist schon fest und passt sich dennoch gut an.
Der Klassiker ;-). Auch nach vielen Jahren noch leuchtende, schöne Farben. Lässt sich toll binden, passt immer und ist auch als Puppentragetuch bei den Kindern sehr beliebt.
Mein allererstes Tuch! Verbreitet nicht nur durch die fröhlich kräftig bunten Streifen gute Laune, auch meine Tochter hat es geliebt... Vom ersten Tag an, über die Zeit, als wir es nur noch als "Kinderwagen in der Handtasche" gebraucht haben und letztendlich dann bis zur Einschulung, wo es im Spielzimmer als Schaukel oder Hängematte genutzt wurde... Heute ist es umgenäht worden zur Wickeltasche für die Stadt acht Jahre jüngere Schwester, die natürlich auch ein Didymos hat...
I really love this wrap. Gets very soft after frequent use and is very strong. I carried my daughter until she didn't want to be carried in this wrap. Now we use it as a hammock. The colors are very vibrant.
Vorher hätte ich es zwar nicht vermutet und wir kamen eher zufällig zusammen aber unsere Katja ist unser allerliebstes Lieblingstragetuch. Auch mit größerem Tragling noch im einfachen Rucksack tragbar, stabil, unempfindlich. Ganz klar unser meistgetragenes Tuch - wir lieben es!
Didymos stripes are a great all around wrap, and wonderful for beginners