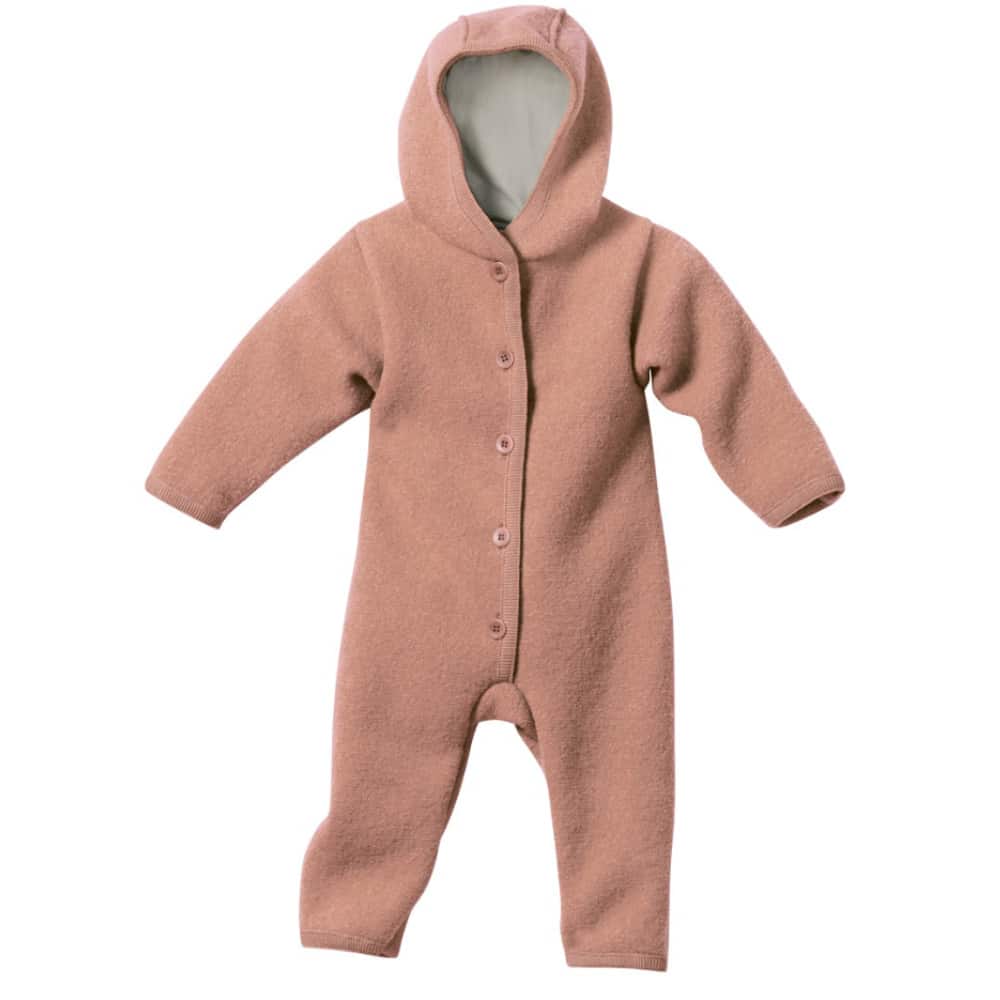 Description
Very soft and cozy warm snow overall, perfect for babies and toddlers, keeping them warm from top to toe.
The organic Merino wool, the shape and great details make it a perfect addition to your child's winter wardrobe: large hood with snug fit around the face, roll-ups on the arms and legs, flexible fit, lovely big tagua nut buttons. Boiled Merino wool is flexible, breathable, yet very warm, dirt resistant and wind and water repellent.
Great to wear over baby's clothes when playing and romping about in the snow. The hood and neck part are lined with fine organic cotton to ensure nothing itches in these sensitive areas.
100% Organic Merino Wool, 100% Organic Cotton Lining
Colour: Rosé
Washing & care instructions
Washable: Wool Cycle, cold

Please follow our DIDYMOS Care Tips to make your DIDYMOS model last for many years.
Suitable Products
Suitable Products
Baby Wrap Sling Lisca Raspberry
Three differently coloured cotton yarns - cyclamen, pink and natural - combine in this pastel colour version of our popular herringbone patterned Lisca model. A gorgeous wrap not only due to its beautiful colour but also due to the softness of the fabric. Though the fabric is heavier than the usual Lisca models, it is incredibly soft, very supportive and has very good diagonal stretch. The popular Didymos herringbone pattern is WOVEN into the fabric and is the same on both sides, the colours are inverted.
Hoodie Jacket boiled wool rosé
Lovely and warming - hooded child jacket made from organic, boiled Merino wool. The dirt-resistant and temperature regulating properties of Merino wool make it a wind and waterproof outdoor jacket, great for any season. It fits generously in the body and hood.T he extended back section keeps baby & toddler warm when they bend or crawl. Two pockets have plenty of room for little treasures. Large tagua nut buttons help small hands to put on and take off the jacket. The hood, neck and shoulders are lined with fine organic cotton. 100% Organic Merino wool, Lining 100% Organic Cotton Colour: Rosé
Doll Snap Chili
DIDYMOS doll carrier Doll Snap is perfectly suited for little babywearers. It is a great gift for big sisters or brothers, so they can wear their little dolls and toy friends just as you carry their little sister or brother. Easily adjustable, shoulder straps and waist belt are comfortable to put on and to be buckled by small hands. Soft and moldable, the back panel is made from DIDYMOS wrap fabrics. It is absolutely skin-friendly as DIDYMOS uses only 100% pure organic cotton and dyes that are free from any harmful substances. DIDYMOS Doll Snaps can be worn in the front or back position. They are safe for children and like our doll slings and doll ring slings they are available in many DIDYMOS colours and you can choose the one that matches your own wrap or carrier.