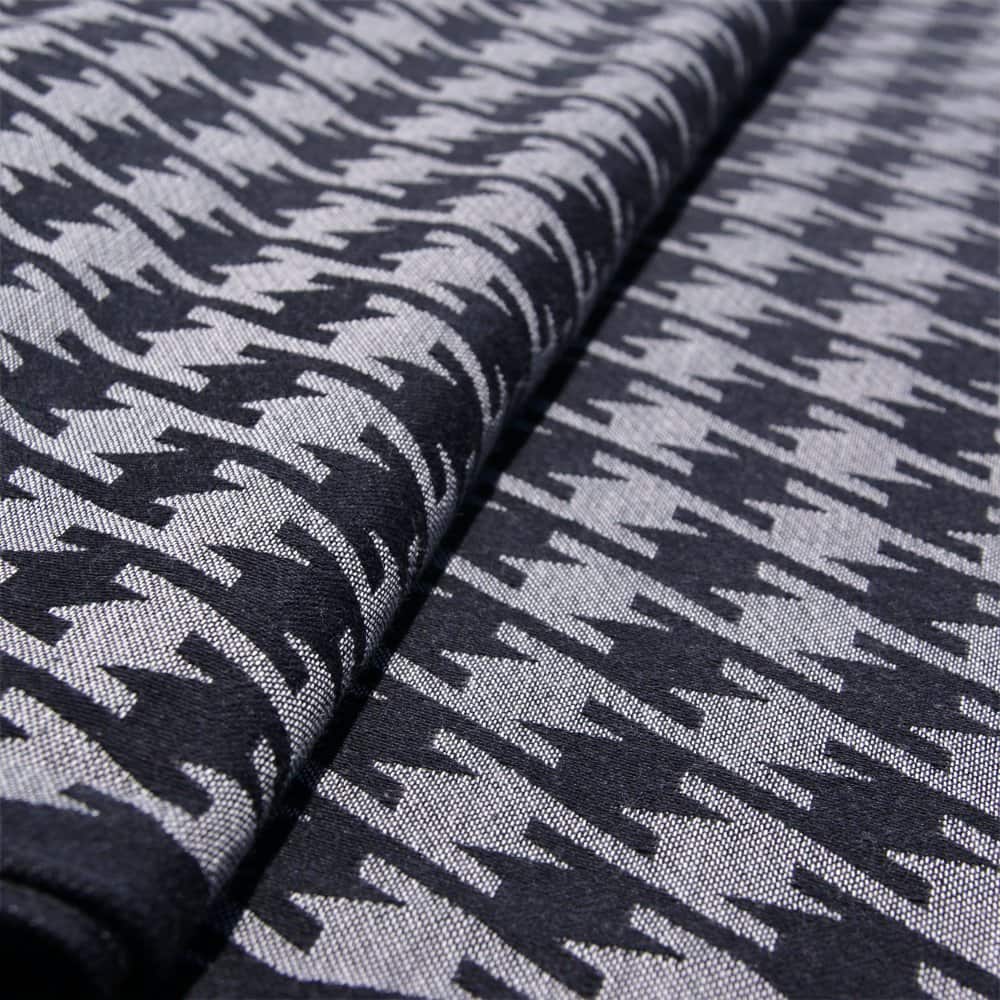 Doll Sling Houndstooth anthracite
Product number:
ptt-564-001
Add to wishlist
Description
Das Puppentragetuch - Geschenktipp für größere Geschwister. Es soll auch Erwachsene geben, die ein Puppentragetuch als Schal zweckentfremden.
Das Tuch ist halb so breit wie ein normales Babytragetuch.
Das klassiche Hahnentritt-Muster, besonders edel in anthrazit.
Die Motive sind in aufwändiger Jacquardtechnik eingewebt und nicht gedruckt.
Jacquard-Gewebe zeigen auf beiden Seiten das gleiche Muster im jeweils umgekehrten Farbspiel.
Sie zeichnen sich, trotz ihrer hohen Festigkeit, durch besondere Elastizität aus.
Material & properties
Color: Anthracite, White
Length: abt. 300 cm
Material: 100 % Organic Cotton
Surface weight: 210 g/m²
Vegan: Vegan

Washing & care instructions
Washable: Up to 60°C, Gentle Cycle, Slow Spin Speed

Please follow our DIDYMOS Care Tips to make your DIDYMOS model last for many years.
Suitable Products
Suitable Products
Doll Sling Metro Silk
The doll sling is a great way for your little ones to take their dolls and toys wherever they go. No dragging them through the dirt, or laying them down somewhere to be left behind when you are out and about. With a length of about 300 cm and half the width of the wrap, it is also a gorgeous scarf that can be tied around the neck in many stylish ways. Lightweight and breathable, the silk-cotton-blend is cool to the touch and an ideal accessory to your summer wardrobe.
Hip Bag Houndstooth anthracite
We're excited to have our lovely little multifunctional bags ready for our fans worldwide! Great for those always on the go and those whose babywearing time is up and yet can't get enough DIDYMOS. Our hip bag was designed especially for the Bébé Portation show by Marion Tisseur. It is designed to be handy on its own, but still small enough to fit into a handbag. The bag offers ample space for your mobile, wallet, keys, and more. The belt can be adjusted to fit all sizes with 2 rings. On its own, the hip bag can be worn on your wrist with an included wristlet or it can be drawn through one end of a wrapped baby wrap sling. The bag is closed with a zipper and an inside pocket keeps everything tidy. The belt can also be used as a doll sling, just as a doll sling can serve as a belt for the hip bag. Approx Measurements: Belt, 160 cm Bag 20cmx15cmx6cm