Didy Meh-Dai (DidyTai) - Measurements and Details
Material and Production
The Didy Meh-Dai (DidyTai) is made from the same fabrics as our baby wrap slings which stretches diagonally ensuring high comfort and support. All raw materials come from controlled biological cultivation and spinning and dying is done in certified companies only. The fabric is not treated chemically either before or after manufacture. The Didy Meh-Dai (DidyTai) is sewn in a local tailor shop here in Ludwigsburg. We can have them tailored to your wishes.
Measurements
Shoulder straps: length abt. 200 - 220 cm, width abt. 33 cm.
Hip straps: length 85-90 cm, width 9 - 12 cm
Body part: Height abt. 68 cm (incl. head rest), Width: abt. 42 cm.
Base: adjustable from 20 to 42 cm
All indications are approximate and measured on a new and unwashed Didy Meh-Dai (DidyTai). The Didy Meh-Dai (DidyTai) will shrink 4-5 cm after the first wash.
Washing and Care
Click here to open our DIDYMOS Care Tips
Selected Didy Meh-Dai (DidyTai) features
The drawstring for tightening the head support is pulled through one of the two loops to the desired height. The stoppers can be turned and pushed through the loops making it easier to thread and unthread the drawstring.
The loops can also be found on the inside meaning the Didy Meh-Dai (DidyTai) can be reversed. This is great for patterned fabrics that have different colours on each side. The height of the head support can be infinitely adjusted with the drawstring. One end of the drawstring is sewn in meaning the stopper can be tightened using just one hand. We designed the back of the carrier so that it moulds perfectly to the back of the child.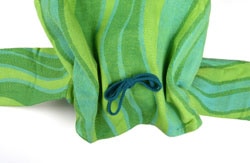 Use the drawstring to adjust the bottom width that fits your child best.