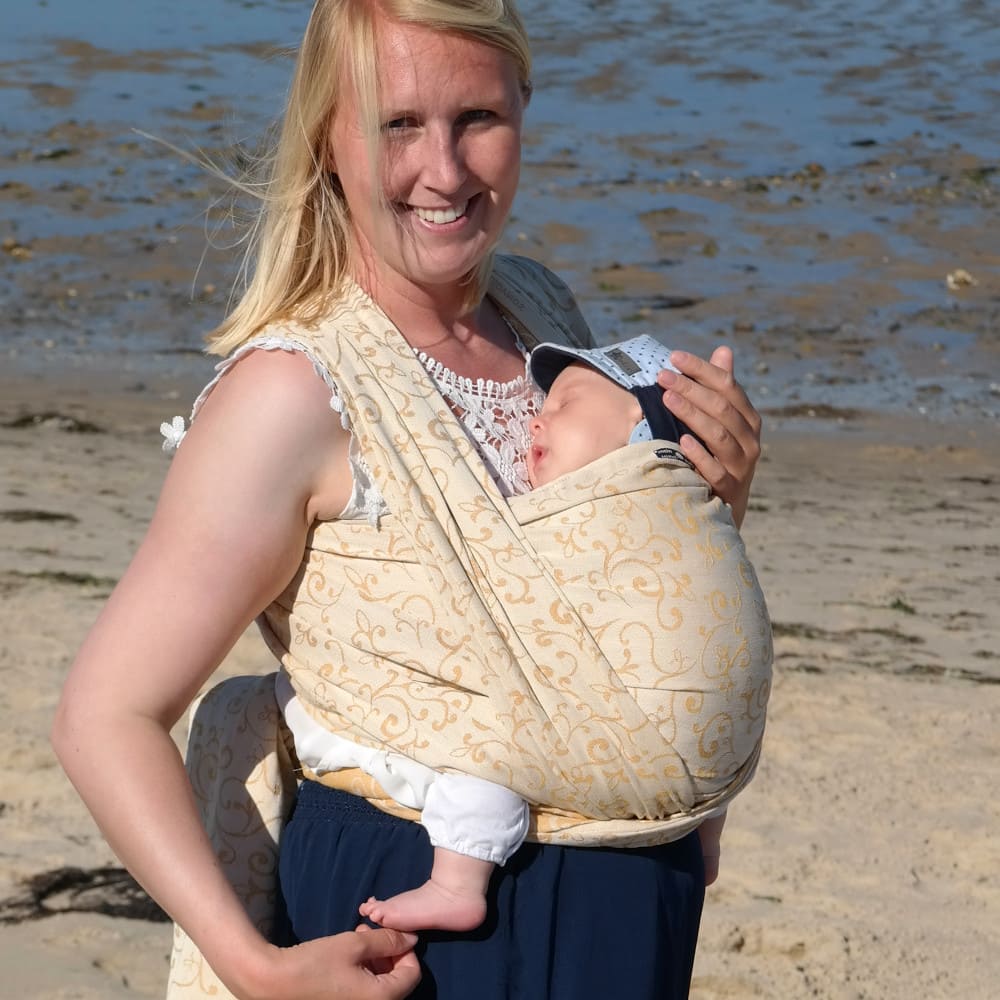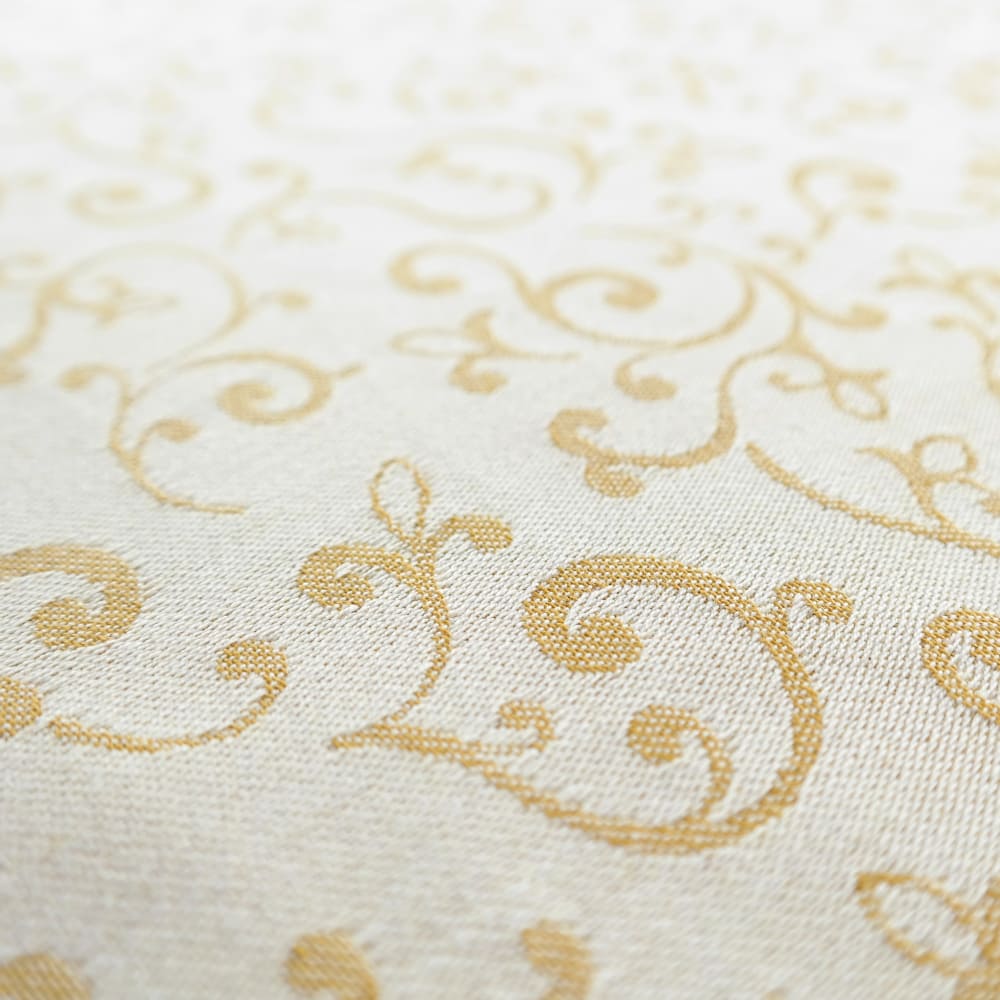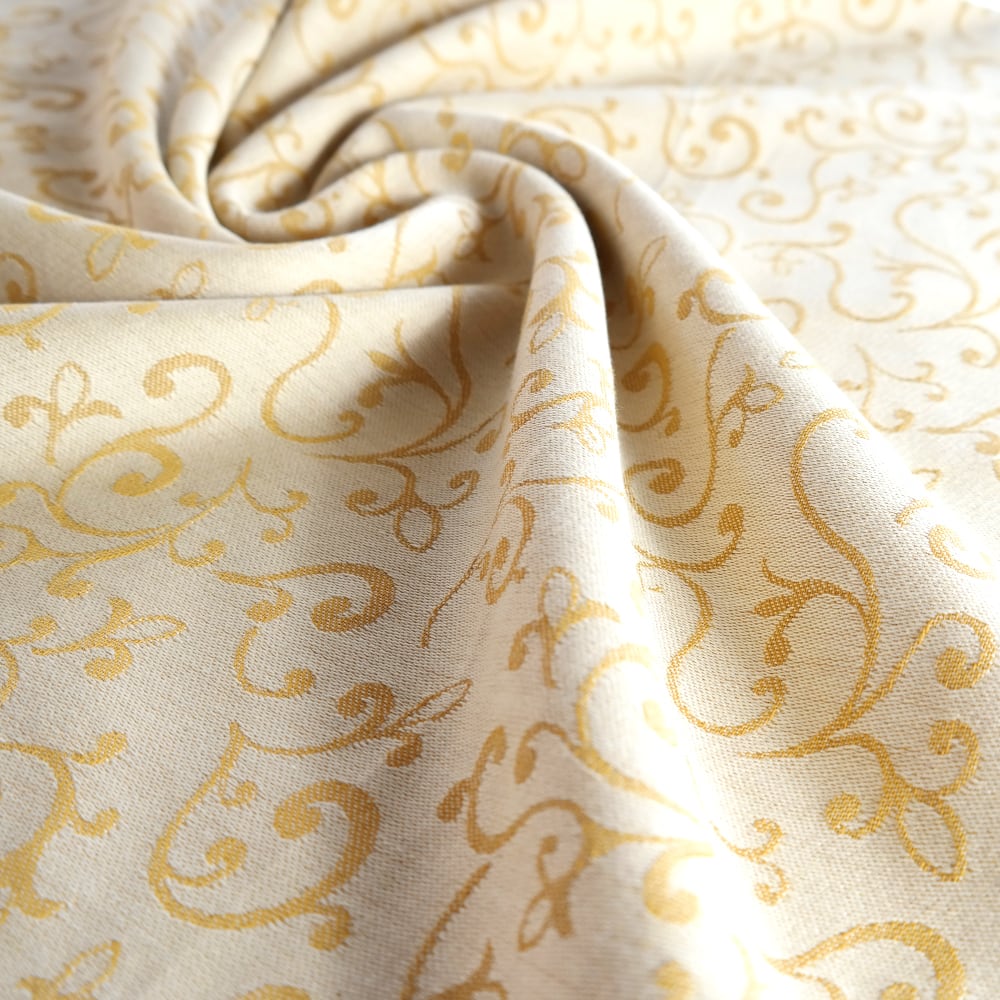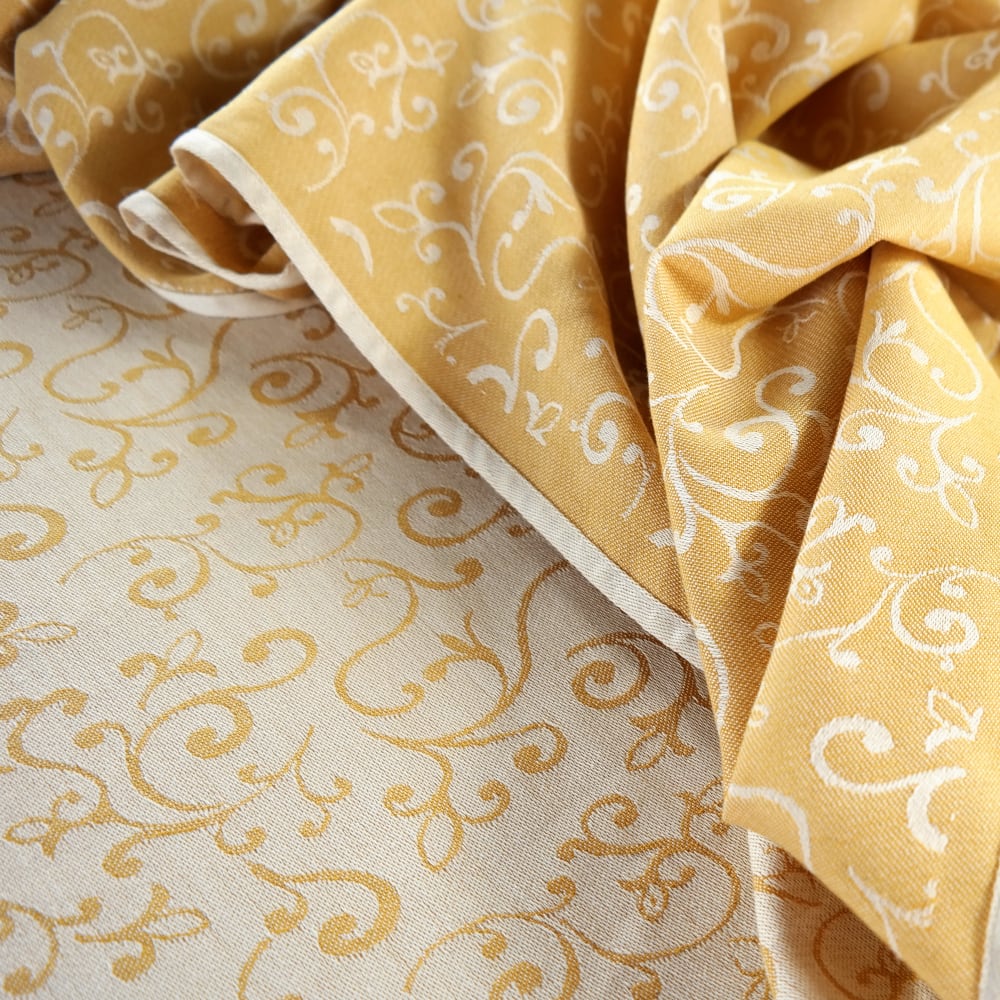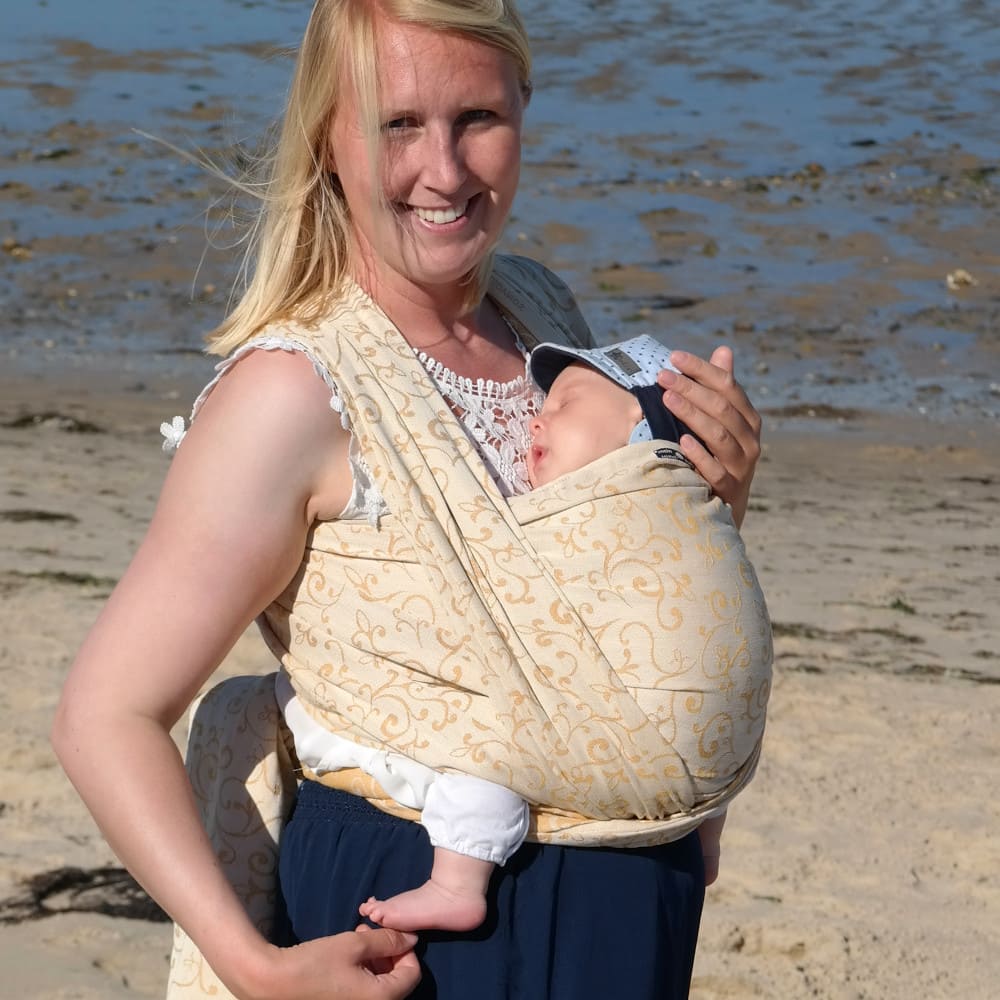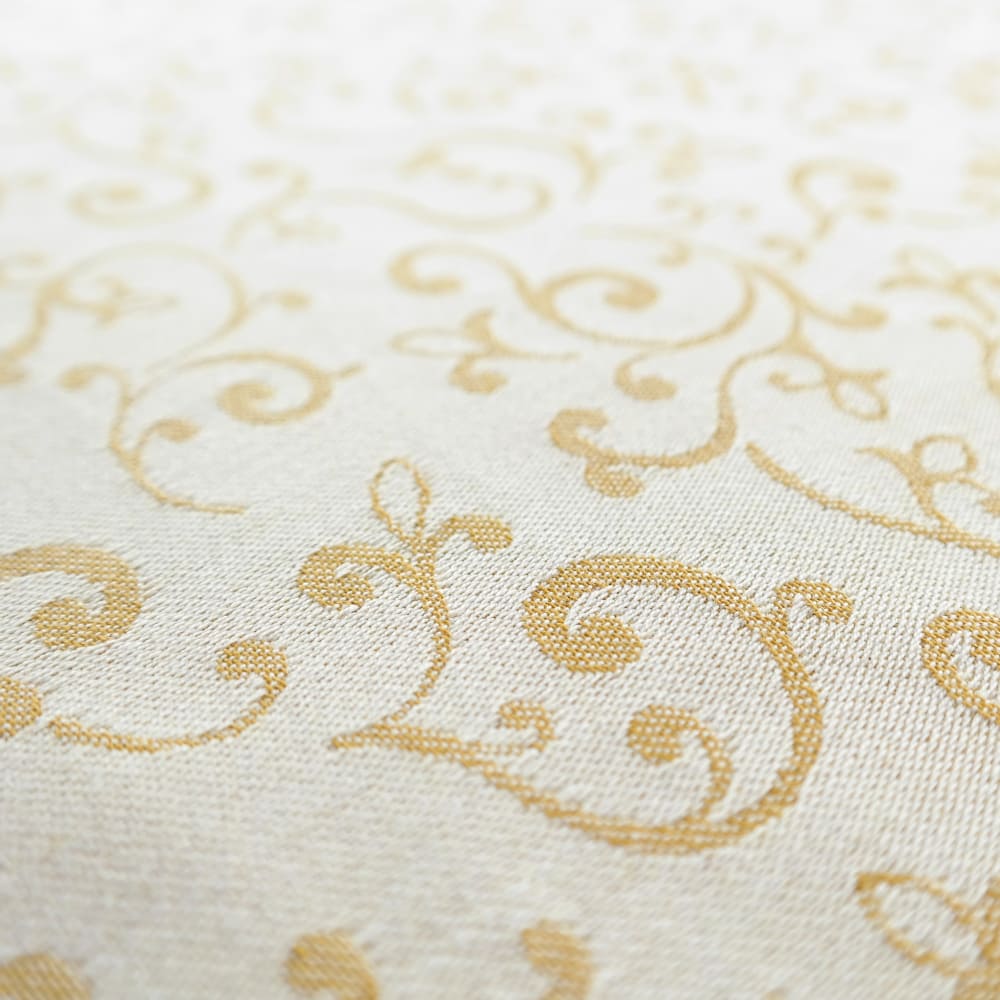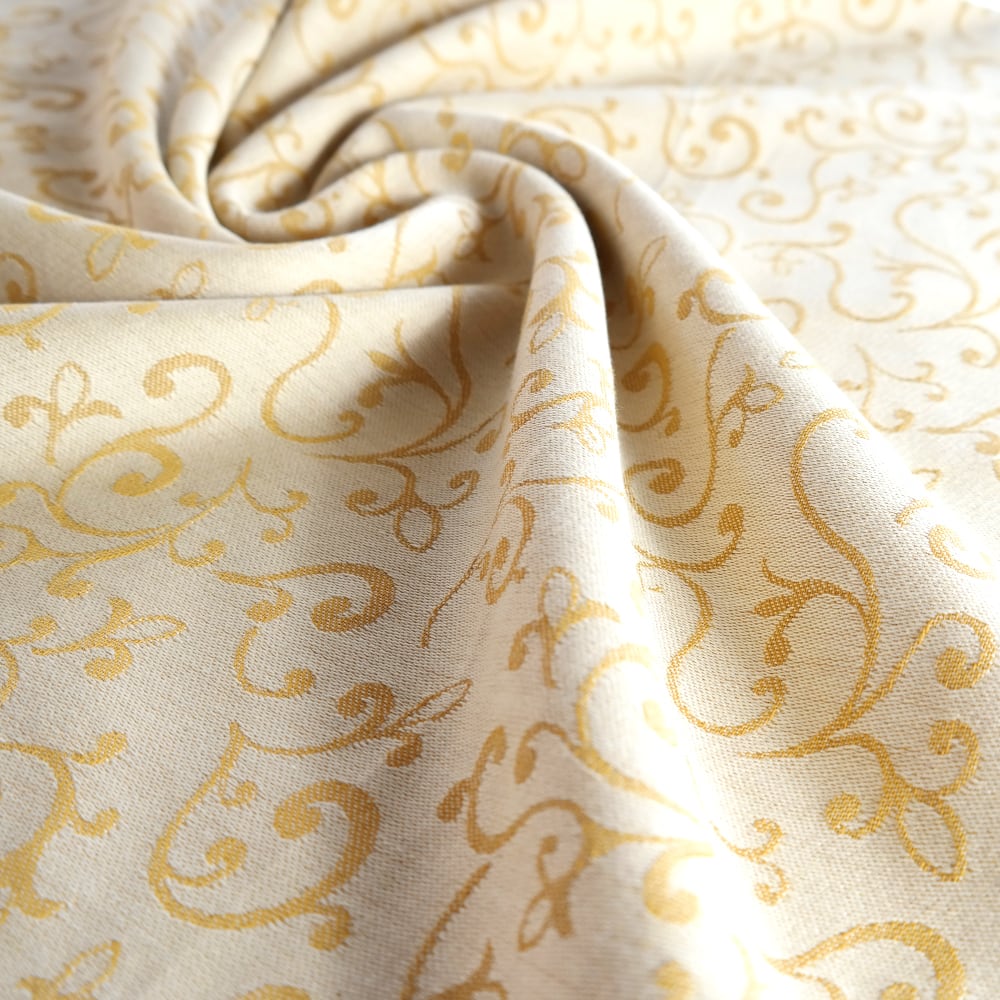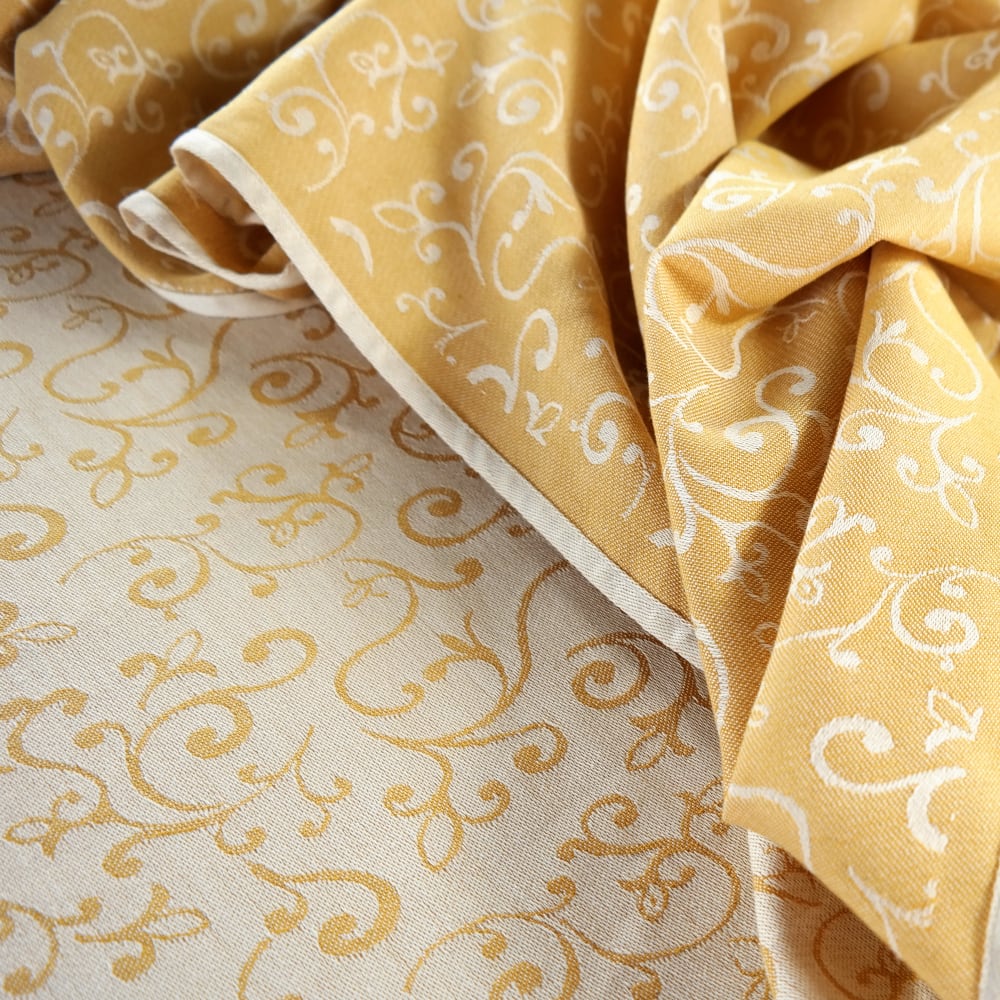 Description
Exuberant, playful and moduled on nature, Rocaille is a typical Rococo decor. We got inspired by its ravishing curves and counter-curves which are now embellishing our new wrap model that we named accordingly – Rocaille.
Jacquard woven, the pattern is in gold on white and vice versa on the other side. The cotton is 100% organic and dyed with non-toxic dyes, the wrap is absolutely free from any harmful substances.
Soft and moldable, the lightweight wrap fabric provides perfect support in width and length. It ensures a snug, smooth fit and can be tied in such a way to provide excellent support to your baby or toddler. It has a lovely flow and drape, molding to the wearer and baby with optimal comfort
Material & properties
Age of child: From Birth
Color: Raw White, Harvest Gold
Different Edges: Yes
Material: 100 % Organic Cotton
Surface weight: 190 g/m²
Vegan: Vegan

Washing & care instructions
Washable: Up to 60°C, Gentle Cycle, Slow Spin Speed

Please follow our DIDYMOS Care Tips to make your DIDYMOS model last for many years.
---
Habe dieses Modell als Didyklick, benutze ich am liebsten wenn es schnell gehen muss, für uns einfach und schnell zu binden, sehr leichter und griffiger Stoff und sowas von bequem. Da ich mehrmals am Tag trage ist der täglich dabei.
Suitable Products
Suitable Products
DidyKlick Rocaille Dorato
Buckle around your waist, sit your baby in the soft pouch, tie the shoulder straps and you are ready. You can go wherever you want to go and do whatever needs to be done while your baby is snuggled up and held like in a woven wrap. A semi-structured, half buckle carrier, our DidyKlick combines the comfortable support and mouldability of a woven wrap with the convenience and simplicity of a buckle carrier Easily adjustable, the padded waist belt is secured with a clip-buckle ensuring support around the torso. The large, adjustable body panel made of wrap fabric creates a soft pouch offering a safe place for your little one. Wide and spreadable, the shoulder straps can be tied in a variety of ways to mould around your shoulders allowing a high degree of adjustability for all shapes and sizes. They ensure a snug and enjoyable fit while adding an extra level of comfort and support. The DidyKlick allows you to carry your baby on your front, hip and back at the appropriate ages while your child is always supported across the back and the bottom ensuring the natural spread squat position.Features at a glance: Padded waist belt with safety clip-buckle, sturdy, adjustable to all sizes. Soft back panel with integrated headrest that can be adjusted by drawstings and fastened onto the straps by snap fasteners . Wide, spreadable shoulder straps made from soft woven wrap material for comfortable support in any carrying position Material: Body panel and shoulder straps made from DIDYMOS wrap cloth woven from pure organic cotton, skin-friendly, ecologically compatible and sustainable, robust with an inherent diagonal stretch. Security: Complies to the EU safety standard CEN/TR 16512 and to the ASTM F2236 standard. Made in Germany and neighbouring countries. Fully adjustable and suitable from 3,5 kg up to 20 kgFor all features of our DidyKlick at a glance click here Back panel, shoulder straps and waist belt of our DidyKlick model Rocaille are made from a soft and lightweight baby wrap featuring a playful, Rococo inspired design woven from gold and white cotton.
Carrying Jacket 4 in 1, Harvest
Designed by Virginia from Wear-Me, Italy, this warm wool jacket is both casual and chic and will shelter you and your baby from the cold and wind during chilly winter days and the in-between-seasons. Made from wool, the jacket has a windproof membrane on the inside and provides cuddly warmth and protection against wind and weather. The jacket is very soft and supple and with the baby insert/panel zipped in, it perfectly fits over you and your child in a front carry or back carry. Without the panel it is a fashionable jacket that molds comfortably to your feminine silhouette. It is also ideal to carry your child over the jacket, in a ring sling or other baby carrier. Details: Made from wool with windproof membrane on the inside Includes zip-in baby panel/insert for back and front carries Hoods with drawstrings for mother and baby 2 zipped side pockets Suitable for front carrying with DIDYMOS wraps/slings and other baby carriers Colour: Warm Yellow. Sizes XS, S, M, L, XL
DidySling Rocaille Dorato Size 1R
Handy and easy to put on, nothing quite beats the convenience of a Didymos ring sling for quick ups-and-downs. It is fully adjustable and suited for any user. Manufactured with the same fabrics as used for the DIDYMOS wraps, the sling is available in size 1R, the gathered "shoulder style" as a standard stock. DidySling Rocaille is made from a Jacquard woven cotton wrap featuring the playful curves and lines of the Rocaille pattern in gold and white. The gold and white cotton is 100% organic and dyed with non-toxic dyes, the sling is absolutely free from any harmful substances. Soft and moldable, the lightweight wrap fabric provides perfect support in width and length. It ensures a snug, smooth fit also for the ring sling which can be adjusted in such a way to provide excellent support to your baby or toddler. The sling has a lovely flow and drape, molding to the wearer and baby with optimal comfort