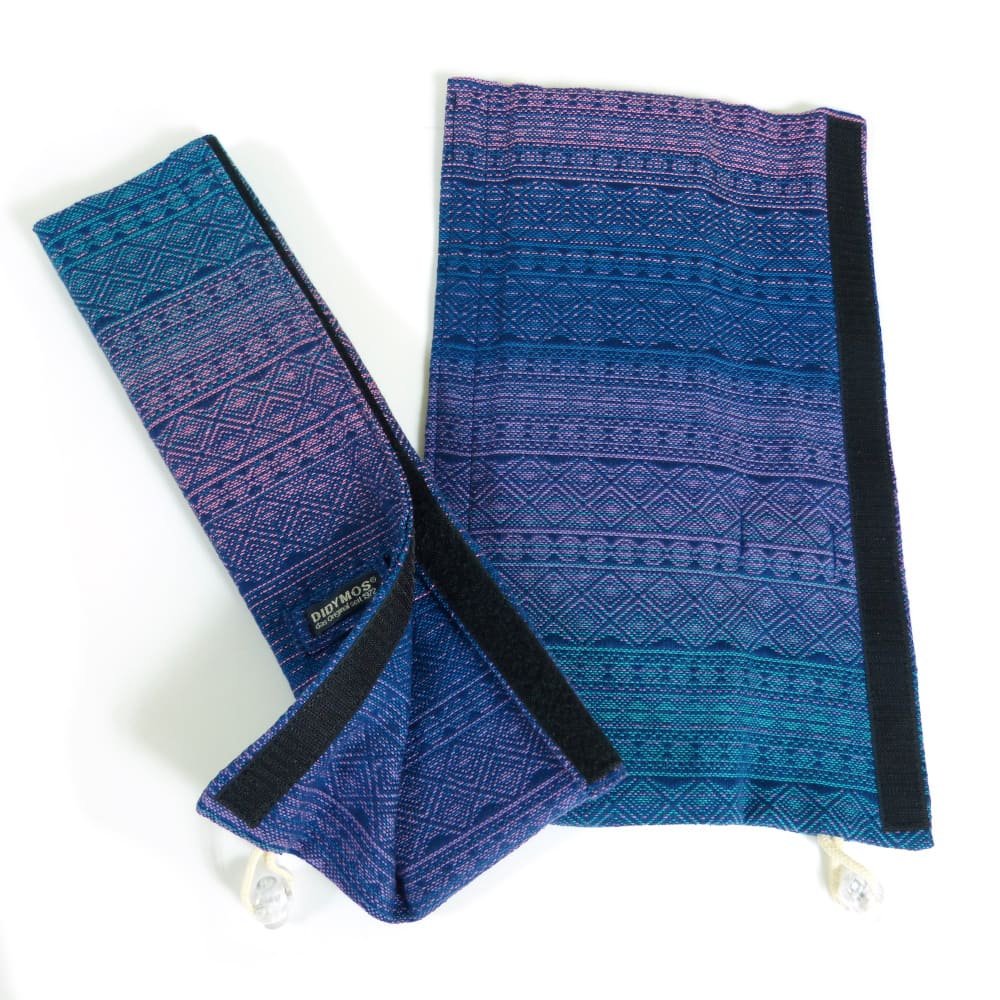 Description
Our innovative pads for the shoulder straps ensure extra babywearing comfort and reduce the strain on your shoulders further. For very sensitive or petite babywearers.
These are also suitable for our Didy Meh-Dai.
2 pads per package
Washing & care instructions
Washable: 30°C, Gentle Cycle. Don't tumble dry

Please follow our DIDYMOS Care Tips to make your DIDYMOS model last for many years.
Suitable Products
Suitable Products
Backpack Prima Sole occidente
Looking for a unique backpack that holds your DIDYMOS Wrap Sling, DidySling or Didy Meh-Dai (DidyTai)? Then you will love our functional little backpacks that are made from the same beautiful organic fabrics as the DIDYMOS Baby Wrap Slings. They measure 35 x 28 cm and are designed to hold your baby carrier or other useful things that you need when you go to the market, the beach or around the world. They are available in many DIDYMOS colours and patterns..
Hip Bag Prima Sole occidente
We're excited to have our lovely little multifunctional bags ready for our fans worldwide! Great for those always on the go and those whose babywearing time is up and yet can't get enough DIDYMOS. It is designed to be handy on its own, but still small enough to fit into a handbag. The bag offers ample space for your mobile, wallet, keys, and more. The bag is closed with a zipper and an inside pocket keeps everything tidy. The belt can be adjusted to fit all sizes with 2 rings. On its own, the hip bag can be worn on your wrist with an included wristlet or it can be drawn through one end of a wrapped baby wrap sling. The belt can also be used as a doll sling, just as a doll sling can serve as a belt for the hip bag. Design by Marion Tisseur. Measurements: Belt Length abt. 160 cm Bag abt. 15 cm x 20 cm x 6 cm.
DidyKlick Prima Sole occidente
Buckle around your waist, sit your baby in the soft pouch, tie the shoulder straps and you are ready. You can go wherever you want to go and do whatever needs to be done while your baby is snuggled up and held like in a woven wrap. A semi-structured, half buckle carrier, our DidyKlick combines the comfortable support and mouldability of a woven wrap with the convenience and simplicity of a buckle carrier Easily adjustable, the padded waist belt is secured with a clip-buckle ensuring support around the torso. The large, adjustable body panel made of wrap fabric creates a soft pouch offering a safe place for your little one. Wide and spreadable, the shoulder straps can be tied in a variety of ways to mould around your shoulders allowing a high degree of adjustability for all shapes and sizes. They ensure a snug and enjoyable fit while adding an extra level of comfort and support. The DidyKlick allows you to carry your baby on your front, hip and back at the appropriate ages while your child is always supported across the back and the bottom ensuring the natural spread squat position. Features at a glance: Padded waist belt with safety clip-buckle, sturdy, adjustable to all sizes. Soft back panel with integrated headrest that can be adjusted by drawstings and fastened onto the straps by snap fasteners . Wide, spreadable shoulder straps made from soft woven wrap material for comfortable support in any carrying position Material: Body panel and shoulder straps made from DIDYMOS wrap cloth woven from pure organic cotton, skin-friendly, ecologically compatible and sustainable, robust with an inherent diagonal stretch. Security: Complies to the EU safety standard CEN/TR 16512 and to the ASTM F2236 standard. Made in Germany and neighbouring countries. Fully adjustable and suitable from 3,5 kg up to 20 kgFor all features of our DidyKlick at a glance click here Back panel, shoulder straps and waist belt of this DidyKlick are made from baby wrap model Prima Sole Occidente. One of our most popular Prima models, the lightweight Sole Occidente features an appealing colour gradient with colours running from purple to turquoise and on to pink.