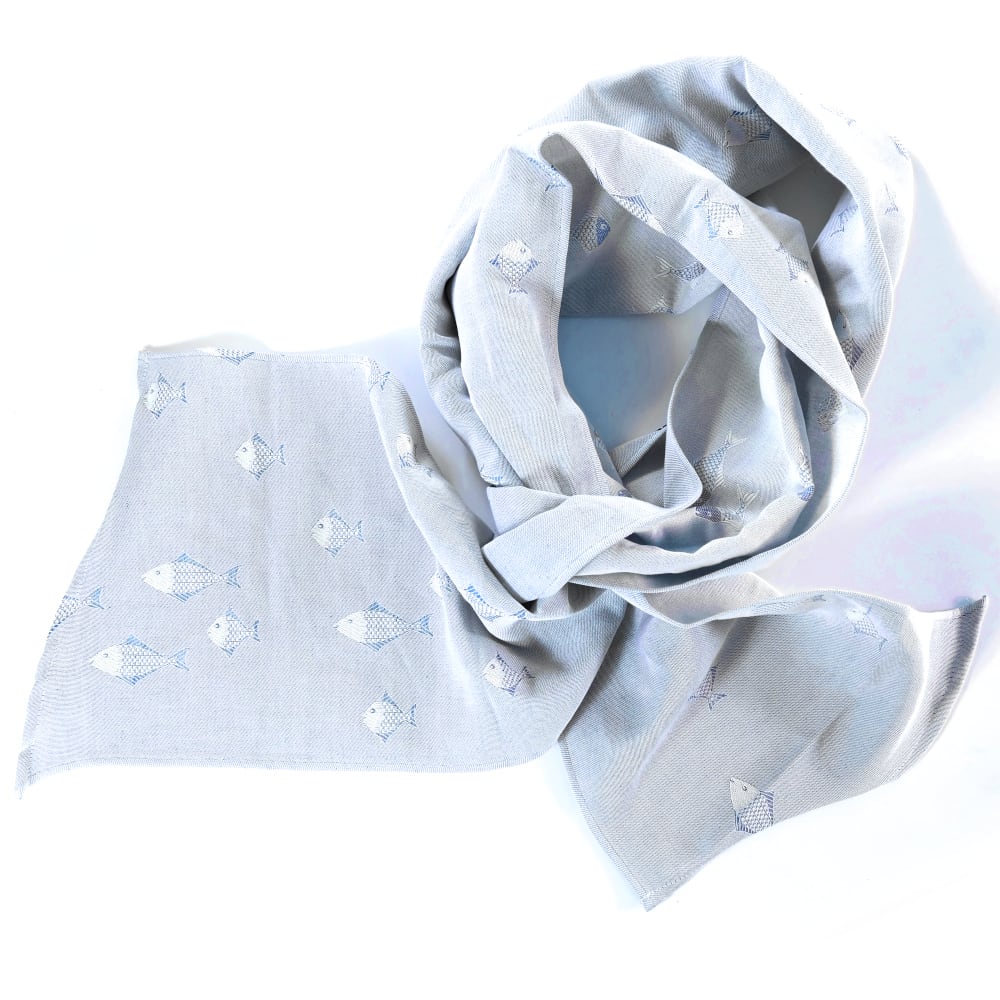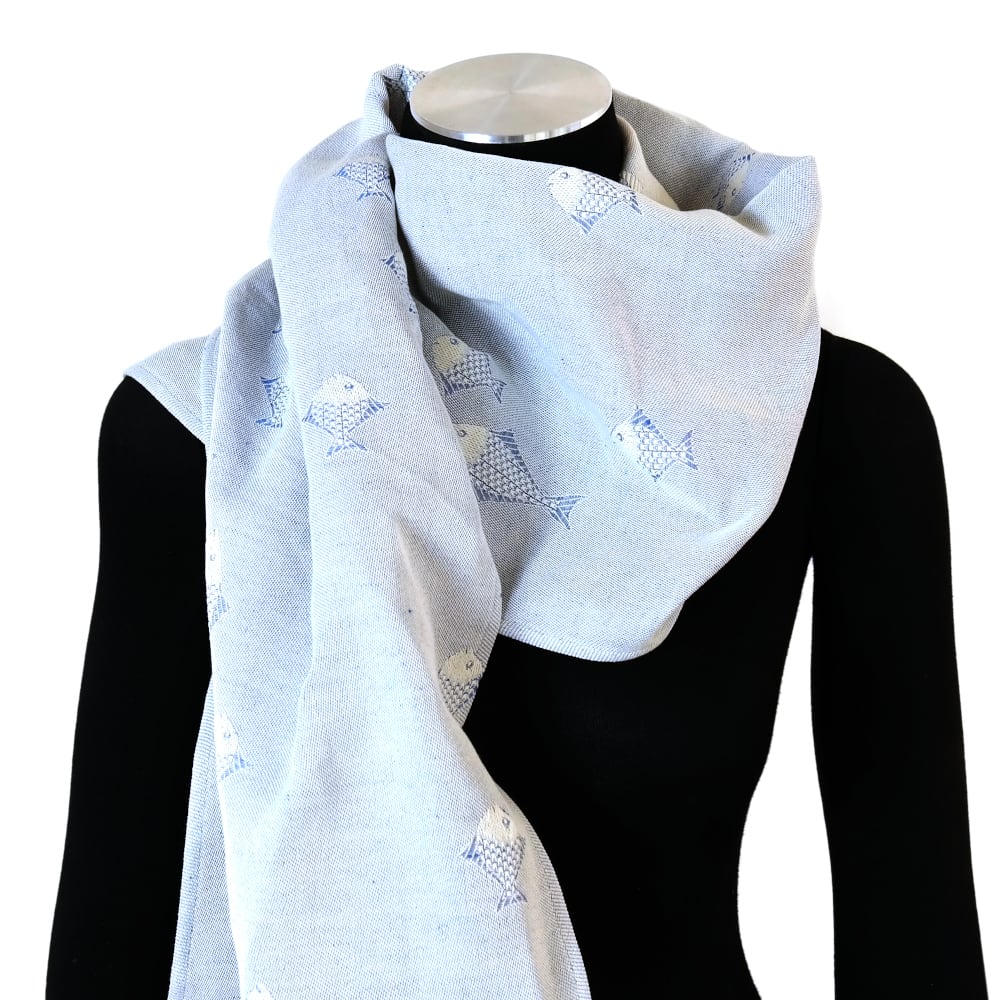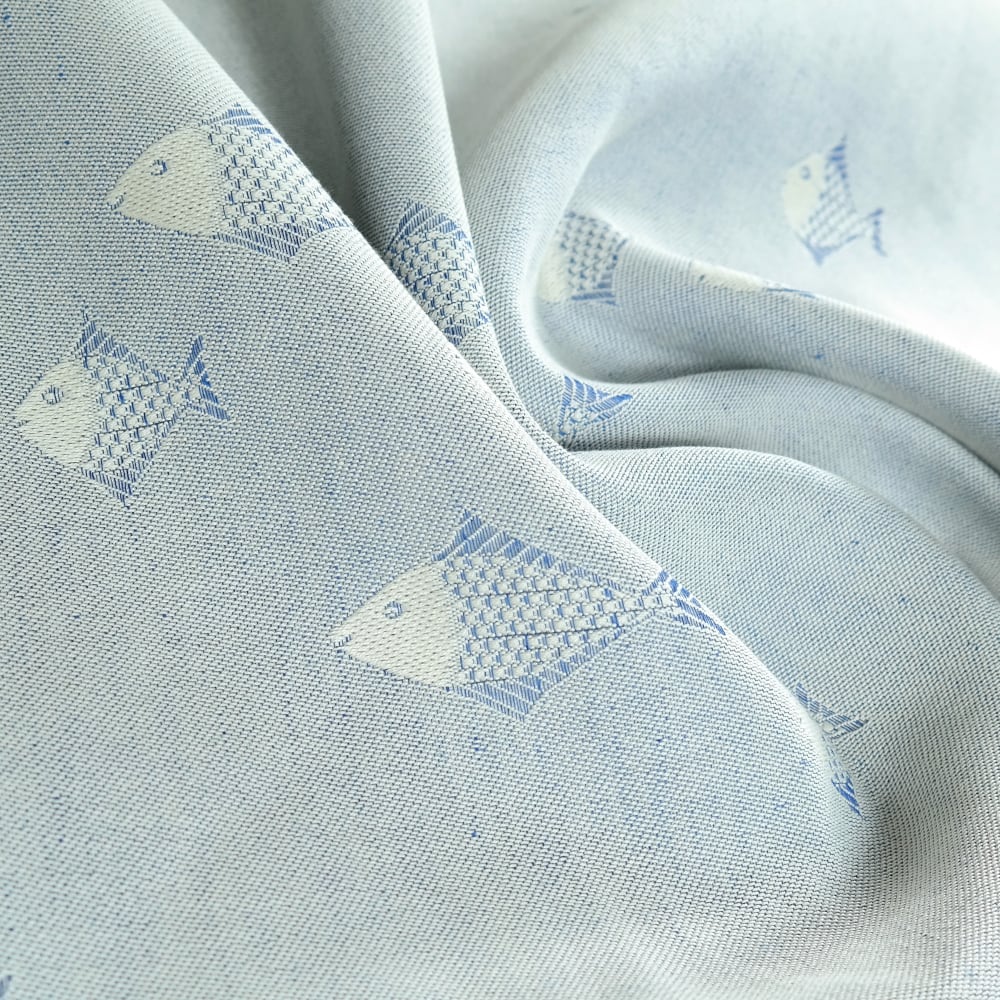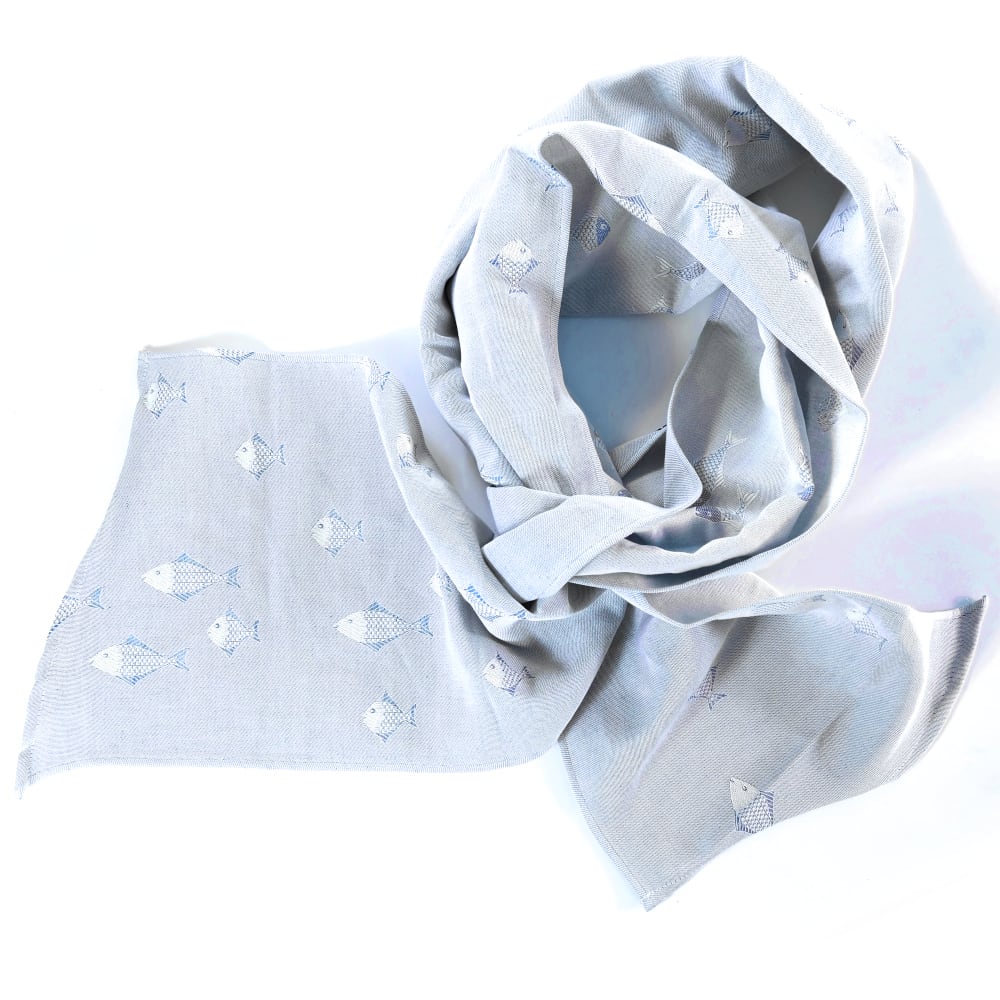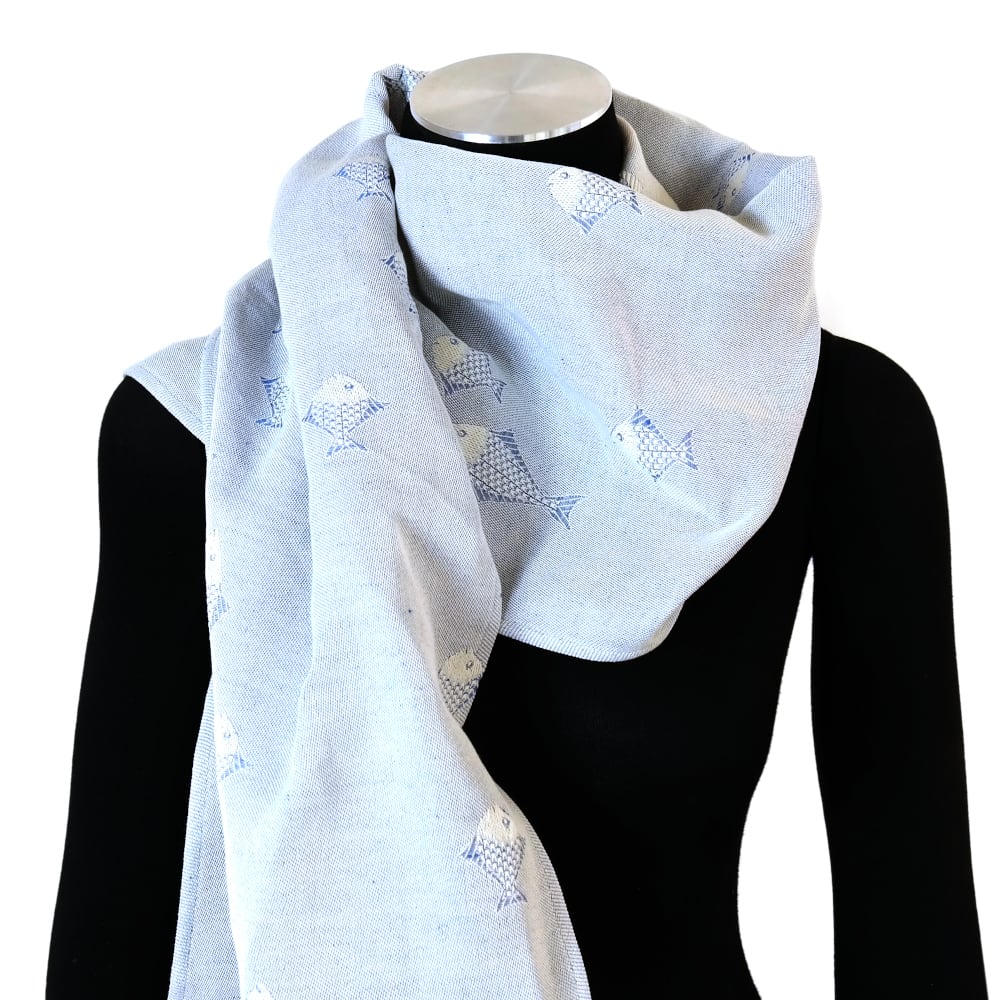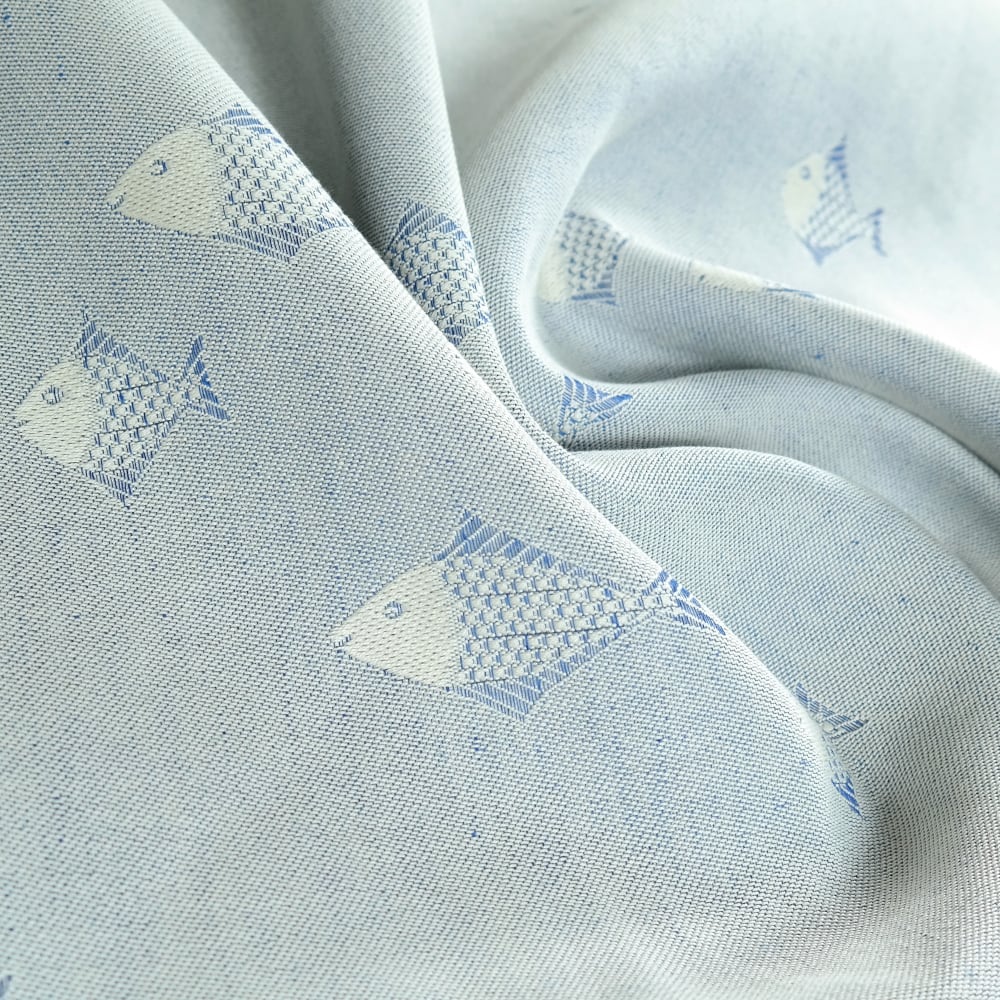 Description
Little babywearers love DIDYMOS doll slings. They can take their dolls and toys wherever they go. No dragging them through the dirt or leaving them behind when you are out and about.
And they will adore the lovely fishies pattern of this doll sling.
With a length of about 300 cm and half the width of the wrap, our doll slings make also great scarves.
Drape the sling around your neck and shoulder and enjoy the soft texture and soft pastel blue look of the Blue Fish Hemp model.
Material & properties
Color: Raw White, Light Blue
Length: abt. 300 cm
Material: 70% Organic Cotton, 30% Hemp
Vegan: Vegan

Washing & care instructions
Washable: Up to 60°C, Gentle Cycle, Wash in Abundant Water, Slow Spin Speed

Please follow our DIDYMOS Care Tips to make your DIDYMOS model last for many years.
Suitable Products
Suitable Products
Baby Wrap Sling Blue Fish Hemp
Our Fishies are back! In soft pastel blue, woven from a blend of 70% white organic cotton and 30% light blue hemp. The dyes are non toxic and free from any harmful substances. Of medium weight, the wrap is smooth with a perfect amount of "grip" to hold your carry and knot in place. Featuring an inherent diagonal stretch, it molds to the wearer and baby with optimal comfort while supporting the baby all over evenly. A bit stiff in the beginning, hemp fabrics break in beautifully and get soft and moldable. With their temperature and moisture regulating properties, hemp wraps are breathable and skin-friendly. They make great wraps throughout the year. Hemp is one of the most environmentally friendly fabrics currently available. The plant is naturally resistant to pests and requires little water.
CD Tierische Lieder
In diesem Liederzyklus erzählt Jutta Riedel-Henck spielend, singend und lesend von eigenen Erfahrungen mit Goldhamstern, Zwergkaninchen, Mäusen, Schmetterlingen, Vögeln, Katzen, Mücken und anderen Haustieren. Echte handgemachte Musik mit anspruchsvollen aber kindgerechten Texten. Hebt sich wohltuend von dem Kille-Kalle-Ei-dei-dei-Gedudel ab, mit dem die Kleinsten sonst berieselt werden.Inhalt:Schenk mir ein Tier 3:36Hamster Schnuppi 3:28Hallo Hamster 3:53Das Zwergkanickel 2:32Armes Tier 3:00Kater Wackelzahn 3:09Also fress ich 2:52Katz und Maus 3:28Bunter Schmetterling 4:00Wild Vögelein* 2:36(aus Siebenbürgen)Flieg, Vögelein 4:19Ein Raubtier 3:19Die Maus 2:32In der Falle 2:58Halli, hallo 3:36Die Mücke 8:23Schenk mir ein Tier 2:14Gesamtzeit 60:03Die Autorin:Jutta Riedel-Henck, geboren am 22.7.1961 in Aachen, Studium der Musikwissenschaft und Pädagogik in Hamburg, freischaffende Schriftstellerin, Verlegerin, Musikerin, Dozentin in der Kinder- und Erwachsenenbildung, Kinderliedermacherin und Lebensforscherin ohne Schubladenmentalität.
Wooden rattle, cherry wood
Manufactured according to designs of German artist and pedagogue Hugo Kükelhaus (1900-1984), rattle series "Allbedeut". Of best workmanship quality, the rattles are made from fine local woods and treated with pure plant oil to accentuate the texture of the wood grain.